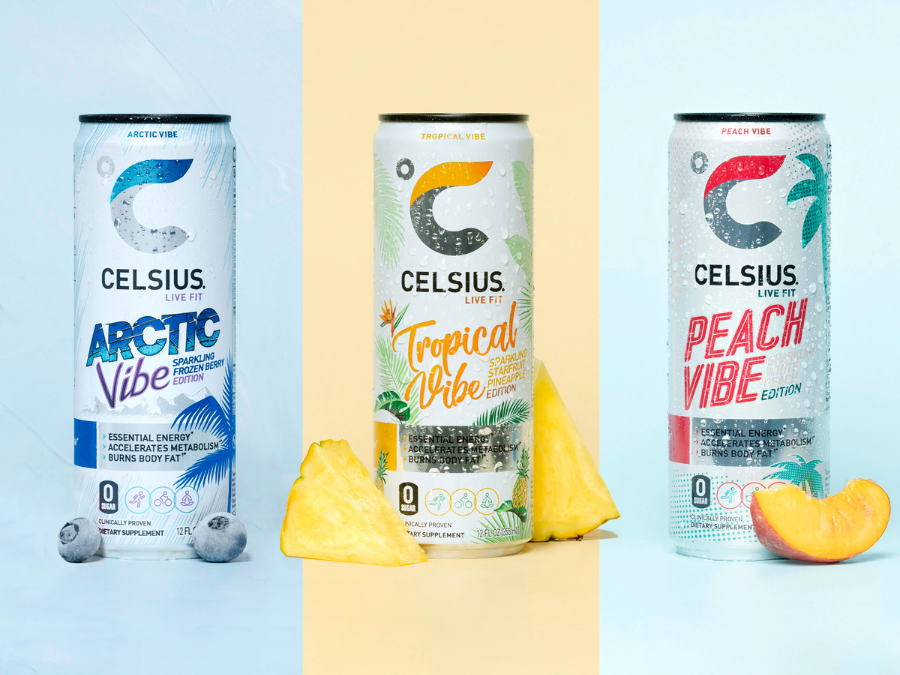 Barely a day into the month came August's biggest piece of M&A news, with the announcement PepsiCo is to acquire a stake in US energy-drinks maker Celsius Holdings. The CSD behemoth, which snapped up energy-drinks brand Rockstar in 2020, struck a deal to buy 8.5% in Celsius for US$550m.
Just Drinks thinks: This mega-investment from PepsiCo values Celsius at an eye-watering US$6.4bn. Energy drinks are hot property in the US right now, perhaps somewhat unsurprisingly given the market is predicted to grow at a CAGR of 4.05% in the next five years, reaching US$30bn by 2026 according to GlobalData. Following the deal, Celsius CEO John Fieldly and CFO Jarrod Langhans hinted the unit could be open to M&A of its own, which would raise the prospect of a dynamic not dissimilar to that which exists between The Coca-Cola Co., Monster and CANarchy.
From PepsiCo's perspective, taking on US distribution of Celsius mirrors its ill-fated partnership with Bang Energy owner Vital Pharmaceuticals, but the decision to appoint a director to sit on the Celsius board suggests the Rockstar brand owner is determined to learn from its previous mis-steps.
More on this topic: Why M&A moves suggest a healthy future for soft drinks
Kirin subsidiary Lion sold its UK craft breweries Fourpure Brewing Co and Magic Rock Brewing Co to Odyssey Inns. The brands had been placed under a strategic review earlier this year.
The deal also includes the Fourpure and Magic Rock breweries and taprooms in London, Huddersfield and Holmfirth, as well as the Little Creatures craft beer bar in London.
Just Drinks thinks: It's tempting to look at Lion's decision to pull back from the UK as symptomatic of the widely talked about 'craft beer slowdown' but a closer inspection reveals this particular case is more complex than that.
Yes, Lion's craft beer brands were floundering but the unit has also been refocusing much of its attention (and funds) towards the US market in recent years. Many in the industry spoke of their surprise at the Australian firm's decision to let go of many of Fourpure's staff during the height of the pandemic, as well as repositioning the brand as a more entry-level proposition. Both gambles failed to pay off, with the brewery's off-premise sales dipping by 30% year-on-year at a time when supermarket alcohol sales were surging.
Poor business performance ultimately led the Little Creatures brand owner to decide to cut its losses, and one shudders to think of the hit it will have taken on the investments it made in 2018 and 2019 on what were two of the UK's hottest brewing prospects at the time. A fresh start under new owners Odyssey Inns may be exactly what these neglected brands need.
More on this topic: Beer helped fuel the rise of RTDs. How can it strike back?
Campari Group took a minority interest in Catalyst Spirits' Howler Head, alongside the exclusive rights to distribute the Kentucky Bourbon brand globally. The deal – valued at US$15m – will see the Aperol brand owner buy a 15% stake in Howler Head, with a medium-term view to owning the brand outright.
Just Drinks thinks: If there's one thing we know about Campari, it's the group knows how to spot a shrewd investment when it sees one. Gambling on Bourbon with Wild Turkey in 2009 paid off extremely handsomely for the Aperol brand owner, and now the group is making a similar bet on flavoured whiskey with this investment in Howler Head.
Purists may sniff at the idea of a Banana-flavoured Kentucky Bourbon but the fast-growing start-up brand is busy making in-roads, securing a lucrative partnership with UFC despite only launching nationally in the US in 2021. This particular partnership has the potential to bring millions of new consumers enticed by current flavour trends into the category, and – Campari hopes – convert them to even more premium expressions in its portfolio.
More on this topic: Has whisky finally found the flavour grail?
Spirit of Gallo – the dedicated spirits arm of E&J Gallo Winery – invested in the Tequila Komos brand. The brand is the flagship product of New-York based Casa Komos Brands Group (CKBG).
Just Drinks thinks: Spirit of Gallo has had a busy summer. This deal was the second "strategic investment" the spirit's umbrella unit for E&J Gallo made in the space of a month. In July, the unit took a stake in small-batch American whiskey maker Horse Soldier Bourbon. Both deals follow a similar pattern, with the unit taking over exclusive US distribution rights as well as an undisclosed stake in the brand.
This deal makes a great deal of sense on paper. Tequila's rapid growth trajectory barely needs repeating, and much of its phenomenal growth in the US has come at the premium end of the spectrum. Komos – with its elegant, ceramic bottle and Cristalino, Reposado Rosa and Extra Añejo variants – firmly positions itself in this segment of the market.
One possible complication – should Spirit of Gallo wish to up its stake – however, is Molson Coors' recent acquisition of a minority stake in Komos' parent company Casa Komos Brands Group (CKBG). How this could play out, as Tequila continues to fly, remains to be seen.
More on this topic: How Tequila took over the US (and why it's not going anywhere anytime soon)
Other notable deals in the global beverage industry this month:
Reliance Industries 'to relaunch India's Campa Cola after buying brand'
Jackson Family Wines' Giant Steps buys Yarra Valley peer
Diageo-backed incubator Pronghorn invests in Ten To One rum
Molson Coors takes minority stake in Superbird Tequila RTD parent company
Accolade Wines sells Nannup winery to Fogarty Wine Group
Anora Group invests in non-alcoholic start-up ISH
Coca-Cola HBC swoops for Three Cents owner Effervescent Sodas Management
Constellation Brands invests in luxury wine brand Archer Roose