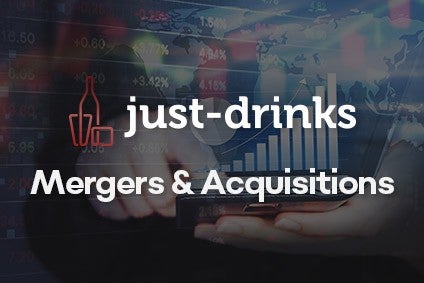 Here, just-drinks consolidates the M&A activity in the global drinks industry during February.
Soft Drinks
Danone's venture capital unit has invested in an organic coconut water producer in the US. Danone Manifesto Ventures led a US$30m investment round in Harmless Harvest.
Wine
The owner of Accolade Wines has confirmed to just-drinks that it has opened negotiations into divesting the business. Australian private equity group CHAMP said it is in talks with New York-based peer The Carlyle Group over a possible transaction.
Spirits
Halewood Wines & Spirits has bought UK spiced rum brand Dead Man's Fingers for an undisclosed sum. A spokesperson for Halewood confirmed to just-drinks that the company had bought the Cornwall-based brand outright, but declined to disclose financial details.
Boston-based drinks firm MS Walker will re-introduce John L Sullivan Irish whiskey in the US, after purchasing the rights to the brand. The company acquired the rights from Georgetown Trading Co.
Davos Brands has secured celebrity backing for Aviation Gin, with actor Ryan Reynolds buying an "ownership interest" in the brand. The US-based spirits and sake distributor confirmed that Reynolds would take an unspecified stake in Aviation, which sold around 25,000 cases in 2017.
Beer
Carlsberg has strengthened its position in Southern Europe after taking full control of Greece's Olympic Brewery. The Danish brewer acquired the remaining 49% of Olympic Brewery following its 51% stake purchase in 2014.
UK brewer and pub operator Fuller, Smith & Turner has acquired Dark Star, a craft brewer in the south of the country. The purchase sees London-base Fuller's take full ownership of Dark Star.
Is it time for brewers to drop 'craft' for 'independent'? – Comment
In mid-2017, two craft beer trade associations have offered members promotional material designed to highlight their independent ownership status. Here, beer commentator Stephen Beaumont considers whether this means the end of the road for the much-debated 'craft' term.