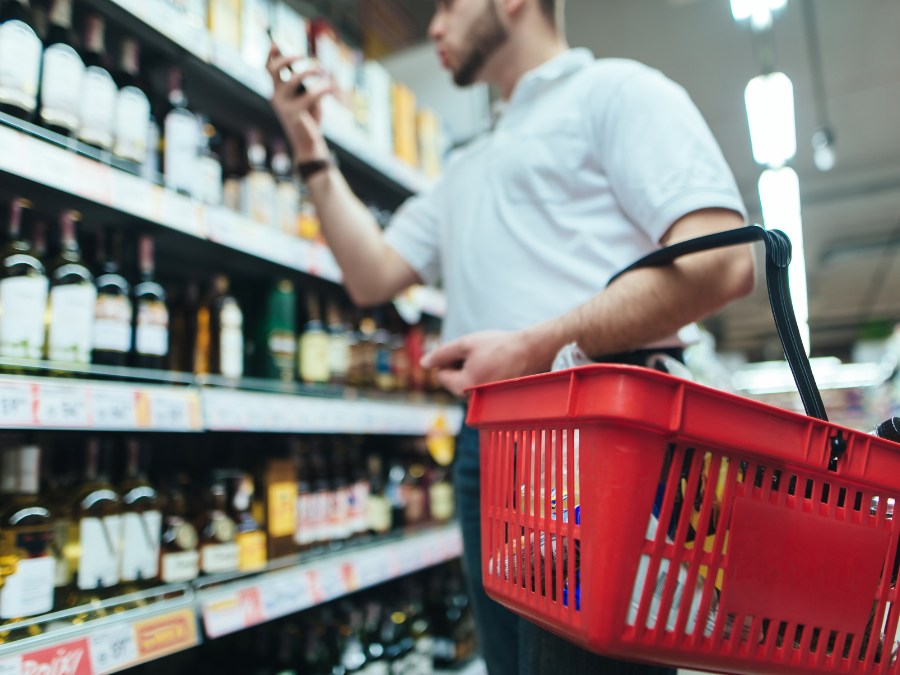 Purchase a packet of cigarettes in any country in the world and its likely you'll be confronted with a combination of stark images and messages, warning you of the potential health risks associated with smoking.
The decision of the World Health Organisation (WHO) to introduce a framework for health warning labels on tobacco packaging in 2003 was rooted in a desire to increase knowledge around the risks of smoking and promote cessation. Smoking has been causally linked with 10 different types of cancer, as well as 18 other diseases including diabetes, emphysema and chronic bronchitis. WHO data claims that tobacco kills more than 8m people annually, either through direct use or second-hand smoke.
Citing the example of smoking, some campaigners say the introduction of similar such warning labels for alcohol are long overdue. Excess alcohol consumption has been proven to increase the risk of cardiovascular disease, liver cirrhosis and seven types of cancers – including liver, breast and bowel cancer. Campaigners argue the introduction of tobacco-style warning labels is necessary to change consumption habits and the associated economic and societal costs of drinking. Critics, however, say there is limited evidence such warnings would meaningfully shift the dial to reduce consumption.
The debate has been reignited in recent months by the Canadian Government, which drastically cut its alcohol consumption guidelines to no more than two alcoholic drinks per week, proclaiming there is no safe level at which to drink. Canada is one of several countries (along with Ireland) that wants to introduce mandatory warning labels on packaging to inform consumers about the cancer risk associated with consumption of alcohol.
In this piece, Just Drinks looks to assess if such labels are necessary, and how effective they might be in reducing alcohol-related harm.
What health warnings do alcohol products contain presently?
The warnings required on alcoholic drinks packaging presently are remarkably light touch and vary significantly from country to country. In the US, for example, the legal requirement on alcohol producers in relation to public health information on packaging amounts to two sentences. The first sentence warns of the risks of drinking whilst pregnant, the second informs would-be drinkers of alcohol's ability to impair their ability to drive or operate heavy machinery, alongside stating, somewhat vaguely, that it "may cause health problems".
How well do you really know your competitors?
Access the most comprehensive Company Profiles on the market, powered by GlobalData. Save hours of research. Gain competitive edge.
Company Profile – free sample
Thank you!
Your download email will arrive shortly
Not ready to buy yet? Download a free sample
We are confident about the unique quality of our Company Profiles. However, we want you to make the most beneficial decision for your business, so we offer a free sample that you can download by submitting the below form
By GlobalData
In the EU, meanwhile, there is no 'bloc-wide' regulation governing health warnings for alcoholic drinks labels. However in some member states including France and Lithuania, labels of alcoholic beverages are required to warn consumers about potential health consequences of alcohol during pregnancy, either with a pictogram or with text.
In the absence of legal requirements to include health warnings, the industry relies heavily on self-regulation to communicate the risks of excess consumption and promote responsible drinking. In the UK, responsibility falls to The Portman Group, the self-regulatory body that oversees marketing in relation to labelling, packaging and sponsorship of alcoholic beverages. The Portman Group's guidelines for best practice strongly recommends all products should include a pregnancy warning message or logo, demonstrate the unit content of the drink, display some form of responsibility message and carry the latest UK Chief Medical Officer low-risk drinking guidelines.
The organisation says uptake of these guidelines has been widespread, pointing to the fact that – in the UK – 99% of alcoholic drinks contain a pregnancy warning, 94% demonstrate unit contents, 93% display a responsibility message and 79% carry the CMO's guidelines.
"You really don't need to spend parliamentary time and taxpayers' money on statutory regulation to drive this when uptake is pretty much universal," The Portman Group's CEO Matt Lambert says. "At 79%, uptake of the Chief Medical Officers guidance could be a bit higher, but we have been pushing that very hard. Next time we do a survey I'd be very surprised if it wasn't quite substantially above 80% and headed northwards."
In the EU, self-regulation is the responsibility of the individual European associations representing the alcoholic beverages categories including SpiritsEurope, The Brewers of Europe and Comité Européen des Entreprises Vins (CEEV).
"For political reasons and procedural reasons, the EU didn't move ahead and couldn't move ahead four years ago with updating labelling law," explains Spirits Europe's director general Ulrich Adam. "So we said we're going to do self regulation according to a way under which we can be judged, evaluated and held accountable."
In the region, however, pressure is building to provide a more stringent legal framework. The European Parliament has called on the European Commission to consider a health warning and calorie content on alcoholic beverage labels. In Ireland, plans to introduce warnings about the risks of cancer and liver diseases linked to alcohol on drinks packaging are in motion and have prompted anger from the likes of Spirits Europe and The Brewers of Europe, which claim the move will exclude other European brewers from the Irish market.
"There are practical elements to consider in a market like the EU," Adam explains. "We have a multilingual internal market with 24 languages and we certainly don't want to see a renationalisation. All of these elements make it a very complex topic. It's not that we cannot discuss it and find proper solutions, but it's important to map out the landscape we have ahead of us."
For now, however, the requirement to include any sort of health warning on alcohol is only a legal requirement in four EU member states (Germany, Ireland, Lithuania and France). Data collected by the WHO in 2016, meanwhile, found that just 47 of the 195 countries surveyed globally required health warnings by law on the labels of alcoholic drinks products. Thirty of the surveyed countries did not have available data on the subject.
Should the requirements be more stringent?
Unsurprisingly, proponents of stronger legislative action on the issue of health warnings lean heavily on data that emphasizes the negative impact alcohol consumption has on the general populace, as well as those that abuse the substance. The WHO states the harmful use of alcohol is a causal factor in more than 200 disease and injury conditions and results in 3m deaths every year, equivalent to 5.3% of all deaths.
Beyond the direct attributable health impact, the harmful use of alcohol also brings significant social and economic losses to individuals and society at large. A 2019 study published in The International Journal of Environmental Research and Public Health estimated the total production losses associated with alcohol-related deaths in the EU in 2016 at €32.1bn.
"The truth is that alcohol harm affects millions and millions and millions of people," says Richard Piper, CEO of UK charity Alcohol Change UK. "It kills more than 10 times as many people than all the illegal drugs put together. There are over 60 medical conditions directly associated with alcohol and 200 medical conditions directly or indirectly associated with alcohol. It's addictive, it's toxic, it's dangerous."
Unsurprisingly, Piper doesn't believe the self regulatory model works at protecting society from the dangers associated from alcohol consumption, and refutes The Portman Group's assertion the industry is doing a good job of providing adequate health warnings.
"Our view is that alcohol labelling should be in a democratic control of citizens, i.e. run by government," he says. "There's absolutely no justification for it to be self regulated. For me, it's a democratic deficit point."
Piper goes on to state his belief that the alcohol industry has been slow in its uptake of measures that could help improve consumer awareness of alcohol's harmful and addictive nature because it does not have enough of an incentive to reduce consumption.
"It's not in the industry's interests, which is the sign that it's like to be effective," he says. "If you've got a problem with it, you must think it's going to reduce consumption. And if you're the industry you're not going to want that, which is exactly why we shouldn't be leaving these policy decisions in the hands of the industry itself. It's like having the fox in charge of the hen coop."
Alcohol Change UK believes any legislation to address the question of alcohol warnings on packaging should enshrine in law requirements to include nutritional information and ingredients, unit content (per container and per serve), as well as a clear statement about the dangers of drinking.
"We need a clear statement that alcohol is an addictive, dangerous substance that can lead to an early death and the safest approach is not drinking at all," Piper says. "Do we need visual graphics like on cigarettes? I don't think so. I think that's unnecessary and there's even evidence that that's unhelpful. I think it's scare mongering. I don't think we want scare mongering. We want people to have clear, accurate, truthful information."
What is the argument against more alcohol health warnings?
In response, those that would prefer not to see stark health warnings become a legal obligation on packaging claim it would not be a proportional or effective measure at reducing alcohol-related harm. If introducing warnings is unlikely to meaningfully reduce the consumption of those most at risk then why, they argue, should we plaster drinks packaging with them and risk scaring those who drink 'in moderation' by public health guidance standards?
On the issue of proportionality, both Spirits Europe's Adam and The Portman Group's Lambert are in agreement.
"80 to 85% of consumers, depending on country and polling method, drink moderately," Adam says, "These people do not need to be sensitised that they are doing something wrong. In a public-health approach, they should be encouraged to maintain moderate consumption levels.
"You want to focus on the more that you know, the harm reduction approach, you want to focus on drinkers who are above the low-level risk drinking guidelines by governments, but that's not what the warning label does. It hits everyone, which is a bit disproportionate."
The Portman Group is quick to point out that its recommendations reflect UK medical guidelines, and - should those guidelines change based on new scientific evidence, it would update its guidance accordingly.
Lambert adds: "If you want to give advice about cancer it has to be proportionate. It has to be evidence based, and it has to allow people to make educated decisions about what we're risking.
"If we look at what is happening in Ireland, we are yet to know what the impact of that will be. Clearly it is a bit scary, but is it proportionate? I think it's a far better way to go to get the clear guidance that you shouldn't be drinking to excess, you should drink in moderation, which is the CMO's guidance."
Another common refrain is that alcohol warnings would take up a disproportionate amount of space on pack, and are logistically challenging in markets such as the EU, where multiple languages are used across an internal market where goods can move freely. This argument, however, is diminished by the increasing proliferation of QR codes and other mobile technology that can provide consumers with more information or instantaneous online translations.
Addressing the issue of whether the alcohol industry can effectively self regulate given its lack of incentive to do so, Adam says much of the spirits industry's growth in recent years has come on the back of value increases, rather than by volumes increasing.
"Spirits consumption has been declining, particularly in Western Europe and the US the past years," he says. "We're playing on value increases and the trend of premiumisation. We see that people tend to drink better not more, and that's also the primary focus of our sector. The other element that comes into the mix is broadening the offer to consumers. We have a small but rapidly growing, market share of low-and-no alcoholic spirits hitting the market.
"We see that the positive trends in Europe are working. Where the debate is, and it's a debate that is never settled, is about how can we support these trends between different actors in civil society from the government to producers. We want to play our part, but the concern is that sometimes broader public and media debates are quite polarised and that is not necessarily conducive to coming up with good and evidence-based solutions to work on harm reduction."
How effective are warnings at changing consumer behaviour?
In settling the debate about whether alcohol warning labels are needed, it becomes impossible to proceed further without addressing the efficacy of such measures. Unfortunately, this task is complicated by disagreements over what basis success should be recorded, and a lack of available pre-existing evidence.
For some, such as Piper, increasing awareness of the cancer risk is a good measure to determine the success of introducing labels. "What I don't think you would need to do would be a long-term look at the effect of labels on overall consumption," he says. "The reason for that is the difference between contribution and attribution. Lots of things can change in society. Wars, pandemics, etc. can lead to the change in consumption, unrelated to labels.
"Consumer recall is a great metric. You can also look at attitude towards drinking. There's an attitude to drinking scale that already exists, from 'I just don't drink' to 'I can't stop it and it's part of my life'. And there's levels in between. It may well be an effective labelling would be something that might move people from six down to a four, for example."
For others, however, the burden of proof needs to be set higher. "Health warning labels can work in the sense of triggering a mechanism by increasing the fear level," Adam says. "If you put a bright yellow sticker on a bottle and people ask later on, 'do you recall there was a bright yellow sticker?' Most people will say, yes. But that is a very, very thin justification for a public health intervention.
"We should be clearly discussing the ethics here, especially if it is something that doesn't show any real-life harm reduction contribution. Do we really believe that's what public health should be primarily about: scaring consumers for an alleged higher good? It's a very difficult debate, and I think the nuance is missing."
One of the only one real-world experiments of cancer warning labels on alcohol took place in Canada in 2017. Erin Hobin, a senior scientist with Public Health Ontario, ran a study where labels were placed on alcohol containers in two government-owned liquor stores in Yukon for a month. The results found exposing people to cancer warnings on alcohol containers resulted in a 7 per cent reduction in per capita alcohol use compared to sites that were not exposed to the alcohol warning labels.
Two months after the cancer warning labels were introduced, almost 25% of participants exposed to the intervention recalled the cancer warning message unprompted, and recall rose to 43% when prompted. Additionally, the study found this increased awareness led to more consumer support for other alcohol policies such as higher pricing.
The study, however, was cut short after the alcohol industry intervened and the Yukon government couldn't afford to get entangled into a potential legal battle.
The Yukon study lends some support to the idea that alcohol warning labels can reduce overall alcohol consumption and increase awareness of the risks associated with drinking. However, it doesn't provide any evidence to suggest it is an effective intervention for those most likely to abuse the substance. If the only people reducing their consumption as those who were presently at little risk of alcohol-related harm, then the intervention can't be deemed a successful one.
Unfortunately, evidence presented by the example of tobacco seem to back up this point. A 2021 study in the Health Education Research journal found that whilst health warning labels reduced the chances of cigarette purchases in smokers lower in nicotine dependence, they had no effect on smokers higher in dependence. Addicts, it appears, aren't easily swayed to stop consuming the substances to which they are addicted, even if they're told in no uncertain terms the harm their habit is causing them.
This, however, shouldn't be a justification for not introducing any sort of health warnings in alcohol. Instead, it should reinforce the need for warning labels to protect those at risk of developing damaging alcohol consumption habits in the future, alongside more targeted support and public health interventions such as rehabilitation programmes, higher taxation and tougher regulations on alcohol marketing to attempt to reduce consumption by those with alcohol dependence issues.
"I've heard 1000 times how brilliant at marketing we are and how we understand what consumers need and want," Piper says. "Okay, well let's use that expertise to design some labels that are genuinely effective at informing customers and helping them make better decisions."
In any case, it appears increasingly likely that a more widespread and real-life test of the effectiveness of alcohol warning labels is on the horizon. In May 2023, Ireland's health minister Stephen Donnelly signed into law legislation requiring all alcohol labels display the grammes of alcohol present in products sold in the country, as well as warning of the risks of liver disease and fatal cancers from alcohol consumption. Ireland claims it will be the first country in the world to introduce such regulations.
The law, which will take effect from May 2026, has been met with fury by European wine, beer and spirits makers, but its success in reducing alcohol-related harm will be watched closely by public policymakers worldwide.