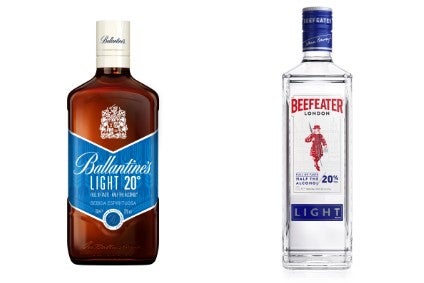 On Thursday, Pernod Ricard will announce the results from the first nine months of its fiscal-2021. The numbers, to the end of March, have as their base a 3.9% sales decline from the six months to the end of December. 
Here's a look at the news that is likely to have shaped Pernod's performance in its Q3 reporting period.
Not a good start to the year for Pernod – or its Cognac brand-owner peers – when US trade authorities added the category to its list of alcoholic beverages to be hit with higher tariffs. The 25% levy on Cognac came into effect on 12 January, prompting trade associations on both sides of the Atlantic to – again – plead for sanity to prevail. The trade war has already hammered exports of American whiskey and Scotch – Will Martell in the US suffer a similar fate in Q3?
Hopes that 2021 will see a lessening of the tariff turmoil of the past two years in alcohol were dashed last week when US trade authorities announced new levies on European Union imports.
The rising interest among consumers to bring their alcohol intake under control was heeded later in the month by Pernod, as the group unveiled "Light" expressions of its Ballantine's blended Scotch and Beefeater gin brands. The 20%-abv portfolio additions debuted in Spain in January, carrying the same SRP as their full-strength brethren.
To put it mildly, the world – and the behaviours of the consumer – has changed seismically, practically overnight. One of the most interesting things to have emerged from all of this is the acceleration of the sobriety trend.
There were a couple of notable sustainability moves from the group in the three months. First up, Beefeater ditched its plastic closure for an aluminium version and the PVC label for a paper one, while in February, Absolut sported a limited edition bottle – its "most sustainable glass bottle yet" – made from 60% recycled glass.
Recent months have seen the first steps towards the standardisation of sustainability reporting. Ben Cooper examines plans announced in March by the International Financial Reporting Standards Foundation for the creation of a sustainability reporting framework to complement its established financial reporting standards.
A potentially serious contender to the group's Havana Club rum brand appeared in mid-February, as we reported on Moet Hennessy's Eminente Reserva Cuban rum launch. The expression, priced at US$65 per 70cl bottle in the US, may only squeeze Pernod's higher-end rum efforts, but competition is competition – particularly in a rum segment long-dominated by Havana Club.
Having announced the addition of a Cuban rum to its portfolio last year, Moet Hennessy added more details to the roll-out of Eminente Reserva in February. Following the news, just-drinks caught up with brand director Camille de Dominicis to hear more about the group's venture into Pernod Ricard and – more recently – Diageo territory.
Will Pernod have macro-economic concerns in 2021? A report from credit-rating agency Moody's in February warned the group may not be immune from rising commodity costs in the months ahead, while inflation in markets including Brazil, Mexico and Nigeria could also hamper sales.
March saw Pernod in acquisitive mood as Colombian rum brand La Hechicera came into the fold. Through a majority stake purchase, the company will have high hopes for the "ultra-premium" rum that – coincidentally? – operates around the same price point as Moet Hennessy's Eminente.
just-drinks spoke to La Hechicera co-founder Miguel Riascos, who will continue as MD of the brand in the wake of Pernod's takeover. Riascos talked about his hopes of working alongside Havana Club, why production rules for rum risk confusing consumers and how Global Travel Retail sales hit zero at the height of the pandemic.
While speculation has long centred around Pernod's possible exit from wine, the rumour mill cranked into reverse in March: Pernod stepped back from a report in Australia that claimed a move for Treasury Wine Estates was in the offing. As TWE came to terms with skyrocketing tariffs on Australian wine into China, speculators suggested a bargain was there to be had. Will Pernod bite?
Last month's speculation linking Pernod Ricard to a move for Treasury Wine Estates represented a walk down Memory Lane, with similar noises having been made as far back as 2014. While the goalposts have moved somewhat over the past seven years, the outcome – in that there was/will be no outcome – remains the same.
Rounding off the quarter was a curious development in the US, as the importing and marketing rights for four Pernod brands – including Plymouth Gin – were transitioned to a third party. Could the moves of Plymouth along with the Powers, Knappogue Castle and Clontarf Irish whiskey brands prompt a full divestment further down the line?
Our unaged spirits commentator is in gin again in March. Richard Woodard cast his eye over Plymouth gin, a brand with an enviable history – or an unfortunate one, depending on how you look at it.