Moet Hennessy has confirmed details of the European roll-out of its recently-launched Cuban rum brand, with Eminente Reserva positioned at the higher end, price-wise.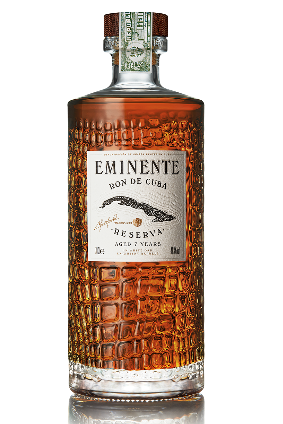 The expression, first announced by Moet Hennessy late last year, hit Czech, France, Germany and the UK about two months ago. Priced in the UK at GBP47 (US$65) per 70cl bottle, Eminente comprises liquid that has been aged for at least seven years.
The rum is produced by state-owned Cuba Ron Corp, which controls the distillation of all of Cuba's rum brands, including Diageo's Santiago de Cuba. The corporation is also a joint-venture partner with Pernod Ricard for Havana Club.
"We are delighted to see Eminente officially launch in the UK, particularly at a time when the rum category is increasingly dynamic and diverse," said Eminente market manager Max Helm. "We believe Eminente's story, the Cuban heritage and the … liquid in the bottle are an energising addition to this exciting spirit category and that it will bring a fresh perspective to Cuban rum."
Moet Hennessy seems to have struggled more than most of its spirits category peers in 2020. Late last month, the company posted a 14% decline in full-year sales, a week after Remy Cointreau said its sales from the nine months to the end of December dipped by just 1.6%. Diageo's 1% top-line lift in the latter six months of 2020 was followed this week by Pernod's -3.9% sales slip for the same period.
What will Diageo's Cuban rum JV mean for Pernod Ricard and Bacardi? - Click here for a just-drinks comment
---