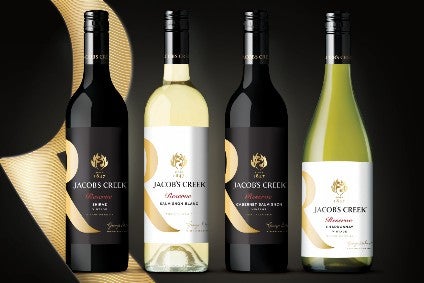 Pernod Ricard has overhauled packaging for a UK Jacob's Creek wine range.
The new-look Jacob's Creek Reserve features a large 'R' and gold foil trim, Pernod said today. The rebrand follows an overhaul for the global Jacob's Creek Reserve range about 18 months ago, however the UK range is exclusive to the country, a Pernod spokesperson told just-drinks.
The UK line-up consists of Sauvignon Blanc, Chardonnay, Shiraz and Cabernet Sauvignon varietals. Each 75cl Jacob's Creek Reserve iteration carries an SRP of GBP9 (US$12.50) and will roll-out across two UK retailers. From mid-May, the Sauvignon Blanc and Shiraz will be available in Asda, while the Chardonnay and Cabernet Sauvignon will hit Morrisons shelves.
"Australia is the UK's favourite country of origin when it comes to wine and this represents a huge opportunity to drive value within the category with new and exciting, but also quality, wines," said Pernod's UK wine portfolio director, Lucy Bearman.
Last month, Pernod revealed a Cabernet Sauvignon finished in ex-Irish whiskey barrels for Jacob's Creek in the UK.
Why 'disaster' is no exaggeration for France's wine industry – click here for a just-drinks comment