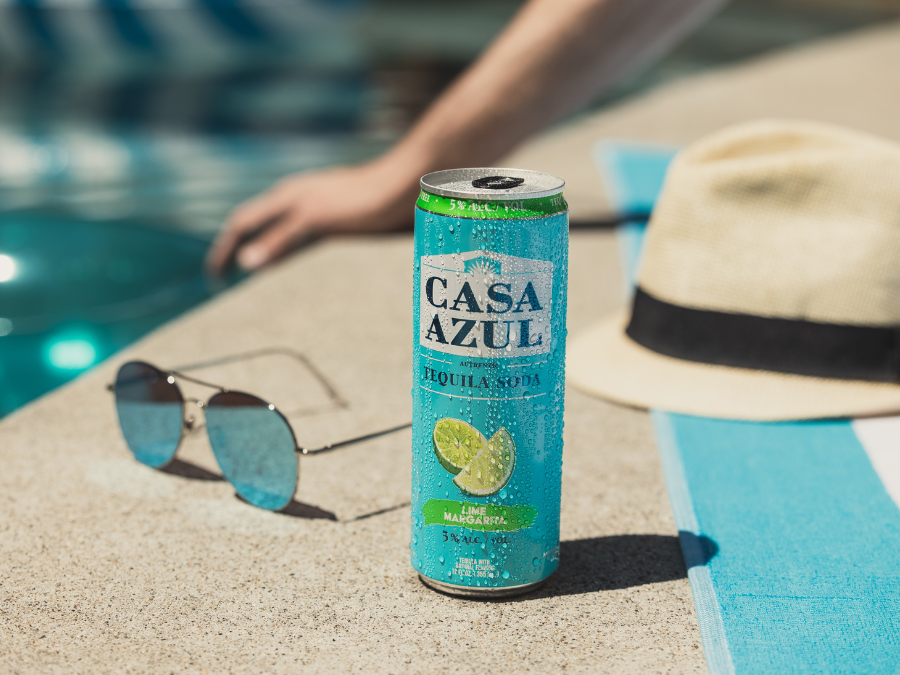 Kansas City Chiefs American football player Travis Kelce has taken an equity stake in RTD-spirits brand Casa Azul Tequila Soda.
The investment will see the NFL tight end become an ambassador for the canned cocktail brand, which launched in the US in August 2022. The size of the investment, and the exact stake that will be owned by Kelce in the brand have not been disclosed.
Casa Azul Tequila Soda was launched by "serial beverage entrepreneur" Lance Collins last summer. The brand differs from other widely available RTDs in the US in that it is made from a spirit base, rather than from flavoured malt liquor.
The 5% abv drink comes in a variety eight-pack featuring current flavours Lime Margarita, Strawberry Margarita, Peach Mango, and Watermelon, as well as in single flavour 4 packs. Each can contains real Tequila from Jalisco, Mexico. The drinks contain between 0-1 g carbs and 100 calories.
Presently, the brand is available online and at retailers in the US states of California, Texas, Florida, Georgia, Colorado, Arizona, and Louisiana.
Collins, who founded US energy drinks brand Bodyamor, as well as a slew of 'better-for-you' drinks brands including Core water and Fuze tea, said Kelce's profile would help bring the Casa Azul brand to new consumers.
"Travis is one of the best players in the league, and he's also an influencer off the field in media and lifestyle," he said. "His investment in Casa Azul Tequila Soda will help introduce our RTD beverages to a new audience of sports fans who are seeking the best of both worlds — the real spirits and flavour found in canned cocktails, but with the low calories and low carbs of hard seltzers."
Last month, Teremana Tequila CEO Richard Black told Just Drinks he believed the trend of celebrity-backed spirits brands was been driven by the role of celebrities as "tastemakers" for US consumers.
The CEO of Dwyane 'The Rock' Johnson's Tequila brand said: "People are interested in celebrities' lives, what brands they are using. Spirits is a great example of where brands have been successful in this regard. I see celebrities as tastemakers and I think consumers do too, especially when navigating new categories.
"In Tequila, consumer knowledge and understanding is still catching up as people learn and explore the category. Having celebrities endorse brands or speak to brands enables consumers to make better choices."
How Tequila took over the US (and why it's not going anywhere anytime soon)