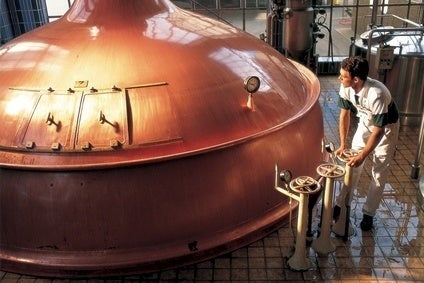 Here's a round-up of this week's highlights in the global beer category. We are also running similar round-ups for soft drinks & bottled water and spirits & wine.
The head of Anheuser-Busch InBev has said the company will learn from its China operations as it prepares to open its first brewery in Vietnam.
The Latin American unit of Anheuser-Busch InBev has made a move into the craft beer category in Colombia through the purchase of Bogotá Beer Co (BBC).
Molson Coors has posted a sharp drop in first-quarter sales and profits on weak demand in Europe.
Carlsberg-owned Brasseries Kronenbourg has announced three new product launches in its domestic market for this Spring.
There was general agreement among analysts that Anheuser-Busch InBev's Q1 results yesterday were better than expected. That's not to say the global brewer doesn't face a few challenges as it gets 2015 out of the blocks
Craft Brew Alliance recorded a wider net loss in the first quarter, impacted by tighter margins in its restaurant business and falling sales.
Heineken has launched a spirit-flavoured cider in the UK on-trade that takes its name from a Prohibition-era ritual.
MillerCoors has appointed an interim CEO after posting a rise in Q1 profits, despite stagnant sales.