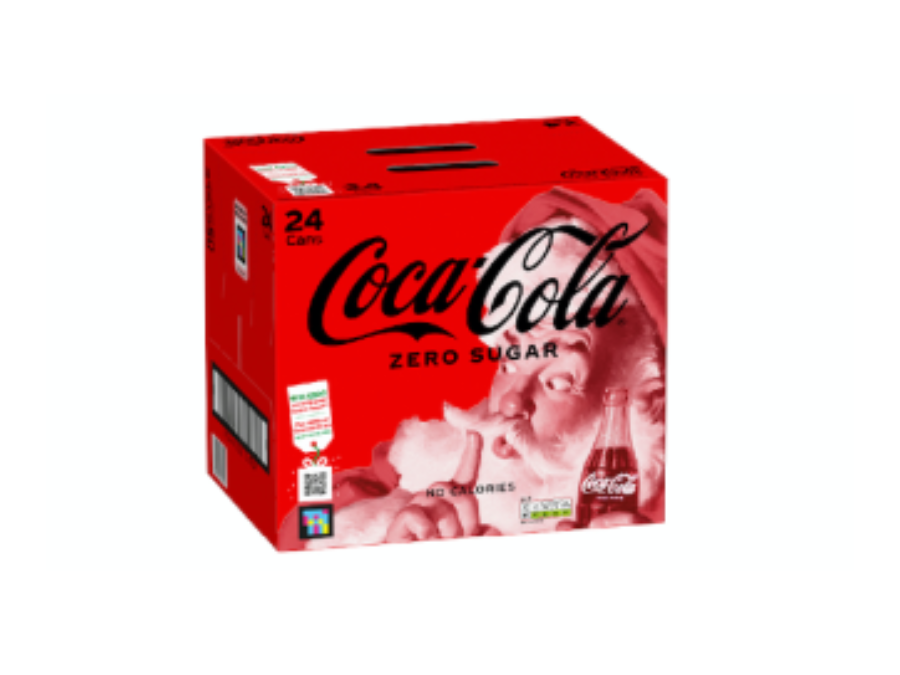 The Coca-Cola Co. has issued a safety notice in the UK after discovering cans of its full-sugar variant may have been packaged as multipacks of its sugar-free SKU.
The CSD giant said it had taken the decision to issue the warning after discovering a manufacturing mistake. The error had led to "a small number" of Coca-Cola Zero Sugar multipacks being shipped containing cans of Coca-Cola Original Taste.
The affected multipacks are 24 x 33cl cases of Coca-Cola Zero Sugar and are wrapped in Christmas-themed packaging. The company confirmed to Just Drinks there was no possibility of "mixed" cases containing both sugar-free and full-sugar products in them.
A Coca-Cola spokesperson said: "As a precaution, we have taken the decision to issue a product safety notice regarding a small number of multipacks of 24 x 330ml cans of Coca-Cola Original Taste, which have been wrongly wrapped in Coca-Cola Zero Sugar Christmas packaging.
"The quality of the drink itself is not affected. However, we advise anyone who has purchased 24 x 330ml multipacks of Coca-Cola Zero Sugar to ensure the product inside is as expected."
The company added it was asking customers to contact its customer service team if they discovered Original Taste cans in their Zero Sugar multipack.
"We are sorry that on this occasion, a small number of our products have not met our high standards and apologise for any inconvenience this has caused," the statement added.
Accidental consumption of full-sugar drinks could pose a risk to consumers living with diabetes by causing their blood sugar levels to become too high.
In June, Molson Coors Beverage Co. voluntarily withdrew cans of its Coors Light and Keystone Light beers, after discovering an unspecified issue at its brewery in Ohio.
The company added there was "no food health risk" connected to the products in question.
Beverage M&A round-up, October 2022 – What Just Drinks thinks