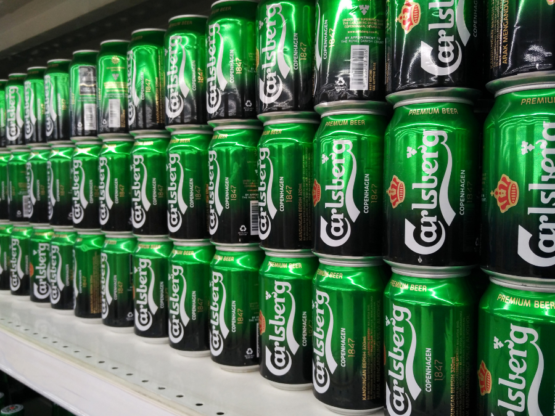 The chief executive of Carlsberg's UK venture, Carlsberg Marston's Brewing Co., has called the recent fall in the value of sterling "worrying" for brewers.
On Monday, the value of the pound against the dollar, already hit by the publication of the new UK government's mini-budget on Friday and its plans to fund tax cuts through a sharp increase in government borrowing, fell to an unprecedented US$1.0327.
Speaking to BBC Radio 4's Today programme, Paul Davies, the CEO at Carlsberg Marston's Brewing Co., underlined the pressure the fall in the pound could place on brewers as they import inputs into the UK.
"Many of the hops used in this country are actually imported and a lot of them, particularly for craft brewers, are imported from the [United] States, so changes in currency are actually worrying for industry, for sure. Then, of course, people drink a lot of imported beers from Europe, and the euro versus the pound is also something we're watching very closely at the moment."
Like their counterparts the world over, brewers operating in the UK are facing upward pressure on costs in areas including energy, packaging, distribution and labour. Small- to medium-sized beer makers in the country are facing the pinch from higher prices of carbon dioxide following the closure of the country's largest ammonia plant last month, leading to fears of a production standstill this winter.
Davies added: "I would say as an industry we're generally using British barley and we're using a lot of British hops but, of course, if you're drinking double IPA that requires a lot of Citra hop and other hops from the States and, at some point, that is going to have to be passed through to both the customer and the consumer if prices are this volatile."
The measures unveiled in the UK government's mini-budget included ripping up plans for an increase in duty rates for beer, cider, spirits and wine, a move widely welcomed by the industry.
Elsewhere, Japanese brewers have recently had to deal with a weak yen, which had hit a 24-year low. The currency had lost nearly a fifth of its value to the dollar. The Japanese government reacted this month by buying Yen and selling dollars in a bid to prop the currency up.
Are energy drinks experiencing a second coming? – Click here for a Just Drinks comment