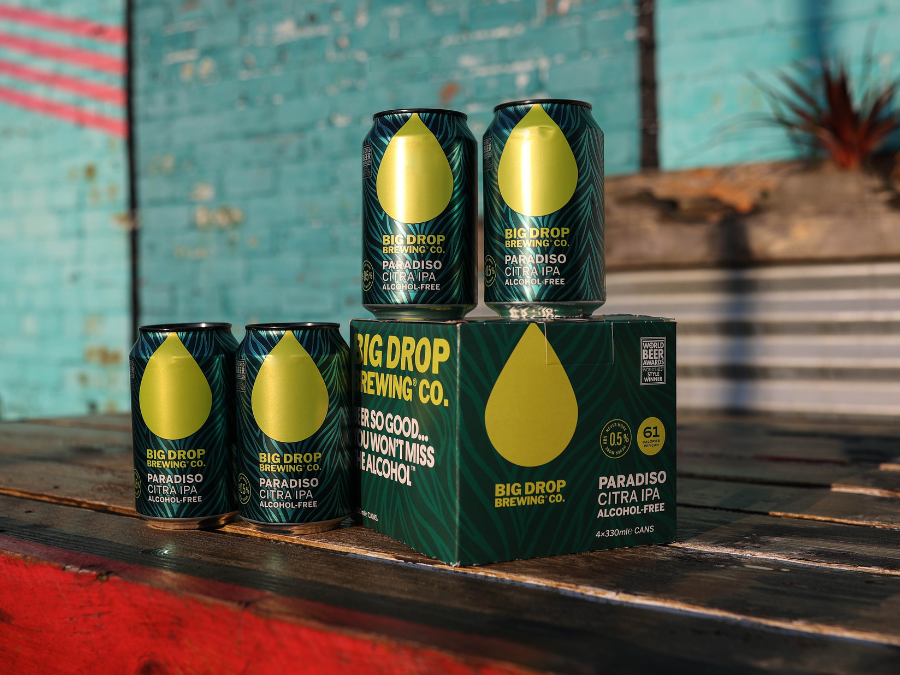 UK non-alcoholic beer brand Big Drop Brewing Co. has deepened its ties with Fourpure and Magic Rock Brewing Co. owner In Good Company.
The asset-light Big Drop, which sells its alcohol-free beers in 20 countries including Australia, Canada and the US, has signed a licensing agreement that will see In Good Company exclusively produce its UK keg and canned products at its south London brewery. The brand had worked with Fourpure and Magic Rock's previous owners, Australia's Lion.
"In Good Company will be our UK brewing partner for kegs and cans," Big Drop's managing director Joseph Walsh told Just Drinks. "We have an ongoing relationship with Renegade Brewery [previously West Berkshire Brewery] which brews bottles on our behalf and continues to produce very good beers for us."
The deal will see "a significant number" of Big Drop Brewing Co.'s team join In Good Company as employees, Walsh said. The company, which purchased the assets and brands of Fourpure and Magic Rock in August last year, will handle the production, sales, marketing and distribution of Big Drop's beers.
"Subject to the needs and requirements of both Big Drop and In Good Company some staff will remain permanent Big Drop employees and others will move into In Good Company full time, where they may work across the wider portfolio," Walsh said. "Both companies were committed to maintaining the DNA of the brand so it's really pleasing to confirm a significant number will move over into In Good Company in the coming weeks.
"Fortunately, this has resulted in very few staff being displaced. We have been transparent internally for some time so most leavers have been able to source external roles very quickly."
Financial terms of the arrangement between the two breweries were not disclosed. Walsh confirmed, however, that no equity in Big Drop has been sold as part of the move.
The agreement enables Big Drop Brewing Co. to scale its UK operations, while also solving a capacity conundrum for In Good Company's Fourpure brewery. Speaking to Just Drinks in December, the company's chief executive Stephen Cox said the site in Bermondsey was operating below its 60,000hl annual capacity.
Big Drop, founded in 2016 by Rob Fink, has now fully integrated with its brewing partners in its "three key markets" of the US, Australia and the UK. In November, the 0.5% abv brewer announced a similar partnership with Destihl Brewery in Illinois.
"We've worked hard to build a solid platform for the Big Drop brand and this is undoubtedly the best route to scale the business for the future," Walsh said. "Brewing under licence simplifies our supply chain and broadens our availability while still allowing us to invest in growth."
Ahead of its latest crowdfunding round late last year, Big Drop disclosed a pre-money valuation of £14.8m ($18.3m).