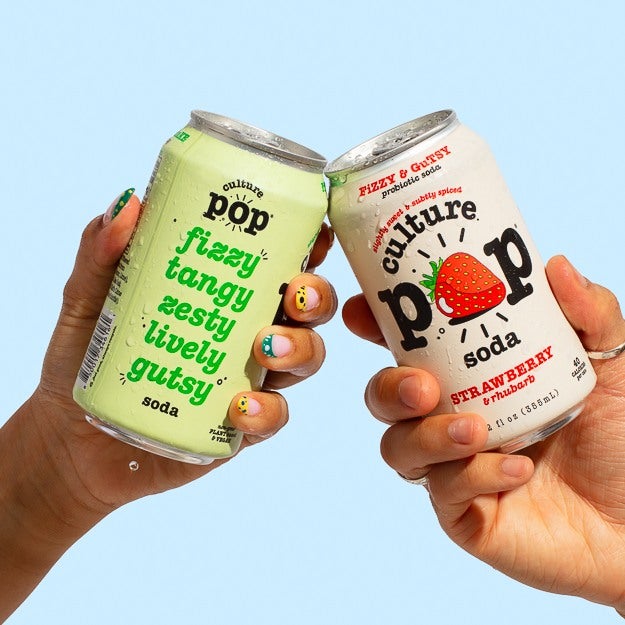 The functional soda market in the US is fizzing. Sales are bubbling away, retailers are allocating more space to the category's leaders and new entrants are coming to the fore with bold flavour profiles and colourful packaging to boot.
Functional sodas aren't just packed with flavour and packaged attractively. Manufacturers also tout the health benefits their drinks offer, with the beverages typically containing minerals, vitamins, dietary fibres or adaptogens, among other ingredients.
The market is still in its infancy but big things are predicted. Industry watchers believe its growth will be turbocharged when the major soft drinks manufacturers either enter the category, or invest further, through their own product launches or via acquisitions.
Demand for healthier options
Tom First, founder and CEO of Massachusetts-based Culture Pop Soda, which sells a flavour-packed range of probiotic sodas, explains that the carbonated soft drinks category was one of the last categories to be targeted by 'better-for-you' brands.
"There have been disruptors in iced tea and a lot of still drinks – and coconut water is almost like a replacement for sports drinks –but carbonated soft drinks have been traditionally dominated by the incumbents, the legacy brands," says First. "There are a few [functional soda] brands and we're certainly one of them, along with the likes of Poppi and Olipop, that have entered this market and got a lot of distribution."
He adds major US retailers like Kroger, Albertsons and Publix have expanded the shelf space they have allocated to the drinks as sales of these products have taken off.
Poppi is one of the category leaders and, according to co-founder and chief brand officer Allison Ellsworth, the prebiotic-soda brand experienced a 148% increase in revenue and a 250% rise in online sales from 2021 to 2022. The company, which has so far raised more than US$50m in funding, does not disclose its annual revenues. However, Ellsworth says the brand's growth has been driven by continued innovation and growing consumer interest in better-for-you sodas.
"There has been a growing curiosity in the functional beverage space, whether it was kombucha or adding vitamins, collagen, etc., to everyday drinks for an added nutritional boost without the bad taste," says Ellsworth.
John Kelly, director of beverages at ingredients giant Kerry Group, agrees with Ellsworth that growth in the category has been driven by a growing number of consumers who are increasingly focusing on "healthy ageing and proactive management of holistic health".
He continues: "With higher attention paid to added health benefits and back-of-pack details, consumers are seeking ingredients that help them achieve their immediate and long-term health goals. Ingredients are gaining their own identity as consumers look to achieve specific health goals from everyday beverages. This blurring of lines has created a new space – 'functional and fortified'."
Young and old boosting sales
In addition to older consumers keen to look after their health switching from traditional carbonated sodas to functional ones, brands are also finding favour with a younger audience.
Melissa Martinelli is the co-founder and CEO of Superfrau, another functional-soda brand based in Massachusetts. The business markets drinks containing ingredients including zinc and upcycled liquid whey. She says the audience is still relatively "small or niche". However, he adds: "It is growing fast as markets like Whole Foods become more mainstream and Gen Z expresses concern for both their body and their impact on the environment."
At Culture Pop Soda, First says a lot of younger consumers are more health conscious than their parents and are less likely to drink sugary sodas or alcohol. Therefore, he asserts, they're looking for an interesting, flavour-packed beverage replacement, which is where functional soda steps in.
A spokesperson for Detroit-based Casamara Club, which uses botanicals like juniper berry for flavour in its products, concurs. "Functional soda, as a category, feels relatively new and dynamic, with the influx of so many emerging brands with distinct points of view in the last few years. As more and more people are looking for thoughtful alternatives to alcohol, for any occasion, functional beverages can fulfil that need."
First says some consumers have been attracted to the category having tried seltzers, kombuchas or other unsweetened drinks, but haven't found the flavour profiles they were looking for.
"People do love bubbles and flavour complexity comes out with bubbles and so I think this is helping bring a generation of people back into the category that might have left," adds First. "The other thing is a lot of people think seltzer is boring and these [functional soda brands] are offer deeper, more complex flavours, and they help people who maybe have a little bit of fatigue."
Those deeper, more complex flavour profiles he refers to include the use of botanicals like juniper, herbs and spices like cardamom and turmeric, typically coupled with powerful organic juices from fruits like lemons, oranges and grapefruit.
"It's familiar flavours with sort of a culinary and special twist that gives these sodas a little bit of complexity and make them interesting and different," says First. "Flavour complexity allows you to create a more rounded drink without using a lot of sugar, or sweetener like stevia, so we've leaned on these creative culinary twists to allow us not to add a bunch of sugar to the product."
Flavour innovation
Many of the earlier products in the functional soda category offered pretty traditional flavour pairings like lemon and lime but brands like Culture Pop are starting to push the boundaries of what's possible.
According to Martinelli, product development is being driven at the moment by "flavours inspired by other cultures. Asia (i.e. yuzu), Africa (sorel/hibiscus), a renaissance of centuries-old functional ingredients (i.e. liquid whey) and adaptogens".
Ellsworth says Poppi listens to consumers and the flavours that excite them. "For instance, we just improved all of our flavours by adding 2g of dietary fibre from agave inulin," she adds.
From First's perspective, the functional soda category has gone back to the origins of how carbonated soft drinks were produced.
"They were made in a pharmacy as a health tonic. That's where it [the carbonated soft drinks category] was invented. And they were actually using herbs and spices and then it became all about flavour systems and high fructose, corn syrup and colour. So, a little bit of this is bringing carbonated soft drinks back to their roots."
Interest from Big Soda
Given the projected growth of the category, it's little wonder the large, traditional manufacturers of carbonated soft drinks have started paying more attention to the potential opportunities in the category.
To date, however, they have only really dipped their toe in the water. PepsiCo launched a functional water containing L-theanine, while Coca-Cola invested US$20m in Health-Ade Kombucha and launched a drink called Coca-Cola Energy, which contains guarana extracts and vitamin B.
Martinelli says the big drinks companies are watching the category closely and thinks "there will be an acquisition soon before they innovate themselves".
Ellsworth agrees. "So far, we haven't seen efforts [by big soda companies] to revise formulas, but this could certainly change in the future as the category expands."
How rapidly that expansion occurs remains to be seen. Kerry's Kelly thinks opportunities in the "functional and fortified" space are "boundless". First is also optimistic about the future prospects for functional sodas.
"I know there have been these large projections in terms of [functional sodas becoming] a multi-billion-dollar category," says First. "The reality is the carbonated soft drink category is a very big category and the question is how much share will these modern [functional] soft drinks take from the legacy brands? I think it's still very early on but I think there's really big potential for the category."