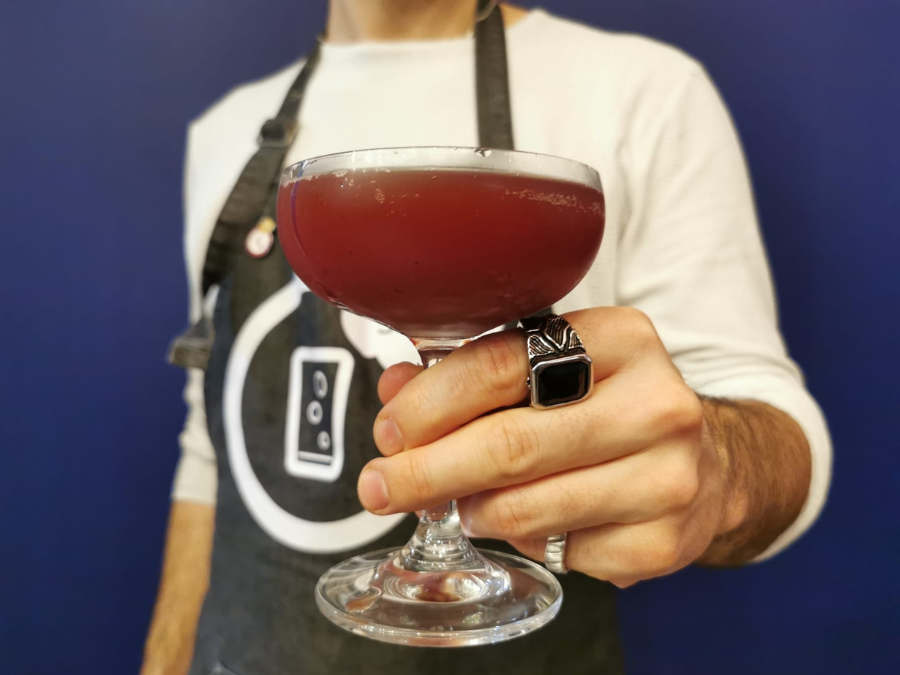 From the outside, the Club Soda Tasting Room, Bar and Shop looks like any other boutique off-licence. However, this white-fronted shop just a short walk from Seven Dials in central London is a store like no other. Adorning its shelves and filling its fridges are dozen upon dozens of beers, wines and spirits with a key difference; none of them contain any alcohol. Trade at the shop – which opened its doors in November – is booming, its owners say.
"The interest in alcohol-free, and around alcohol-free cocktails in particular, is really high," says Club Soda founder Laura Willoughby. "We've got amazing mixologists and our own cocktail list. It's certainly exceeding our expectations in terms of customers coming in and having drinks."
Willoughby describes trade in the run-up to Christmas at the shop as "massive" and points to the fact the company extended its pop-up shop last year through until the end of March as evidence the trend is no longer limited to drinkers taking a break for Dry January.
"The demand is there year-round now," she says. "Certainly we saw that all the way into February, March last year. It didn't really change hugely and we had – and continue to have – a lot of good regular customers. Speaking to a lot of brands they will say that January is ceasing to be as significant for them, they're finding that sales are steady throughout the year."
Moderation trends drive low- and no-alcohol spirits launches
The popularity of Club Soda's alcohol-free off-licence reflects wider moderation trends that are transforming the global alcohol beverage landscape. According to GlobalData, 16% of consumers are actively trying to reduce their consumption of alcoholic drinks globally, while 39% say they only consume alcoholic drinks "in moderation".
One segment of the market that has seen entrants both large and small, and appears set to drive future non-alcoholic category growth, is low- and no-alcohol spirits. The market for these products was worth US$143m globally in 2021 according to GlobalData, up from US$74m in 2017. By 2026, its value is predicted to top US$200m, giving the category a ten-year CAGR of 10.45%.
How well do you really know your competitors?
Access the most comprehensive Company Profiles on the market, powered by GlobalData. Save hours of research. Gain competitive edge.
Company Profile – free sample
Thank you!
Your download email will arrive shortly
Not ready to buy yet? Download a free sample
We are confident about the unique quality of our Company Profiles. However, we want you to make the most beneficial decision for your business, so we offer a free sample that you can download by submitting the below form
By GlobalData
These drinks, many of which mimic or are inspired by popular alcoholic spirits like gin, rum and Tequila offer consumers a means to moderate, without giving up their favourite mixed drink or cocktail. Production techniques vary from brand to brand, but most involve some sort of steam distillation, infusing the flavours of botanicals found in popular alcoholic drinks into a non-alcoholic liquid base.
One of the earliest adopters was Ceder's, a non-alcoholic gin alternative founded by husband and wife duo Craig Hutchinson and Maria Sehlstrom. Its flagship product uses a water-based distillation featuring botanicals including juniper and coriander. In 2021, Pernod Ricard acquired a majority stake in the brand and it now fronts the Paris spirits' giants low- and no-alcohol range.
Solene Marchand, head of marketing for Pernod Ricard's non-alcoholic products, says most of the brand's consumers also drink alcohol but are looking to moderate their consumption.
"People are alternating. They're not being abstinent," she says. "We know that 71% of the consumers of these new non-alcoholic spirits also consume alcoholic spirits. So, that's really interesting for the way we communicate to our consumers. They already know about how to consume an alcoholic cocktail and the idea is to give them the same alternatives but within a non-alcoholic version."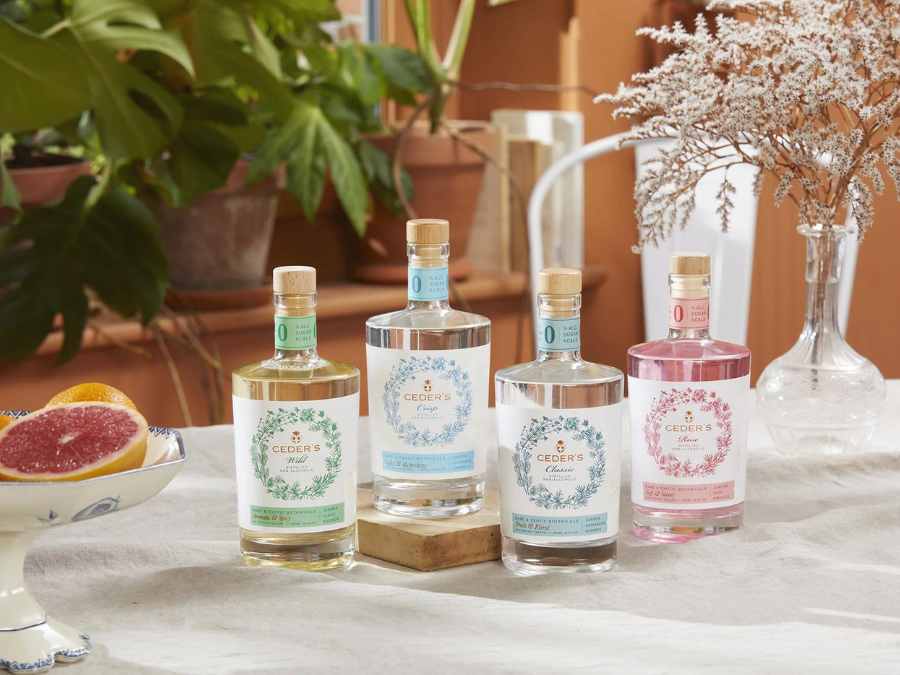 Low- and no-alcohol spirits cannot be marketed as alcohol-free versions of full-strength spirits e.g. "non-alcoholic gin" owing to the strict EU and UK regulations governing the use of category names, as well as geographical indicators (GIs) for products such as Tequila and Scotch. As such, Ceder's promotes itself as a "distilled non-alcoholic" beverage and, although its flagship takes many of its cues from the flavours of gin, Marchand believes the drink and the category can stand as its own proposition.
"We don't believe we need those names to explain what our products are," she says. "We are more what you would call botanical drinks; gin-inspired maybe but we are creating a new type of category. What's key is to explain to the consumer how you drink our product – which they understand pretty quickly as an adult premium cocktail – and then we can bring them the same kind of experience, just without the alcohol."
Should low- and no-alcohol spirits mimic full-strength counterparts?
The rapid rise of early adopters including Ceder's and Seedlip (now part of Diageo's roster) has inspired the creation of hundreds of new entrants to the low- and no-alcohol spirits market. One such entrant was Caleño, created by Ellie Webb in 2018. Caleño – which is listed in most of the UK's major grocers and sold in ten countries – is inspired by the flavours of Colombia, with pineapple, coconut, lemon peel, ginger and kola nut featuring across its two variants.
Webb says part of the decision to focus on these flavours was borne from a desire to create a product with a unique taste that distinguished itself from its alcoholic (and non-alcoholic) competition. She argues that is one advantage new-to-market alcohol-free spirits brands can have over zero-alcohol versions of existing products such as Diageo's Tanqueray and Gordon's 0.0% variants.
"I don't know if we would even want to have gin or rum written on the label because then people make automatic comparisons and have certain expectations on taste," she says. "Brands like Gordon's or Tanqueray, their alcohol-free product is being judged upon whether it tastes like the alcoholic version."
Marchand agrees, adding that has been part of the reason behind Pernod Ricard's (hitherto) reluctance to launch alcohol-free versions of its flagship brands such as Beefeater, Malfy or Absolut.
"We can see there's room for both [new brands and alcohol-free variants of existing brands] and we're definitely looking into potential non-alcoholic versions of our strategic international brands… but we're very, very careful on the quality of our products," she says. "If we come out with 0% versions of brands, it is more of a challenge because we're trying to be close to something that already exists.
"New-to-the-world brands are easier in a sense because we can go all out in terms of creating different tastes and profiles. Not all tastes are technically easy to create non-alcoholic versions of."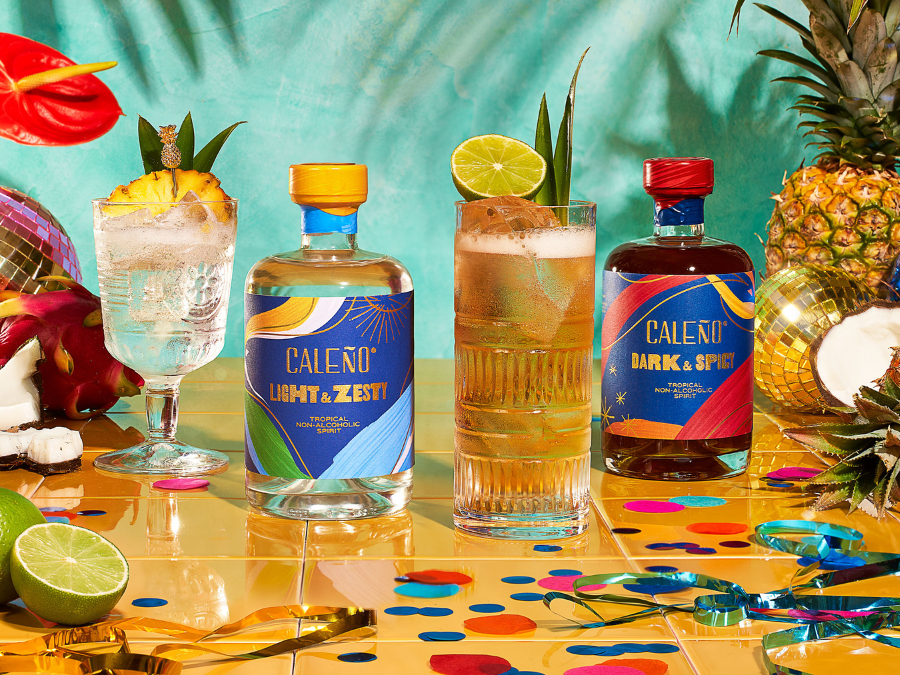 Webb, however, doesn't believe alcohol-free spirits brands should diverge too far from mainstream spirits. Caleño's 'Dark and Spicy' variant positions itself as a non-alcoholic rum alternative and the brand recommends serving it alongside ginger beer or in non-alcoholic versions of classic rum-based cocktails such as a mojito.
"If you're too separate from that world of alcoholic drinks that people don't recognise you, then you have a massive consumer education piece on your hands," she says. "It's part of the reason why Caleño comes in a spirits bottle, and is served in a double measure in a cocktail. A lot of the rules and norms are the same. If you try and change too many things then the consumer won't understand and they'll just go: 'well I'm not going to try that'".
Cocktail demand, social media driving alcohol-free exploration
Alignment with alcoholic spirits categories also makes sense in the context of growing interest in both spirits and cocktails globally, with mixology at-home (particularly during the pandemic) and in the on-premise booming.
"Cocktails are a big thing in a way that it just wasn't 20 years ago," Willoughby says. "If people are going to spend money, they want to spend money on something they feel gives them an exceptional experience and cocktails fit into that whether they're alcoholic or alcohol-free.
"One of the things we're really noticing is demand from trends on platforms like Tik Tok. We'll have people come into the shop and show us a video they've seen of someone making an alcohol-free cocktail and they want to buy all of the ingredients to make it there and then. It's very immediate."
For Pernod Ricard, demand for non-alcoholic drinks is highest in markets where there is either already strong demand for spirits – for example, the US, UK, Canada and Australia – or in dry countries where alcohol is not consumed at all.
"The key markets for us are definitely the big spirits markets, which is maybe a bit counterintuitive," Marchand says. "But, as I was saying, a lot of the spirits drinkers are now those that are moderating. At first, it started with key moments like Dry January, Sober October but now it is so much more than that. In spirits markets, consumers understand the concept of cocktails and the demand is there. Other markets that are interesting are dry markets, where we are seeing a lot of demand for new-to-world non-alcoholic drinks because they want products that can bring them an adult cocktail experience.
"Asia is definitely a market that has been opening up more and more to non-alcoholics and that's definitely something I think we'll be seeing in the next year or two. Some big markets like Japan are very interested as the population becomes more and more interested in moderation and healthier alternatives."
Webb says e-commerce and retail continue to drive much of Caleño's growth, with the on-premise improving but still slow to catch up. "Bars and restaurants are starting to come online but it takes a little bit longer in terms of building that awareness and things like availability filtering through," she says. "There can still be stigmas around not drinking and peer pressure, whereas there is no judgement at home."
Do higher production costs justify equivalent pricing for alcohol-free?
One of the major debates that surround the low- and no-alcohol spirits segment is around the question of pricing. Critics have pointed to the lack of duty paid on non-alcoholic spirits to suggest the drinks ought to command a lower price point than their full-strength counterparts, whereas producers themselves argue the unique challenges of making and packaging non-alcoholic spirits mean an equivalent pricing structure is justified.
"In terms of the production of non-alcoholic spirits, one of the challenges that I don't think is communicated enough is the fact you need specific production lines and hygiene levels that need to be very high since there is no alcohol in the product," Marchand says "It's something we are investing in, creating a new non-alcoholic specific production line in the south of France. We want to become a category leader and this is a very big investment on our side to accelerate in this category."
Ceders' flagship expression retails at a price of EUR23, a price Marchand says fairly reflects the costs of making and distributing the product.
"We don't take alcoholic spirits and take out the alcohol. That's not what we do," she says. "We are creating a new premium product that demands a lot of R&D, and has very specific production requirements. These products are also often produced in lower quantities, in small batches, because it is still a niche category.
"So there's all these elements that together at Pernod Ricard lead us to believe these products are not a backup option for alcohol; they're premium quality products and are listed and priced at such."
Webb concurs and points to the need to establish a category that doesn't exist in spirits, where the proposition is already well understood by the consumer. This, she says, necessitates bigger marketing investment by non-alcoholic spirits brands than their alcoholic counterparts.
"You've got to be able to educate people and let them know that this thing exists," she says. "It takes years to grow a category, and a lot of the money we make gets invested back into the category and educating consumers. It's not a standing start where we are going in and selling at the same kind of rate that spirits are. It takes years to build that kind of consumer base.
"Media, social media, advertising, it's costly. Anyone who thinks alcohol-free producers are making a tonne of extra cash are misinformed."
Uneven regulatory landscape creates barriers to growth
Despite favourable headwinds and a growing customer base, there remain some barriers to growing the market for alcohol-free spirits. A lack of consistency across markets means that, for beverage brand owners, selling overseas can prove a challenge.
"The regulations are different in each country," Webb explains. "In Australia, non-alcoholic needs to be under 0.05%, whereas in the UK it is 0.5%. In the UAE, you need to be 0.0%, so that's a challenge and that comes with costs. When we enter a new market it's difficult to forecast and know exactly how many labels we need to be printing and so forth"
Webb heralds the work of organisations such as Club Soda and The Adult Non-Alcoholic Beverage Association (ANBA) in advocating for more consistency in legislation to aid producers but believes more work needs to be done. "We're still in a situation where there's not that much clarity," she adds.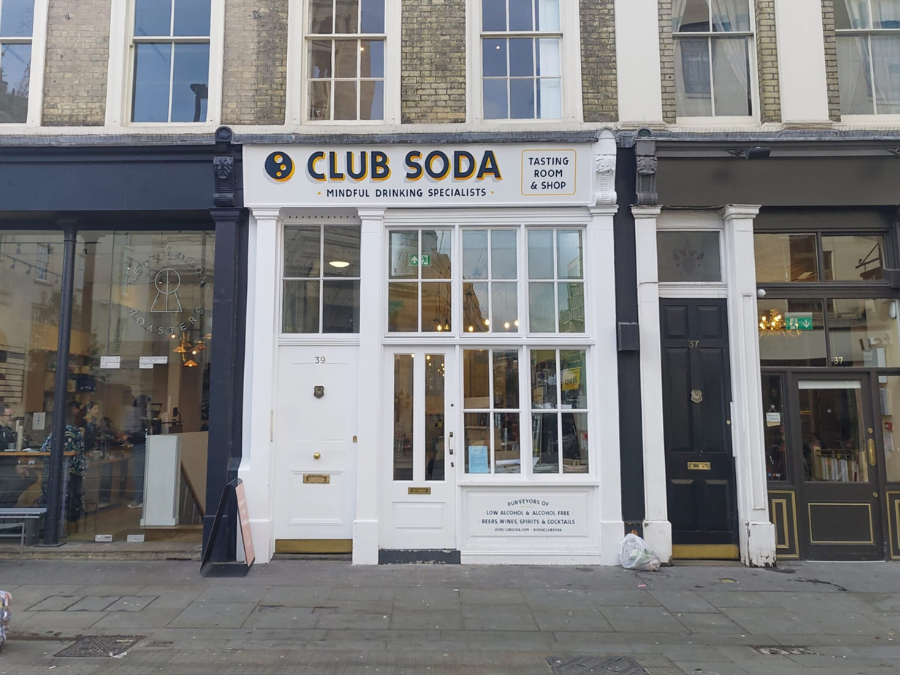 Back at Club Soda, Willoughby agrees legislation remains a hurdle to future category growth. She describes a delay in the consultation over non-alcoholic beverage labelling in the UK as leaving producers working "with one arm tied behind their backs", and urges the Government to do more to facilitate favourable trading terms to boost export sales of alcohol-free drinks overseas.
"We've been working with the Department of Trade to try and support producers from the UK to export to the US and other places, but it's actually really hard to export," she says. "The trade deals are not good and getting container loads of alcohol-free drinks to the US is really difficult.
"The American market [for alcohol-free drinks] going mental. We've gone from one to 15 alcohol-free bottle shops in New York in a year. Because alcohol-free drinks don't have to fit the three-tier system it has created a really interesting market opportunity but, if UK producers don't get in there soon, they won't be able to get a foothold."
On the whole, however, the outlook remains positive. "I still think we're only at about ten-past the hour and there's still a long way to go," Willoughby says. "There's still a lot of opportunity and there are lots of barriers that need to still be broken. Hotels, restaurants, specialist retailers. They're there for the taking."