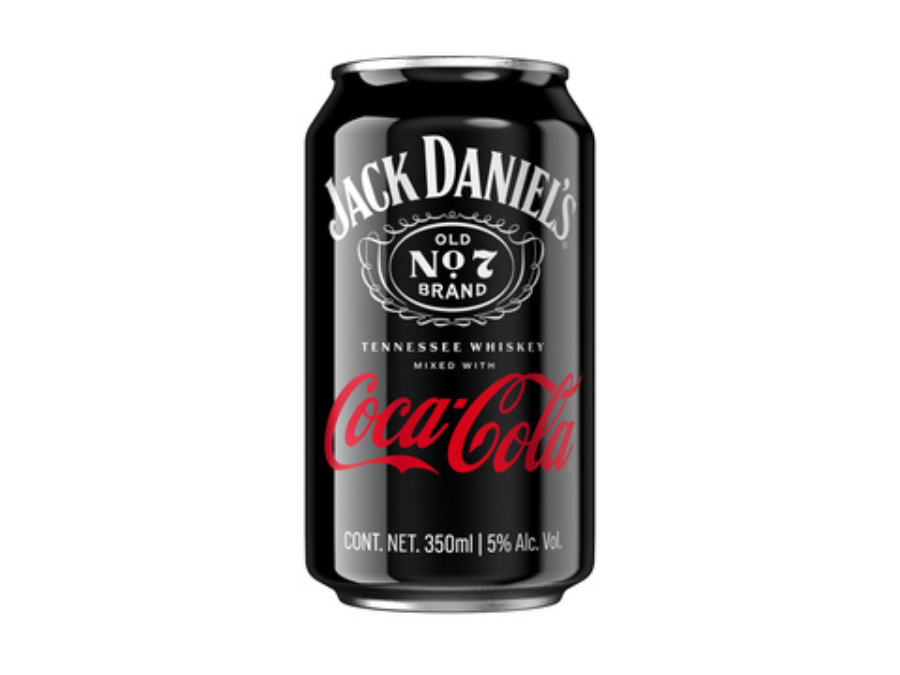 Drinking Jack Daniel's mixed with cola is nothing new. Even drinking Jack Daniel's premixed with cola is nothing new. But drinking Jack Daniel's premixed and co-branded with Coca-Cola? That innovation could just be a game-changer, and one to which the rest of the spirits industry would do well to pay attention.
The venture, announced by Brown-Forman and The Coca-Cola Co. this week, will make its debut in Mexico later this year before a global roll-out. Perhaps the only surprising aspect of the entire exercise is it hasn't happened before.
After all, Brown-Forman has a proven track record when it comes to RTDs and one that easily predates the current, Covid-inspired boom. The company has been making premixes featuring JD for 30 years and the international growth of its RTDs was a key factor behind Jack's 23% organic sales increase in Brown-Forman's recently announced results for fiscal 2022.
From Jack Daniel's and generic cola through the brand's Country Cocktails roster to premixes featuring its flavoured spin-offs and even high-end Gentleman Jack, Brown-Forman sells more than 10m cases of Jack-branded RTDs every year, and more than 1m cases in markets as diverse as the US, Australia, Germany and Mexico.
It's also no surprise the companies have chosen Mexico as the testbed for their new project. Bear in mind Brown-Forman already leads the RTD category in the market through its El Jimador Tequila-based New Mix brand and that both companies have excellent distribution in the country. The demographics of a sizeable and relatively youthful LDA population don't hurt either.
My guess would be the only factor preventing Jack & Coke getting together before this – and, by the same token, the reason why it's happening now – is shifting attitudes to alcohol at The Coca-Cola Co. Famously reluctant to get involved in the past, under current CEO James Quincey it has dipped more than one toe into the murky waters of booze, via Topo Chico hard seltzer and alcoholic spinoffs of its Simply and Fresca brands.
Nonetheless, sticking the name of the world's most famous soft drink on a can of hooch is a big step for a brand that numbers millions of sub-LDA consumers among its most loyal fans. No wonder the press announcement was keen to stress all packaging would include "clear responsibility symbols", with promotional activity adhering to both companies' responsible marketing practices.
Beyond the niggly detail, analysts have welcomed a move that should benefit both parties. Vivien Azer at Cowen noted Jack Daniel's is "under-penetrated" in emerging markets – something Coke's huge brand muscle should help to improve immeasurably. And, for The Coca-Cola Co., she notes the company's recent forays into alcohol have been principally focused on the US, whereas the tie-up with Jack is global.
That said, the rewards in the US alone could be very lucrative indeed, and not just because of the scale of the market and the heft of the two brands involved. States are gradually reducing the taxes on spirit-based RTDs and opening up their distribution to more outlets, with Vermont the latest to announce such a move only a few weeks ago.
Here's a question: where all the Scotch-based RTDs?
The big question, both for the two companies involved in this partnership and for the broader industry, is what happens next. After all, people drink all kinds of booze with Coke, so will the soft drinks giant pursue other, similar initiatives with – for instance – rum brands? Could Bacardi be the next cab off the Coca-Cola RTD rank?
That this venture is happening at this moment also reflects the swift and deep changes currently sweeping through the large and amorphous RTD category. Historically perceived in many western markets as a low-margin gateway into bev alc, it is now a hugely diverse sphere encompassing everything from hard seltzers to premium premixed cocktails, from reinvented alcopops to hard teas, coffees and kombuchas.
That breadth is important because it will – or should – open up RTDs to brands and categories that might have been slightly wary in the past about premix involvement somehow tarnishing their image with consumers.
March saw the US launch of Jameson Ginger & Lime, a 6% abv premix billed as the Irish whiskey trailblazer's first foray into RTDs, and helpfully released in time for St Patrick's Day. It comes as no surprise at all to see Pernod's best-selling whisk(e)y name entering the space – but here's a question: where are all the Scotch-based RTDs?
So far, these have mainly been confined to niche and locally available products – premixes from Diageo's Haig Club Clubman, Ian Macleod's Smokehead, Pure Scot and Douglas Laing's Rock Island. But, despite positive noises about Scotch's future role in RTDs from Diageo chief executive Ivan Menezes, not a lot else, beyond a Johnnie Walker highball premix in Australia.
That has to change – and fast. Forget wrong-headed notions about Scotch being too premium or aspirational to sully its hands with such an FMCG-oriented product; for every Macallan connoisseur, there are thousands of punters around the world quaffing Johnnie Walker Red Label any way they like it – and my guess is they'd lap up a Johnnie Red & Coke RTD.
For all the talk of luxury lifestyle and targeting high-net-worth individual customers, Scotch is a broad enough church to be able to accommodate all manner of price points and product types. Evolving its offer in line with the latest trends is vital to its future relevance among millennial and Gen-Z consumers, and definitely worth the sacrifice of the slimmer margins typically attached to RTD products.
If a brand like Jack Daniel's can successfully sell ultra-premium single barrel whiskeys alongside RTDs and canned cocktails, it surely can't be beyond an industry that exports more than GBP4.5bn (US$5.44bn)-worth of its product a year to do the same. After all, popularity isn't a dirty word – it's the bedrock on which Scotch's global status is built.