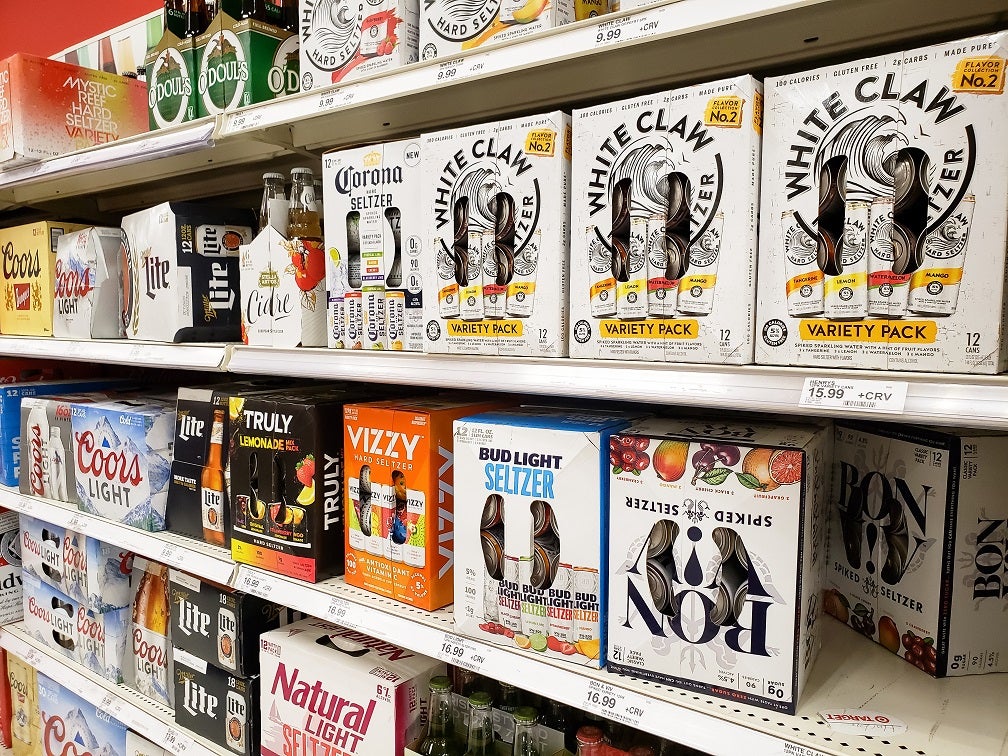 The arrival of a new year always focuses minds on opportunities for future growth. Consumer trends expert Laura Foster considers where beverage brand owners should look.
Monster Beverage Corp has ventured into alcoholic drinks, purchasing US craft brewer and seltzer producer Canarchy.
Every day, Monster Beverage Corp moves further away from its preordained fate as a takeover target for The Coca-Cola Co.
The slowing of hard seltzer's meteoric growth last year has historical precedent elsewhere in beverages, according to recent research.
Just Drinks examines how hard seltzer is set to change in its home market of the US and abroad in the coming years.
Late last month, GlobalData pulled together its beer category deep-dive for 2020. Here, Just Drinks considers the world's largest beer brands in volumes terms.
Here's a look at five of the most engaged-with posts on Twitter that referred to wine in the three months to the end of December.
On Just Drinks' news pages:
Moët Hennessy has created its first non-fungible tokens (NFTs).
Just Drinks thinks: Those beverage brand owners thinking of hopping on the NFT bandwagon could consider this idea: Lock the tangible iteration in a secure facility that's been 'gamefied' as an escape room. Red lasers, pressure floor systems, guards – the works! The purchaser can have a bit of old-fashioned gameshow fun, then head home and look at their prize on their phone! [Reporter Rhodri Morgan]
Molson Coors Beverage Co is to discontinue the Saint Archer craft beer and sell the brand's San Diego brewery to Kings & Convicts Brewing Co following a pandemic-led downturn.
The Tax Free World Association (TFWA) Asia-Pacific exhibition is to return to Singapore in May after a pandemic-enforced two-year absence.
Just Drinks thinks: Never say never in the beverage industry. Erik Juul- Mortensen, who has had a long and storied career in European alcohol, is back at the helm of the TFWA, the trade group he helped set up almost 40 years ago. Is it a sign of the trouble the GTR channel is in that the organisation has turned back to Juul-Mortensen three years after he left? He is nothing if not a safe pair of hands, but even the veteran will have his work cut out to bring order to the chaos in the duty free retail world. [Deputy editor Andy Morton]
Kirin has appointed Diageo's former MD for southern Europe, David Smith, to lead its Australia-based craft beer unit, Lion.
Alcohol brand owners risk missing a major growth opportunity in the coming years if they ignore the e-commerce channel, Rabobank analysts have warned.
Just Drinks thinks: The fact that e-commerce's share in US alcohol sales has doubled since 2019 is hardly surprising, given the pandemic. Consumers have become more au fait with technology in lockdowns and, unlike popping to the local shop, the drinks order can be completed while on a Zoom call. Should brick and mortar businesses worry? Probably not: If the last two-to-three months have shown anything, it's that consumers are grateful to be able to go outside again. That said, as the percentage of the world's population that grew up with the internet builds by the day, the pace of change for shopping channels will only accelerate further. [Reporter Rhodri Morgan]
Coca-Cola HBC has completed the purchase of a majority holding in North African beverage giant Coca-Cola Bottling Co of Egypt.
Danone has heralded a "new chapter" for bottled mineral water brand Evian with the launch of its first non-flavoured sparkling version.
Just Drinks thinks: It's an indication of just how eager beverage brand owners are to leverage their brands' powers that Danone is releasing a carbonated version of its premium mineral water. Throughout Evian's long history, it has been staunchly bubble-free. No longer. Truly, it is the end of an era. [Deputy editor Andy Morton]
The organisers of BrauBeviale have postponed this year's exhibition to 2023.
Just Drinks thinks: This 12-month pushback could prompt a sea of groans across the beverage industry: The washouts of trade shows over the last couple of years still has a way to go, right? Chin up, folks – BrauBeviale appears to be giving way to Drinktec, which is slated for September this year, 170km down the road in Munich. See? It's not all about COVID, y'know!  [Editor Olly Wehring]