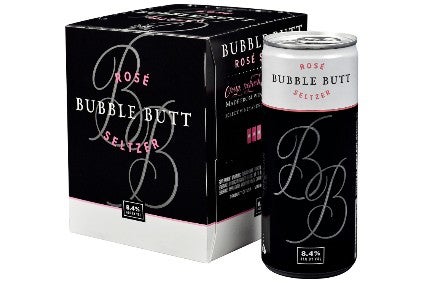 WarRoom Cellars' Bubble Butt Rosé Seltzer
Category – Wine-based alcoholic sparkling water, 8.4% abv
Available – From this month
Location – The US, initially in California, North & South Carolina, Delaware, Florida, Georgia, Maryland, Minnesota, Texas, Virginia, Washington State and Washington DC
Price – SRP of US$13.99 per four-pack of 25cl cans
WarRoom Cellars is looking to capitalise on the strong showings for both hard seltzers and rosé wine in the US through its new Bubble Butt Rosé Seltzer offering.
Launching this month, the alcoholic sparkling water has a wine base produced from Burger and French Colombard grapes grown in California. WarRoom Cellars harvests the grapes at a lower Brix level than traditional wine.
Brix is a measurement of the amount of sugar in grapes, must and wine.
"Bubble Butt combines three fast-growing categories – rosé wine, sparkling wine and hard seltzer, and we're canning it at super high carbonation levels, almost as much as Champagne," said WarRoom's director of sales, Evan Nelson.
The California-based wine company has recruited Total Beverage Solution to handle sales for Bubble Butt.
"The rest of Europe is so primed for hard seltzer" – just-drinks speaks to Loon Water co-founders Fabio & Francesca Bruni