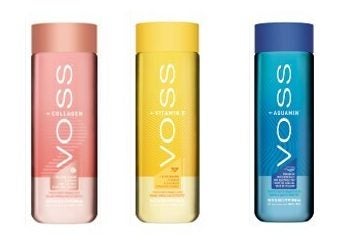 Earlier this week, the California-based company launched Voss+, a range of three enhanced flavoured waters that contain ingredients designed to "elevate" consumers' everyday life. The range comprises Voss + Collagen, Voss + Vitamin D and VOSS + Aquamin.
Voss + Collagen contains ten grams of collagen protein to enhance skin health, while Voss + Vitamin D contains vitamin D and VOSS + Aquamin has 74 minerals and electrolytes to aid hydration.
"Tapping into the ongoing pursuit for wellness options that are integrated into existing routines, Voss+ not only delivers the great advantages of vitamin D, collagen and enhanced hydration, but does so in a way only VOSS can with outstanding taste and the iconic Voss bottle," said Voss's senior VP of marketing, Rachel Chambers.
The new Voss+ line is available in the US from Amazon, Walmart and CVS. On Amazon, a case of 12×28.74oz (85cl) bottles is on sale for about US$36.
In the past 12 months, major packaged water companies have moved deeper into functional waters with launches of brands that claim to benefit mood or mental health. In March, Danone released the Evian+ range, which targetted improved "normal cognitive" functions and reduced fatigue. PepsiCo this month launched Soulboost and in February The Coca-Cola Co unveiled Smartwater+.
Mental health concerns to drive functional beverages in Europe – Nestle Waters