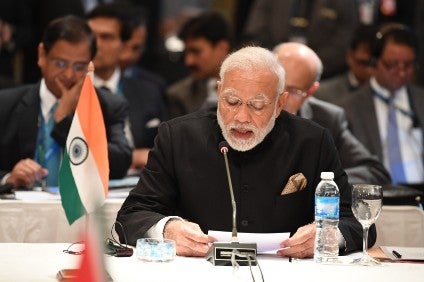 The British Prime Minister is heading to India later this month, with the country's authorities targeting "early wins" in a future trading relationship that could cut the rate of duty on Scotch whisky, according to a report.
The Financial Times has seen a document, entitled the "No. 10 note on India Trade Policy", claiming today that Boris Johnson will "urge Narendra Modi, his Indian counterpart, to cut import tariffs on British whisky". The article says that Prime Minister Johnson will use his trip to promote "an intent to negotiate a comprehensive FTA, with talks starting in the autumn and an interim agreement with tariff cuts for both sides in place by March 2022".
The current 150% rate of duty on whisky from the UK, which includes Scotland, is considered a matter where a reduction could be agreed on between the two countries more quickly.
In a subsequent client note today, Ed Mundy at Jefferies highlighted both the opportunity and the challenges of the aim. India has long been a target market for Scotch brand owners, with a burgeoning middle-class well-placed to trade up from Indian-Made Foreign Liquor (IMFL) to globally recognised brands, such as Diageo's Johnnie Walker and Pernod Ricard's Chivas Regal.
"We estimate that Diageo India IMFL volumes 71m (total volumes 110m cases) and Scotch volumes 1.9m, with Pernod IMFL volumes 54m (total volumes 56m) and Scotch 1.4m," Mundy wrote. "On average, we estimate profit-per-case for Diageo and Pernod for Scotch around EUR30 (US$36). If Scotch was to increase 3-5x, given improved affordability, this would be worth an uplift of GBP150m-to-GBP250m for Diageo (4%-7% to profits) and EUR126m-to-EUR210m for Pernod (worth 5%-9%)."
Mundy highlighted, however, that free trade negotiations with India have still not borne fruit for the European Union, which started its discussions back in 2007.
"We believe that the process on lowering tariffs could take many years, owing to the complexity of dealing with 28 states as well as the federal government," Mundy said. "Diageo's ownership of the largest local spirits operator, United Spirits, should help to increase local pressure to change regulation, however wines and spirits are likely an end game issue in the FTA negotiations."
Diageo first acquired a stake in United Spirits nine years ago, raising its holding to 55.9% a year ago, in part to position itself for a hoped-for tariff reduction on Scotch.
Why Scotch whisky could take years to rebound in the US – Click here for a just-drinks comment