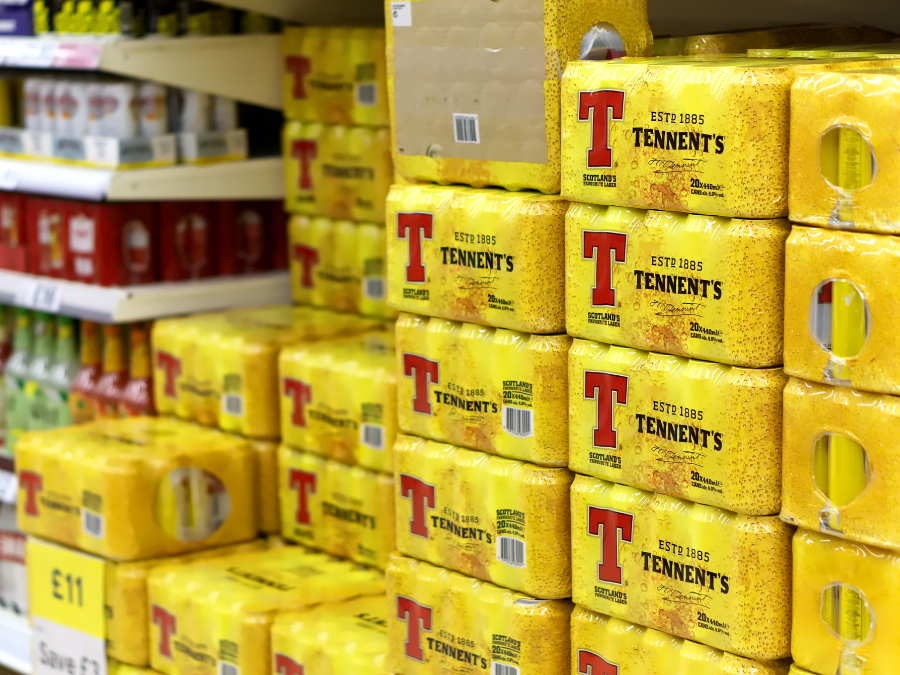 The Scottish government has launched a consultation on proposals that could heavily restrict the advertising of alcohol in public places, sporting events and supermarkets.
The proposals, unveiled in a paper commissioned by Scottish National Party (SNP), are part of a push to reduce "the appeal of alcohol to young people" and cut overall consumption in the country.
Among the restrictions up for discussion is the promotion of alcohol in prominent positions in supermarkets, as well as a possible ban on the use of alcohol brand logos on sports clothing, trophies and within sporting venues.
A ban on any alcohol advertising in public spaces such as on billboards and buses, in public transport hubs and in print media is also up for consideration.
The proposals outlined in the paper have been criticised by trade bodies in the country. Emma McClarkin, CEO of The Scottish Beer & Pub Association said the restrictions would "create an insurmountable barrier to growth" for alcohol beverage producers doing business in the country.
"If enacted, these proposals would have a devasting impact on investment and jobs across a range of sectors, while hitting small, Scottish-owned businesses the hardest," she said.
"It would create an insurmountable barrier to growth for Scottish producers, while ripping out much needed funding from sports clubs, cultural events and venues, like theatres and cinemas, and reduce jobs in creative industries. 
"Businesses in these sectors are desperate for additional funding to survive the current economic crisis. The Scottish government should be looking at ways to support them instead of inflicting more damage on the economy."
The Portman Group, the UK-wide self-funded body for alcohol labelling, packaging and promotion, described the proposals as "entirely disproportionate".
CEO Matt Lambert said instead of blanket bans the Scottish government should instead focus on "targeted, health-led, interventions for problematic drinkers".
"The majority of adults in Scotland are moderate or non-drinkers and it is encouraging that binge drinking, alcohol-related crime and underage drinking have all significantly declined," he said.
"These recommendations are entirely disproportionate and inhibit consumers' ability to make informed choices, and restrict the ability to trade for producers and retailers who ensure that alcohol is sold responsibly."
The Scottish government, however, reiterated its belief that the viewing of alcohol advertisements by children was linked to problematic drinking in later life.
Public Health Minister Maree Todd said: "There is clear evidence that adverts which glamorise drinking can encourage young people to drink alcohol and have a detrimental impact on those in recovery from problem alcohol use.
"We are making progress already, with our minimum unit pricing reducing alcohol sales in the off-trade, but with 1,245 alcohol-related deaths last year we know that more needs to be done if we are to tackle Scotland's problematic relationship with alcohol."
The consultation is set to run until March.
Minimum Unit Pricing and its effect on wine – An Irish case study