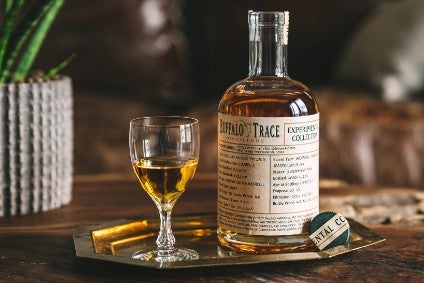 Sazerac's Buffalo Trace Bourbon distillery has launched a limited-edition product that is distilled like whiskey but uses the same ingredients as Chinese white spirit baijiu.
The "baijiu-style" spirit is distilled using sorghum and peas, which are the basis for a number of traditional baijiu brands. The distillate is then aged for 11 years in three different types of cask before being married together and bottled at 45% abv.
The 'spirit', part of Buffalo Trace's Experimental Collection range, will roll out in the US from this month for US$46.99 per 37.5cl bottle.
Buffalo Trace said: "Baijiu is similar to Bourbon in that it is an agricultural product made from fermented grains. The intriguing flavour profile and rise in the spirit's popularity led to Buffalo Trace's curiosity in experimenting with distilling baijiu like a Bourbon to create a rich and unique spirit."
Baijiu is a fermented grain spirit traditionally produced in lime pits, some of which can be hundreds of years old. It is China's most popular spirit and according to Bernstein's global spirits report, released in May last year, accounts for 38% of global spirits volumes and 31% of value.
Sazerac is not the first Western company to try a baijiu crossover. In 2018, Treasury Wine Estates unveiled a bajiu-infused Shiraz.
Spirits grabs its 'YOLO' moment as Remy Cointreau leads the way – Click here for a just-drinks analysis