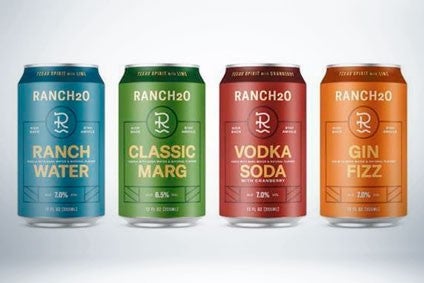 RancH2O Canned Cocktails
Category – RTD, spirits-based, Tequila, gin, vodka
Available – From this month
Location – The US, initially in Texas and New Mexico
Price – SRP of $13.99-$15.99 per four-pack of 12oz (34.1cl) cans
US start-up RancH2O has launched a canned cocktail range under its namesake brand.
Following a trial period in October, RancH2O (pronounced Ranch Two Oh) today unveiled the four-expression line-up comprising Tequila-based Ranch Water (7% abv) and Classic Marg (6.5% abv), as well as Vodka Soda (7% abv) and Gin Fizz (7% abv). Three of the four offerings are available immediately at retailers in Texas and New Mexico, with Gin Fizz expected to be released later this year alongside an expansion of the entire range across additional US states.
All four expressions contain 150 calories per serving and are also available through alcohol e-tailers such as Drizly and Minibar.
"Consumers today want convenience, shareability and portability, and we're committed to making RancH2O bigger than Texas," said CEO Amelia Lettieri.
Lettieri, a former mergers and acquisitions manager for US convenience store chain 7-Eleven, founded the company last year.
Why Diageo is winning the slow-and-steady Tequila race – click here for a just-drinks comment