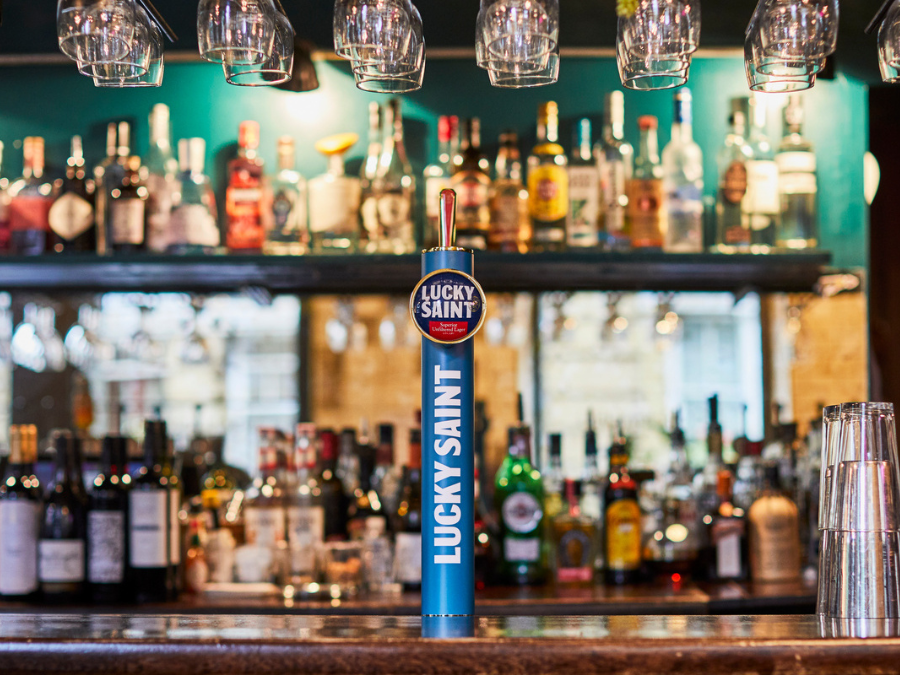 UK alcohol-free beer brand Lucky Saint is to open a pub in central London.
Lucky Saint, which recently completed a GBP10m (US$12 ) fundraising round, will take over the site of former venue The Mason's Arms, with a view to opening in early March. The pub will be rebranded as The Lucky Saint.
The venue will serve both alcoholic and non-alcoholic drinks, as well as food described as "reimagined" pub classics.
Lucky Saint plans to also use the site to house its London offices, acting as a hub for the brand in the absence of a physical brewery site in the UK. Lucky Saint's eponymous lager is brewed under licence in Germany.
Announcing the news on LinkedIn, Lucky Saint founder Luke Boase said: "It was an idea spawned over two years ago, as I searched Rightmove for cheap office space. What if we could rent the upper floors of a pub as an office? What if we rented a pub, and had an office upstairs? What if we opened a pub called The Lucky Saint and built a brand home?

"We knew a little of The Mason's Arms, lying vacant since before the pandemic, its iconic flowers long since removed. And then a thing happened. Greg James, of BBC Radio fame, put a story on Instagram in spring 2022 showing his favourite pub, The Masons, in full sunny glory. And then another showing its current state, squatters in residence, with a request that someone bring it back to life. Emotion kicked in. The rest is history."
As well as opening an on-premise venue in London, Lucky Saint plans to use the funds from its recent Series A round to fuel expansion for the brand overseas.
Lucky Saint is not presently sold outside of the UK but Boase has previously told Just Drinks the company was "looking at a number of European markets" with a view to entry.
He said: "The ambition is to build the world's defining alcohol-free beer brand. We can't do that in one country. So, the next part of our journey is all about how we take Lucky Saint internationally. We're looking at a number of European markets and building strategies to go and build those out in a way that reflects what we've done in the UK."
"You'll fail to create an amazing brand if you're building to exit" – Lucky Saint's Luke Boase on staying independent and creating an "iconic" alcohol-free beer brand