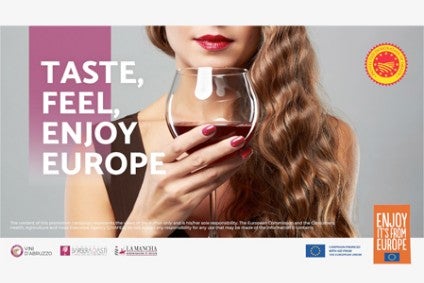 A raft of Italian and Spanish wines are the subject of a consumer-facing activation in Asia, designed to highlight their 'Protected Designations of Origin'.
The 'European Sustainable Wines' campaign, which kicked off last year, will promote PDOs from the two wine-producing nations. Target markets include China, Japan, Korea, Taiwan, Singapore and Vietnam.
Running through this year and next, the push has been financed by the European Union and is fronted by Italy's Consorzio Tutela Vini d'Abruzzo and Consorzio Barbera d'Asti e Vini del Monferrato along with the regulatory board of the La Mancha Designation of Origin in Spain.
According to the trade organisations, the aims of the campaigns are "to increase the knowledge of the wines with PDOs in Europe in the target markets" and "to make known and emphasise sustainable European wines".
Financial details and specific activities were not disclosed.
The PDOs featured comprise:
Montepulciano d'Abruzzo
Trebbiano d'Abruzzo
Cerasuolo d'Abruzzo
Abruzzo
Villamagna, all from Consorzio Tutela Vini d'Abruzzo
Albugnano
Barbera d'Asti
Cortese dell'Alto Monferrato
Dolcetto d'Asti
Freisa d'Asti
Grignolino d'Asti
Loazzolo
Malvasia di Castelnuovo Don Bosco
Monferrato
Nizza
Piedmont
Ruchè di Castagnole Monferrato
Terre Alfieri, all from Barbera d'Asti e Vini del Monferrato, and
La Mancha