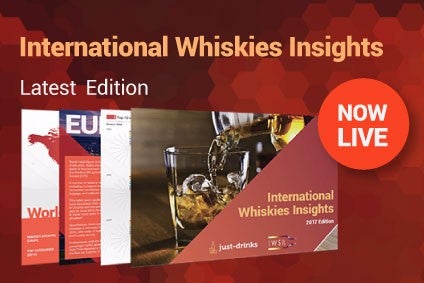 The vast and diverse international whisk(e)y category is set to continue its recent growth trajectory, latest research has concluded, driven in particular by the bright medium- and long-term prospects for Indian whisky.
According to the joint just-drinks/The IWSR Global International Whisky Insights report, published this week, the combined forces of Indian, American, Canadian, Japanese and Irish whisk(e)y amassed just over 307m cases in sales during 2016, adding 46.1m cases in the past five years. Growth is set to continue to 2021, but at a more moderate compound annual growth rate (CAGR) of +2.9%, breaking the 350m-case barrier in the process.
All of the category's top ten markets by volume, including the leading quintet of India, the US, Japan, Myanmar and Canada, are forecast to grow in line with the broader market.
While the Indian market is suffering short-term challenges – particularly the introduction this year of a nation-wide ban on liquor sales near state highways – the country's whisky category will continue to dominate, adding volumes while increasingly trading consumers up to higher-priced expressions.
"Non-Scotch whisk(e)y's global renaissance is being driven by multiple factors, including generational shifts, an embracing of flavour and helpful cultural associations," the report says.
"Consumer trends remain helpful in many markets around the world, so the main drag on growth is likely to be the ongoing supply constraints being experienced in the US, Ireland and Japan."