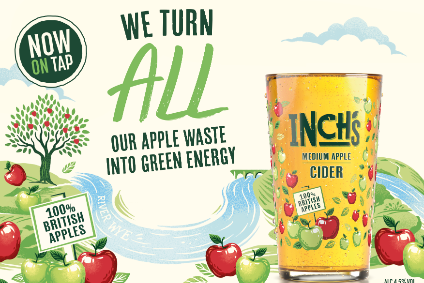 Heineken's Inch's cider
Category – Cider, 4.5% abv
Available – From this month
Location – The UK
Heineken has launched a "sustainable" UK cider brand.
Inch's, which turns the waste from its production into green energy, will roll out in the UK both the on- and off-premise, Heineken said today. According to the company, the brand aims to bring "vibrancy" back to mainstream apple cider and engage younger consumers.
A draught version of the cider has been released that targets UK on-premise outlets that are only just starting to reopen after a coronavirus lockdown. Heineken is one of the UK's biggest pub landlords as owner of the Star Pubs & Bars estate.
The cider will also be available in the off-premise in 500ml bottles, 4x440ml cans and 10x440ml cans.
As well as reusing waste, Inch's is made with apples sourced from around Heineken's cidery in the West Midlands. The brewer said the brand has the "green credentials" to appeal to consumers aged 18-34 who prefer to buy brands that have a social and environmental commitment.
"From sourcing to sustainability, we are progressive cider makers on a mission to do things properly in pursuit of a great tasting British cider that goes that little bit further to do the right thing," said Heineken UK cider marketing director Rachel Holms. "In doing so, Inch's will drive appeal and help recruit younger drinkers into the apple cider category."
CORRECTION: This article originally stated the Inch's is only available on draught. Off-premise SKUs are also launching.
As we start to see the light, how can brewers help the on-premise? – Click here for a just-drinks comment