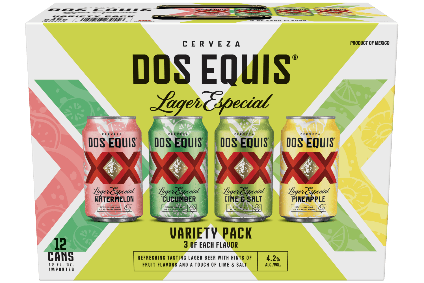 Heineken's Dos Equis Lime & Salt range
Category – Beer, 4.2% abv
Available – From this week
Location – The US, available in selected states
Price – TBC
Heineken's US unit has launched a line of flavoured beers in the country from its Dos Equis brand.
The Dos Equis Lime & Salt range, unveiled this week, is available exclusively in 12x35cl-can variety packs. The line-up comprises Pineapple, Watermelon, Cucumber, and Lime & Salt variants.
Ahead of a planned US expansion this year, the line can currently be purchased in Southern California, Texas, New Mexico, Arizona, Louisiana, Illinois, Oklahoma, and Colorado.
"Our retail partners should be confident that this variety pack will drive incremental sales and profits as this delivers the same, great Dos Equis taste with a hint of natural fruit flavours and a touch of lime and salt," said Dos Equis' senior brand manager, Edith Llerena.
In February, Heineken US launched Dos Equis Ranch Water, a blend of Tequila, sparkling water and lime that follows the company's strategy to increase its hard seltzer footprint.
Heineken's hard seltzer switch and the rise of ranch water – click here for a just-drinks focus