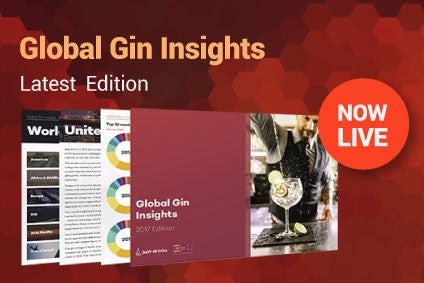 The ongoing expansion of the global gin market is set to accelerate over the next five years, according to new research from just-drinks and the IWSR, as the category boom takes hold in a raft of second-tier markets.
In 2016, global gin volumes – stripping out sales of low-priced expressions – hit a new high of 32.4m cases, recording a compound annual growth rate (CAGR) of 2.5% between 2012 and 2016. A total of 17 of gin's top 20 markets posted sales increases over the period, according to the Global Gin Insights report, released this week.
In the coming years, the category's top three markets, the US, Spain and the UK will all record further sales increases, the report estimates, but growth will be even faster in a number of other countries across Western Europe and beyond. By 2021, global gin volumes will near 40m cases, the IWSR predicts, with markets as diverse as Germany, South Africa and Mexico all poised for dynamic growth.
The main challenge for brand owners remains the difficult US market, as the report notes: "The performance in the US has been more lacklustre, declining by -1.2% CAGR [between 2012 and 2016]. The market increased by 1% in 2016 – an increase that scarcely merits some of the hype attached to the gin category."
While flavoured gin is expected to be an increasingly-significant consumer trend in the years to come, there are already signs of a shake-out among the vast numbers of new gin products hitting the market in the recent past, the report adds.