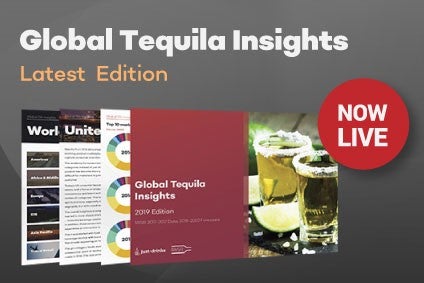 Tequila and mezcal are poised to continue their recent growth surge in the years ahead, but agave-based spirits are becoming even more reliant on the dominant US market, a new report from just-drinks and the IWSR says.
After a broadly positive 2017 in which both Tequila and mezcal improved on recent growth trends, agave-based spirits are forecast to add another 4.8m cases to the end of 2022 – but 4.1m cases of that figure will come from the US, which now accounts for well over half of category volumes.
While Stateside success is built on the enduring popularity of the margarita cocktail, as well as a more diverse range of mixed drinks and the rise of high-end sipping Tequilas, the category is having a more difficult time in its home market, according to the Global Tequila & Mezcal Insights 2018 report, published this week.
Mexico continues to account for almost 30% of global Tequila volumes, but growth was limited to only 1% in 2017, and the category could even decline in the coming years as rising agave prices usher in price rises and force some products to withdraw from the market altogether.
Elsewhere, robust growth is expected for markets as geographically diverse as the UK, Russia and Australia, but their base volumes are trivial compared to the might of the US and Mexico.
Meanwhile, mezcal sales growth is now outstripping that of Tequila in the US – albeit off a much smaller base – and there is a growing fashion for sipping high-end mezcals in Mexico City.
Global Tequila and mezcal insights – market forecasts, product innovation and consumer trends