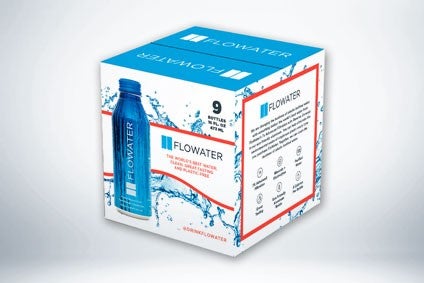 FloWater is stepping beyond its water-delivery platform with an aluminium-bottled version of its filtered tap water.
The namesake brand from the Denver-based company will hit "selected retailers" across the US. Packaged in 16oz (47.3cl) aluminium bottles, FloWater comprises filtered water in either single- or nine-bottle packs. The water undergoes a "reverse osmosis" process that re-mineralises and alkalises, according to the company.
The nine-pack is currently on sale through the company's website at US$22.49, which works out at just under $2.50 per 47.3cl bottle.
FloWater has previously focused solely on touchless 'refill stations', providing water to companies – including Google and Microsoft – hotels and gyms as well as concert venues.
"The entire consumer marketplace is rapidly moving towards responsibility without compromise," said founder & CEO Rich Razgaitis. "Just as the car industry is shifting from antiquated fossil fuels to EV … an identical shift is underway with drinking water.
"By moving to decentralised distribution and environmentally-friendly alternatives, FloWater is building out a platform for providing the world's best and most trusted water – anywhere consumers work, rest and play."
FloWater also sells 'faucet filters' for use in the home.
Late last month, Danone rolled out the first sparkling variant from its Danone water brand, also in the US. Evian+ comprises four flavours, all of which claim to support normal cognitive function and reduce fatigue.
Why energy and functional drinks should be wary of coffee's renewed attack on the caffeine occasion – Click here for a just-drinks comment