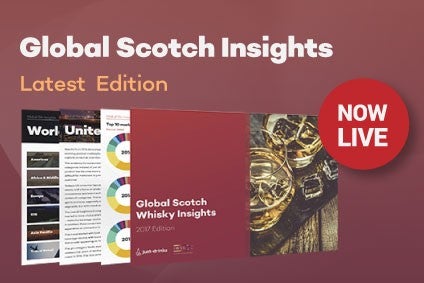 Scotch whisky is set to overcome its recent challenges and record strong sales growth over the next five years, adding more than 10m cases across both blends and malts, a new report has forecast.
According to the joint just-drinks/IWSR Global Scotch Whisky Insights report, published today, the global Scotch market has suffered four consecutive years of declines to 2016. In the process, volumes have slipped from a peak of 95.7m nine-litre cases in 2012 to 92m cases in 2016.
But, this umbrella figure disguises contrasting fortunes for blends and malts: While the former has declined by 6.3% since 2012 to settle at 82.4m cases, the later grew by 23% over the same period, reaching 9.57m cases.
Current trends suggest that malt Scotch will inevitably pass 10m cases in 2017, pushing on to top 12m cases by 2021 thanks to continued strength in the dominant US market, alongside good gains in Global Travel Retail, France, the UK – and India, which is set to become a top-ten malts market by 2021.
Meanwhile, blends will endure another difficult year in 2017, before returning to growth in 2018, IWSR forecasts predict, adding almost 8m cases over the forecast period to reach 90m cases by 2021.
The report notes that the BRICM markets of Brazil, Russia, India, China and Mexico will outstrip overall category growth, adding: "The emerging markets – which have been the main source of blended Scotch's problems in the recent past – are the guarantors of its future, if these predictions are correct.'