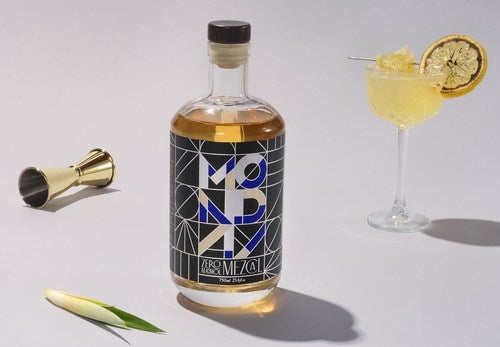 Category – Spirits, no- & low-alcohol, mezcal, 0.0% abv
Available – From this month
Location – The US, via the brand's website
Price – SRP of US$42 per 75cl bottle
Drink Monday is tapping into the growing demand for Tequila & mezcal with the introduction of another non-alcoholic expression from its namesake brand in the US.
The launch takes the total number of non-alcoholic spirits in Drink Monday's range to three, with Monday Mezcal joining Monday Whiskey and Monday Gin on the Californian-headquartered company's roster. The spirit is also vegan and gluten-free.
"With Monday Mezcal, we have a rare opportunity to surprise and delight two very special groups on the rise with a single spirit," said founder & CEO Chris Boyd. "The non-alcoholic community at large, and the agave spirits loving crowd that may, for the first time, have a reason to look over the fence toward a lifestyle using a little less alcohol without taking away flavour or experience."
"We want to introduce beautiful drinks to the world without alcohol so people can make their own decisions about the hard stuff without having to compromise on flavour."
The Tequila & mezcal category is booming at present in the US, having enjoyed sales of US$7.9bn in 2021, according to GlobalData. The agave-based category is predicted to have a healthy outlook in the coming years, with sales set to pass the $10bn-barrier in 2024. GlobalData forecasts that the ten-year compound annual growth rate of the category in value terms will be 5.3%.
Earlier this week, Diageo completed the acquisition of flavoured Tequila start-up 21Seeds for an undisclosed sum.  
Will 2022 see another M&A splurge in Tequila? – Click here for a Just Drinks focus