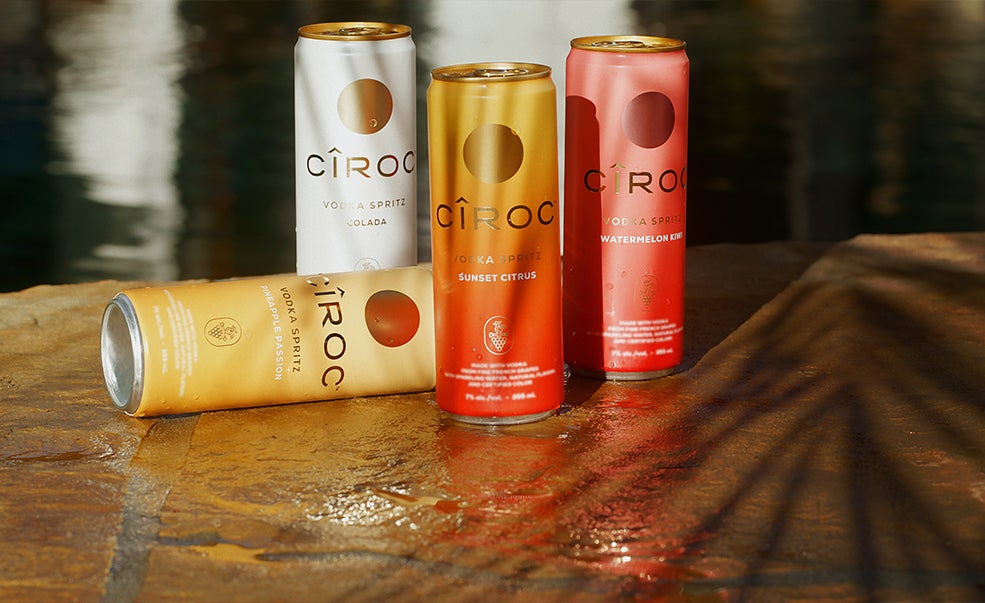 Category – RTD, vodka-based, 7% abv
Available – From 1 April
Location – The US, available nationwide
Price – SRP of US$16.99 per four-pack of 35.5cl cans
Diageo is extending its high-end Ciroc vodka brand into RTD for the first time, with a US roll-out kicking off this week.
Cîroc Vodka Spritz, positioned by the brand owner as bringing "flavour innovations to the spirits industry", will be available in four variants: Sunset Citrus, Watermelon Kiwi, Pineapple Passion, and Colada. The extension will also be a permanent SKU in the brand's portfolio.
Rapper, producer and actor Sean 'Diddy' Combs, who teamed up with Diageo for Ciroc 15 years ago, will front the RTD's promotional campaign. Through the Combs Spirits business, the mogul has a 50/50 profit split arrangement with the drinks company for the brand.
"Breaking into the RTD category is a landmark moment for the brand and we're excited to launch a line of spirits that bring a new energy and audience segment to the growing market," said Combs. "With nearly 15 years leading the brand and having historic success growing the Ciroc portfolio, I'm looking forward to making Ciroc Vodka Spritz the number one brand in the category."
Positioned at the premium end of the category, Ciroc was the subject of a limited edition pomegranate extension in the US late last year. The flavoured version retailed at US$29.99 per 75 cl bottle.
How vodka's marketing toolbox just became much lighter – Click here for a Just Drinks comment