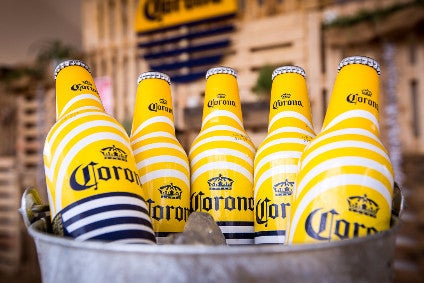 Fiscal-2021 sales rise 3% to US$8.62bn
Beer sales in 12 months to end of February up 10% at $6.07bn
Wine & spirits also grow, +2% to $2.54bn
Beer sets sales target of +7%-+9% for fiscal 2022
Constellation Brands continues to come good on its unstated strategy of becoming more of a brewer, as beer sales drove the multi-category group's performance in fiscal-2021.
Total sales from the 12 months to the end of February came in up 3% on the corresponding period a year ago, with sales from Constellation's beer operations in the US jumping 10%. The full-year showing was led by the three months to the end of November when sales leapt by almost 22%.
For the final quarter – December to February – group sales increased by 3%.
Constellation's beer business, comprising the US-only sales of the Mexican-brewed brands Corona and Modelo, made the most of its off-premise leaning in the country, while the 2020 extension of Corona into hard seltzer – a move that has upset the brand's non-US owner, Anheuser-Busch InBev – also boosted the division's sales.
The company's wine operations, meanwhile, are in flux as the move away from lower-value brands was solidified by the completion of the bulk divestment to E&J Gallo earlier this year. Subsequently, while combined wine & spirits sales inched up 2% in fiscal-2021, Constellation expects the combined unit's sales in the current fiscal year to come in down by between 22% and 24% as a result of the offloads.
CFO Garth Hankinson
"Constellation's performance remained strong and resilient throughout the pandemic, driving record cash-flow results for the year. In fiscal-2022, we expect to continue to have significant capital allocation flexibility, which will enable ongoing progress in returning cash to shareholders while making strategic investments to support long-term growth opportunities."
Looking forward, Constellation is preparing the June release of Corona Hard Seltzer Limonada in the US.
To view Constellation Brands' official full-year results statement, click here.
Forget premiumisation, it's all about value right now – consumer trends