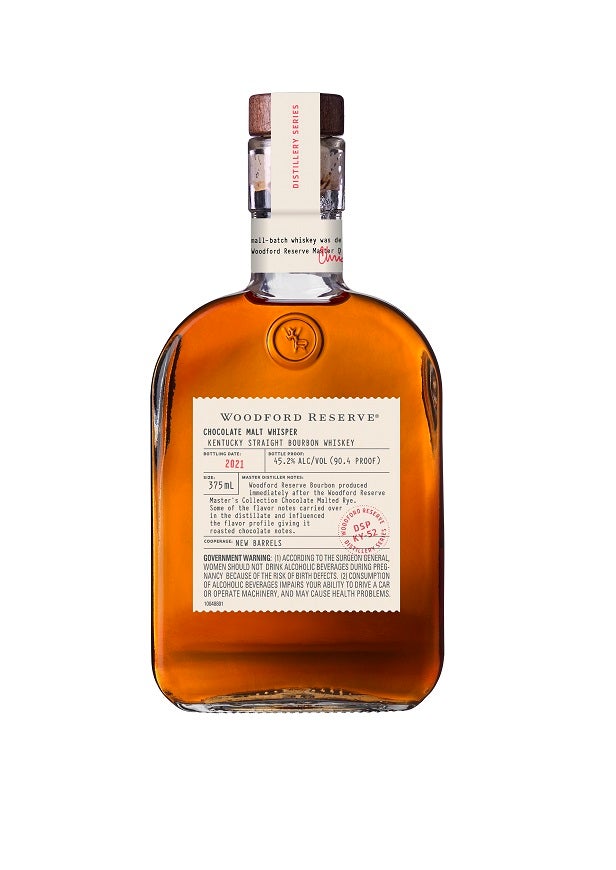 Category – Spirits, Bourbon, 45.2% abv
Available – From this month
Location – The US, available in Kentucky only
Price – SRP of US$49.99 per 37.5cl bottle
Brown-Forman has released a limited-edition Woodford Reserve described by the brand owner as a "happy accident".
The Bourbon used in Woodford Reserve Chocolate Malt Whisper was distilled directly after the whiskey that was eventually released as the brand's Chocolate Malted Rye extension in 2019. According to Brown-Forman, notes from the distilling of Chocolate Malted Rye carried over into the new distillate to give it a "whisper" of chocolate aromas.
"Sometimes unforeseen developments occur in the distillery that result in great flavours," said master distiller Chris Morris. "This is one of those cases."
Chocolate Malt Whisper forms part of Woodford's annual 'Distillery Series', which Morris created to try out new whiskey flavours.
In March, Brown-Forman announced a doubling of capacity at the Woodford Reserve distillery in Versailles, Kentucky. The project includes three new copper stills and a new building for the boiler plant.
"The drinks industry's been a very late adapter to e-commerce" – Just Drinks speaks to The Whisky Exchange joint-MD Sukhinder Singh