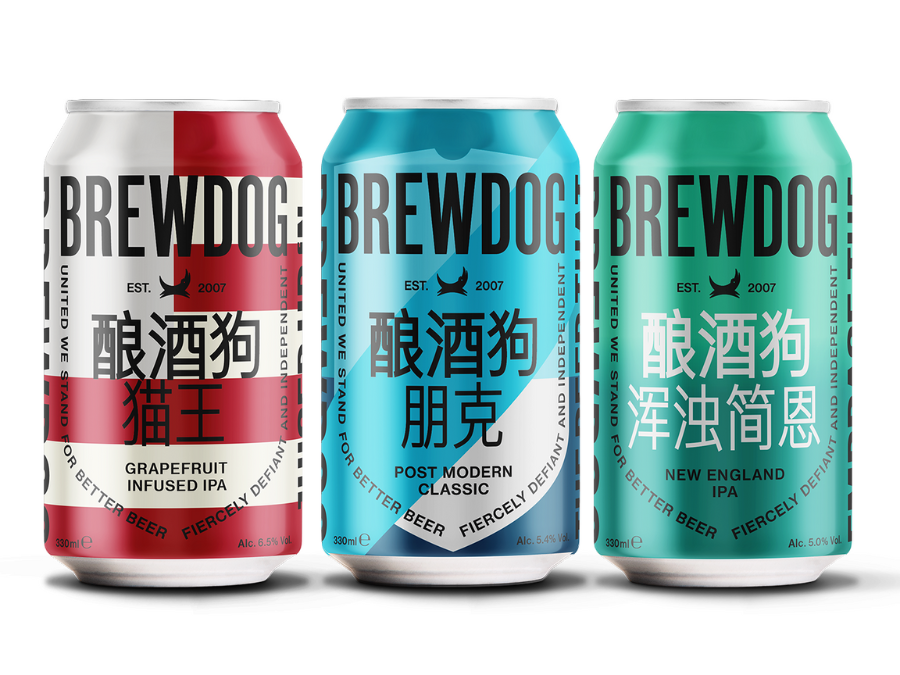 BrewDog beers are to be made in China as part of a joint venture between the UK brewer and the Asia-Pacific division of Anheuser-Busch InBev.
Beers including Punk IPA and Hazy Jane will be produced at Anheuser-Busch InBev's newly-opened craft brewery in Putian. The products are expected to go on sale next month.
BrewDog hopes the joint venture with Budweiser China will be a springboard from which it can grow sales in Greater China and the Far East. China represents 1% of BrewDog's total volumes, a figure the brewer said it was seeking to grow by "significant multiples".
"This is a genuinely transformational partnership which is going to bring BrewDog to every corner of the world's biggest beer market, from a truly bespoke craft brewery which will help ensure the quality of our beers," BrewDog co-founder James Watt said. "By making beer closer to our customers, we'll be giving them even fresher beer and doing it in a way which is better for the planet.
In AB InBev's 2021 annual report, issued in February last year, it outlined plans to "prioritise" China and "premiumise" the beer category" in the country.
Reflecting on the BrewDog deal, Nicolas Morelli, who holds the position of craft and speciality beer vice president at Budweiser China, said: "Bud China is leading in craft beer across China and we continue to focus on premium and super premium beer offerings in the country. We are excited to add BrewDog to our craft beer portfolio to enrich Chinese beer lovers' experience with more craft beer choices."
The partnership will also build on BrewDog's sole bar outpost in China in Shanghai, with plans in place to open "several new hospitality venues" in the country by 2026.
"Chinese drinkers love craft beer but the sector is still very new. In Budweiser China, we have found a partner that shares our growth vision for BrewDog in China and is perfectly placed to support our rapid growth in the region," Watt added.
"We've always wanted to significantly grow our share in China – this new JV will enable us to do just that as we look to continue to grow our business globally."
An affiliate of Budweiser China and BrewDog have also signed a deal to expand BrewDog in South Korea, with options to collaborate in other, unspecified Asian markets at a later date.
The transaction is BrewDog's second joint venture in Asia, having partnered with Asahi to launch BrewDog Japan in September 2021.
The partnership with AB InBev may raise eyebrows among BrewDog's critics, with Watt having previously described the Stella Artois maker as a "monolithic brewing giant" that cares only about "costs, market share, dividends, valuations".
Asked how the partnership with AB InBev squared with his own views, Watt said: "In some markets, BrewDog needs to partner with established players who have the sales and distribution infrastructure in place. China is one of those markets.
"The model is not new for BrewDog. The company already has partnerships with Molson Coors, Asahi, Heineken, Estrella Galicia, Warsteiner and Swinkels."
BrewDog itself takes a vocal stance on independence – with the brewer having previously barred the sale of beers from breweries including Camden Town, Beavertown, Ballast Point and Wicked Weed from its bars after stakes of their ownership were sold on to multinational drinks companies.
The brewer sold a 22% stake to private equity firm TSG Partners in 2017 and has acquired other, smaller drinks producers including London cider maker Hawkes.
When asked to confirm the exact ownership structure of BrewDog China, BrewDog declined to comment.
Earlier this year, Watt said BrewDog plans to open 100 bars in India, with the company looking to make the country its "most significant market globally".
2023 outlook – pockets of positivity in an otherwise pessimistic beer landscape