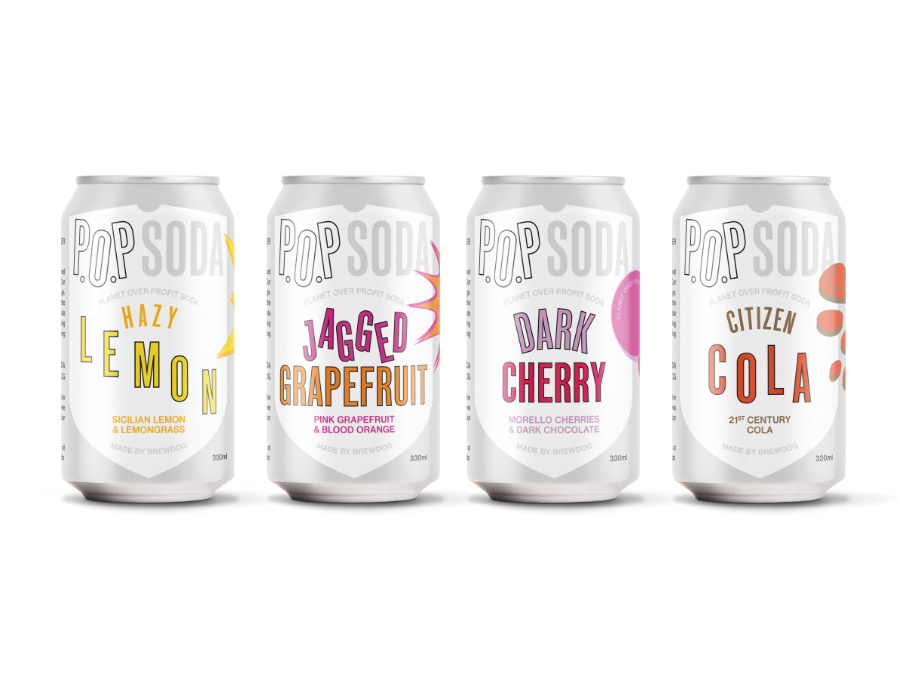 Category – Soft drinks
Available – From this month
Location – The UK, with roll-out to the US pencilled in
Price – GBP4 (US$5.40) per 6 x 33cl cans.
BrewDog has unveiled a range of soft drinks under a new brand name.
P.O.P Soda represents the Scottish craft brewer's first foray into the category, and will be available in the UK via Tesco supermarkets from 14 February, and BrewDog bars from March. Four flavours will be available at launch, all in 33cl cans: Hazy Lemon, Citizen Cola, Dark Cherry and Jagged Grapefruit.
All of the profits from the 'Planet Over Profit' line, which is free from artificial sweeteners, will be donated to what BrewDog has described as "worthy causes". The launch will be supported by a marketing campaign, including digital, social media, PR and in-store PoS.
BrewDog's brand & marketing director Lauren Carrol said: "Just like we revolutionised craft beer with our Punk IPA, we want to do the same for the world of soft drinks.  P.O.P Soda is more than just a pop drink. We're giving everyone the chance to contribute to the fight against climate change by simply picking up a can of P.O.P Soda and collectively taking action to stop the climate crisis."
Last month, CEO James Watt admitted the company may have previously broken US federal laws with regard to beer exports from the UK. Watt maintained that BrewDog was unfamiliar with US import laws at the time.
What's coming up in soft drinks in 2022? – Click here for Just Drinks' predictions for the year ahead