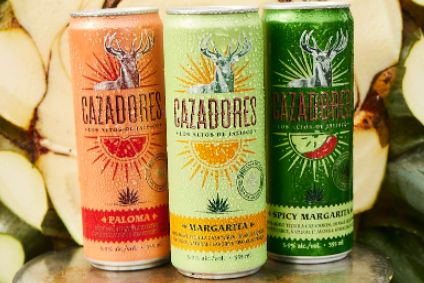 Bacardi's Tequila Cazadores pre-mix RTDs
Category – Pre-mix RTD, Tequila-based
Available – From next month
Location – The US, available nation-wide
Price – SRP of US$14.99 per 12oz (35.5cl) can four-pack
Bacardi has added a pre-mix RTD to the portfolio of its Tequila Cazadores brand in the US.
Using Cazadores' Blanco expression as its base, the three-strong line hits the market in four-packs next month. With an abv of 5.9%, the RTDs feature 100% blue agave Tequila and comprise Margarita, Spicy Margarita and Paloma variants.
Agave syrup is used as the sweetening agent.
"Tequila Cazadores is inviting consumers to ditch the average canned cocktails that contain questionable ingredients and lack flavour for an expertly crafted and modern on-the-go experience," said Bacardi.
The brand extension comes less than a month after brand owner peer Beam Suntory unveiled Hornitos Tequila Seltzer, an RTD extension of Hornitos designed to tap into the hard seltzer craze in the US.
Privately-owned Bacardi acquired Cazadores from the Don Felix Banuelos family in 2002.
There's an easy explanation why Tequila brand owners tend to concentrate their efforts on the US – The country accounts for more sales than the other nine markets in the top ten combined. According to GlobalData, Tequila volumes in the US this year are expected to come in at a shade under 20m nine-litre cases. After Mexico, in second place with estimated volumes of 8.2m cases, the best of the rest will be Russia closely followed by Germany.
Why Diageo is winning the slow-and-steady Tequila race – Click here for a just-drinks comment