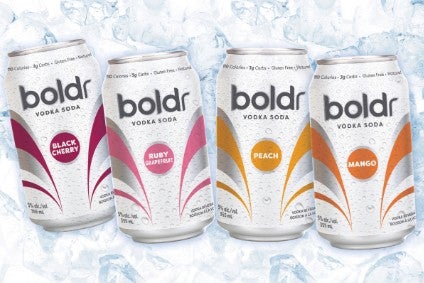 Aquilini Brands' Boldr Vodka Soda RTD
Category – RTD, vodka-based, 5% abv
Available – From this month
Location – Canada, available in Alberta, British Columbia and Saskatchewan
Price – Not specified, available in 35.5cl cans
Canada-based Aquilini Brands has lined up a 'vodka soda' RTD from its Boldr Hard Soda Co unit.
Boldr Vodka Soda, which launches domestically later this month, will be available in four flavours – Black Cherry, Mango, Peach and Ruby Grapefruit. The range is produced using natural fruit flavour and contains 100 calories and 3g of carbs per 35.5cl can.
As well as single-flavour six-packs, the beverage also comes in a mixed 12-pack.
"Our research suggested that a large percentage of vodka soda drinkers weren't satisfied with the flavour intensity of current market offerings," said Boldr's senior director of sales, Cam Matches. "We knew we had the opportunity to create a low-cal, low-carb option that offered a far superior taste experience."
Aquilini Brands, which also operates in the wine category, is part of the Canadian conglomerate Aquilini Investment Group.
Earlier this week, domestic peer Sapsucker unveiled its own vodka-based RTD, which also features sparkling tree water.
Are hard seltzers paving the way for 'soft seltzers'? – Click here for a just-drinks comment