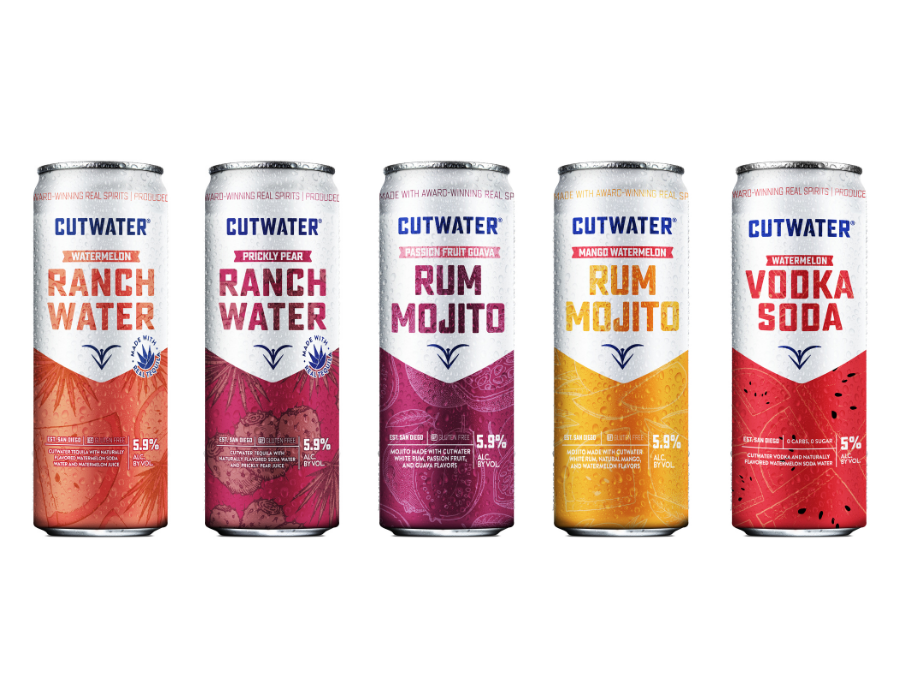 Category – RTDs, spirits-based, up to 6% abv
Available – From this month
Location – The US, nationwide
Price – SRP of US$9.99 per four-pack of 12oz (35.5cl) cans, $16.99 per eight-pack
Anheuser-Busch InBev has expanded the portfolio of premix cocktails from Cutwater Spirits in the US, adding a slew of ranch water, rum-based mojito and vodka soda expressions.
The new SKUs, announced this week, will be available in 12oz (35.5cl) 'slimline' cans with the entire Cutwater stable also offered in the pack format. The new additions comprise:
Ranch Water – 5.9% abv, Watermelon and Prickly Pear
Rum Mojito – 5.9% abv, Passion Fruit Guava and Mango-Watermelon
Vodka Soda – 5% abv, Watermelon
The full Cutwater portfolio is for sale in single-flavour four-packs and 'variety' eight-packs.
"We expanded our portfolio's refreshing, easy-to-enjoy offerings by developing new flavour variations that build on three of Cutwater's most enjoyable cocktails and feature our own award-winning vodka, rum or Tequila," said Cutwater co-founder & master distiller Yuseff Cherney. "The new slim can format is inspired by the kind of highball glass you'd get at your favourite bar if you ordered one of these cocktails off the menu."
A-B InBev added Cutwater to its 'Beyond Beer' stable in February 2019, acquiring the San Diego-based brand for an undisclosed sum.
"You focus on what you can control"- Anheuser-Busch InBev chief supply officer Peter Kraemer