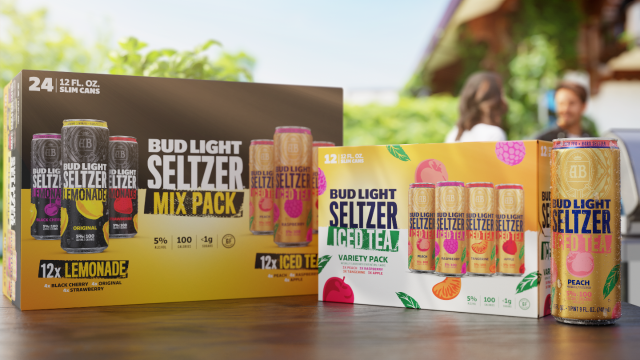 Category – Alcoholic sparkling water, 5% abv
Available – From this month
Location – The US, available nation-wide
Price – SRP of US$16.99 per 12x12oz (34.1cl) cans
Bud Light Seltzer Iced Tea has rolled out in the US in both a variety pack and its own standalone pack, the brand owner said yesterday. The iced tea, which has the same nutritional profile as other Bud Light Seltzers, has been released to capture US consumption occasions in the coming months.
"With the Summer season upon us, we're confident that consumers will enjoy … mixing flavours to create the perfect seltzer that can be enjoyed on the beach, at a BBQ or anywhere else," said Bud Light marketing VP Andy Goeler.
Bud Light Seltzer Iced Tea is available in four flavours – Peach, Apple, Raspberry and Tangerine
The variant joins a growing number of hard seltzer iced teas in the US including The Boston Beer Co's Truly Iced Tea, launched in January, and Mark Anthony Brands' White Claw Iced Tea, released two months later.
In April. Boston Beer said the launch of its alcoholic iced tea helped the Truly brand outgrow the hard seltzer category almost two-fold, or by 50 percentage points, in the first three months of the year.
The dangers of promoting health with low- & no-alcohol offerings – sustainability spotlight