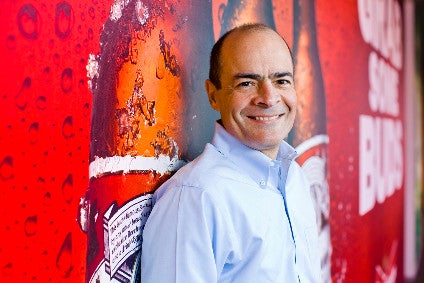 Who could be the next CEO of Anheuser-Busch InBev if Brito departure reports are true? – Click here for a just-drinks analysis
Anheuser-Busch InBev has chosen not to comment on a news article today claiming that CEO Carlos Brito is set to step down from the role.
In a report published late yesterday, the Financial Times said that the brewer has engaged with a recruitment company to find a replacement for Brito. Citing "three people with knowledge of the matter", the newspaper claimed that Brito, who turned 60 earlier this year, could quit the role "at some point next year" but that "it is also possible Mr Brito remains in charge for longer if the company does not settle on a candidate from the search".
When contacted by just-drinks today, a spokesperson for A-B Inbev said the group would not be commenting on the report.
Among the internal candidates to replace Brito at the helm, according to the FT, is Michel Doukeris, the group's current regional president for North America. Doukeris moved across to the post in late-2017 from being chief sales officer. He previously also headed up A-B InBev's operations across Asia-Pacific. With no other potential candidates internally, the FT said, Spencer Stuart has been brought in to pull together a list of external possibilities.
Were he to stand down, Brito would not leave the brewer altogether, sources told the paper, with a spot on the board set to be made available to him.
Earlier this year, Brito's long-term colleague, Felipe Dutra, exited the company after having spent 15 years as CFO. Brito, who has been with Anheuser-Busch InBev in its various guises since 1989 and as CEO since 2004, described Dutra's departure at the time as "bittersweet".
"For nearly 30 years, he has been a champion of our company and a fantastic partner to me and the members of our senior leadership team as we grew the company," he said. "Felipe feels that now is the right time to embark on new projects, and we are respectful of his decision."
Attention has turned to A-B InBev's level of debt in recent years, following the brewer's transformative takeover of rival SABMiller four years ago. The transaction, valued at US$103bn, saddled the group with what one analyst described recently as "a mountain of debt". Despite working its traditional cost-cutting ways post-acquisition, A-B InBev switched to 'selling' mode, offloading the likes of SAB's holding in MillerCoors in the US and in China Resources Snow Breweries in China. In June this year, the group finally completed the long-running divestment of its Australian assets to Asahi Group.
Speaking exclusively to just-drinks two years ago, Brito hailed A-B InBev's size – the company accounts for one in every three beers consumed on the planet – as a major advantage in tapping into consumer trends. "The next big thing is already somewhere, it's just not yet visible to everybody," Brito said in the wide-ranging interview." It's going to start somewhere and it's going to be scaled up by someone. Being a global company gives you opportunities to be exposed to all these different things that are happening."
What the beer category will look like, 12 months from now – Click here for a just-drinks comment