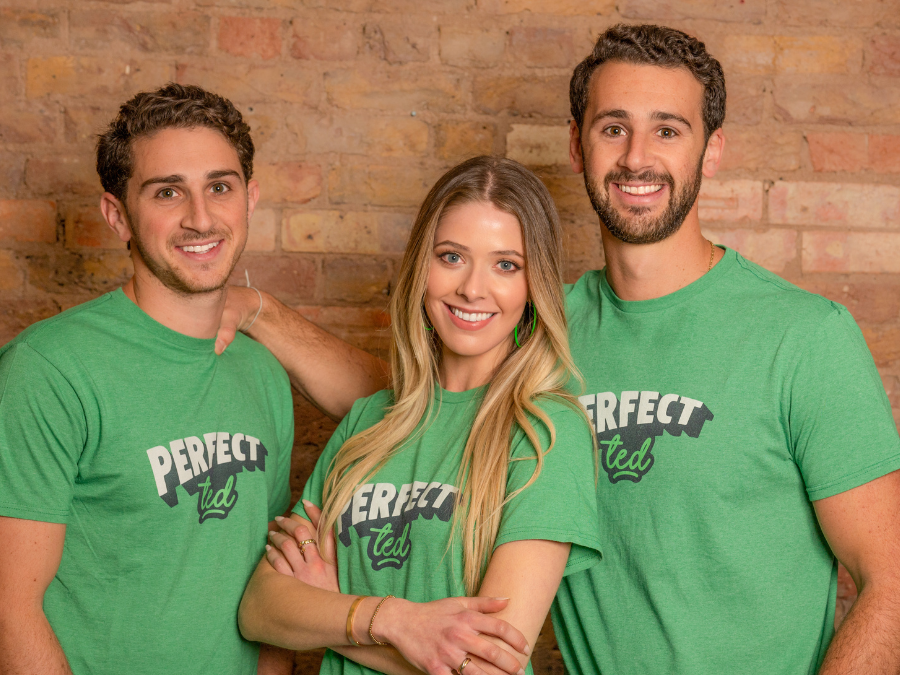 PerfectTed sees "massive opportunity" in what the fledgling UK company describes as the "natural energy drinks sector" and it believes it can take advantage with its matcha green tea beverage.
The London-based company, set up in 2021, has just secured a listing at Tesco, the UK's largest grocer, to build on its presence in retailers including Holland & Barrett and Selfridges.
Its PerfectTed drinks, which contain 80mg of caffeine per 250ml can, are also on sale in eight other countries, including Ireland, Singapore and the UAE.
Earlier this month, co-founders Marisa Poster and Teddie Levenfiche appeared on BBC business pitch programme Dragons' Den and attracted GBP50,000 (US$60,370) of investment.
This week, Just Drinks sat down with Poster to hear how PerfectTed is looking to disrupt the energy drinks market, how it has navigated the challenges of being a start-up (including a factory fire) and its thoughts on whether or not to chance its arm in the US.
Just Drinks: What was the origin of the PerfectTed brand and business?
Marisa Poster: I had just started university and I have ADHD and anxiety, so I needed an aide to help me focus and study for the 12 hours that are spent in the library. I turned to coffee and energy drinks because I thought it would help give me consistent energy and keep me mentally alert; it ended up just making me feel horrible. I was consistently not feeling myself.
How well do you
really

know your competitors?

Access the most comprehensive Company Profiles on the market, powered by GlobalData. Save hours of research. Gain competitive edge.
Company Profile – free sample
Thank you!
Your download email will arrive shortly
Not ready to buy yet? Download a free sample
We are confident about the unique quality of our Company Profiles. However, we want you to make the most beneficial decision for your business, so we offer a free sample that you can download by submitting the below form
By GlobalData
A friend recommended I try matcha because she knew I wanted that caffeine hit but without any of those negative side effects. I switched [and] it really had a profound impact on me, I just felt so much less anxious. I never suffered again from the crashes or jitters of coffee. So, it really had an impact on me.
When I moved over to the UK, I was really surprised by how few quality matcha options there were on the market. I felt a lot of the options in the market really lacked on functionality and flavour, as well as so-called health credentials. We saw a massive gap in the market to create a better-for-you, better-tasting energy drink powered by matcha that offered functional energy, free of jitters and crashes.
JD: What was the biggest challenge setting up?
MP: I think it was adapting to this really steep learning curve. I mean, I don't come from a food and beverage background, nor do my co-founders Teddie and Levi Levenfiche. So, kind of learning everything on the fly.
Dealing with manufacturing issues really early on, we have an amazing partner but sometimes you can't get ingredients or there is a fire in the factory, which we genuinely had a week before we were meant to go into our first-ever production round.
JD: A fire in the factory?
MP: We were actually meant to be making the drinks for the first time ever with our commercial recipe in a small sample tank and the tank set on fire and was out of commission for about two-and-a-half months.
But we had put a ton of money down to launch the drinks at the London Coffee Festival as an alternative to coffee. We had no other option but to use the larger tank, which would produce about ten times the volume of the trial tank. So, it was pretty daunting and very overwhelming at the time but we were able to navigate it and got through it.
We produce in Devon. We've been there from the beginning, they've scaled up with us and they're incredible partners.
JD: Where is currently your biggest market and which consumers are you targeting?
MP: We're really excited about the UK. I'm American and we purposely launched the drink here because we just felt that there was such a ripe opportunity to disrupt the space.
I felt there were few options, especially as a woman, that actually appealed to me from a brand perspective. I mean, if you look at the existing energy drinks in the space, Red Bull, Monster, Rockstar, they're all pretty hyper-masculine in their approach. So, I felt that if we could create something that would resonate with more people and be more accessible it could really become very popular.
We just see such a massive opportunity; I believe it's 70% of the UK population self-reports feeling exhausted for more than half a day, which I think is pretty understandable considering, you know, we've just navigated a pandemic, we're now in a cost-of-living crisis. People are working harder than ever to hold their jobs, it's a scary time. I think people are really tired and they do look to sources of caffeine for a pick-me-up to help keep them productive.
I think given all of these factors, and of course, it's an incredibly competitive space, but with the lack of innovation in the space we have a massive opportunity here and having the buy-in from Tesco and them believing in the vision as well is really proof that we've kind of hit something.
JD: You mentioned other energy drinks. Do you see Red Bull and the likes as your main competition?
MP: From the beginning, we weren't actually targeting the Red Bull consumer, because we felt the Red Bull consumer would continue to drink Red Bull and maybe isn't as keen to adopt healthier options or they just aren't as aware. So, we were kind of looking to that coffee drinker to substitute their second or third cup of coffee. Now we're actually finding and we're getting such an influx of messages from people saying 'I saw you on the shelves at Tesco, I was about to reach for a Monster, but yours was really appealing with your fruity flavours and your green tea energy.'
I think for us it's really interesting because we kind of appeal to several different demographics. We can be a substitute to two different categories, as well as for tea drinkers, because matcha is a tea. We've been asked before: 'Are you an energy drink? Are you a sparkling tea?' I think we play in a few different categories but we're really trying to disrupt the natural energy space.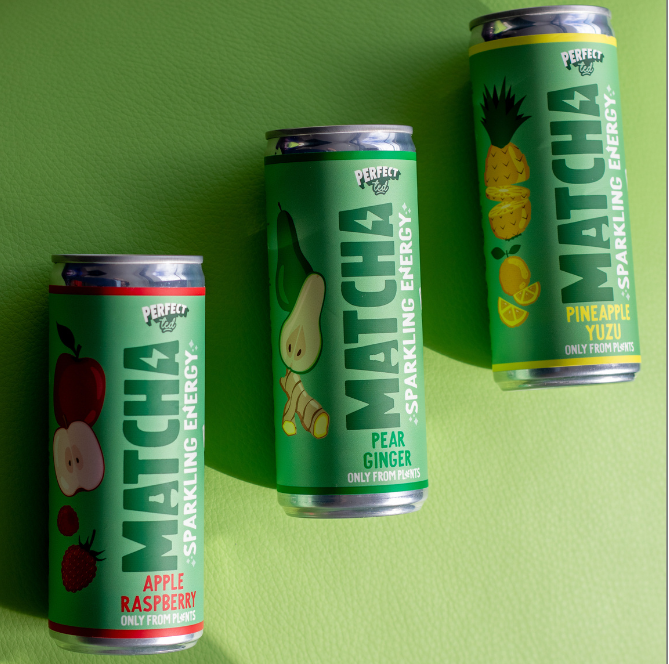 JD: You recently received GBP50,000 from the UK investor TV show Dragons' Den. What's that cash being used for and any plans for further funding rounds?
MP: It's really to help the brand and help gain brand awareness. We're now starting to work with Steven Bartlett and his team. They've been amazing. There are really experts in building brands and helping other brands gain awareness.
We're kind of in a fortunate position where we actually have a side of our business, which is our matcha powder. It's a very profitable business. So, we're fortunate to be able to fund a lot of our drink's activities through our powder. The business model helps sustain us. But further funding, it's something that we have been considering, so TBD.
JD: How much of the business is selling matcha powder?
MP: It will account for almost 50% of our business. We have both retail products that we'll be launching with a major grocery this year across almost 2,000 stores. And we also have a really, really strong wholesale business. So, we're launching nationwide with Joe and the Juice in May. We're the sole supplier to Blake Street coffee, Planet Organic, Arket, which is part of H&M and a load of other independent coffee chains. So, it is a meaningful part of our business.
JD: What's your forecasted revenue for the year?
MP: Top line, we're projecting about GBP5m in revenue, which is the 2,500% increase from our year one.
JD: Any plans to tackle the United States market?
MP: We're trying to decide whether or not a US launch makes sense for us at the moment. I think we see such a massive opportunity to continue gaining market share in the UK, and as well throughout Europe, the Middle East and south-east Asia. The US is such a massive market and it's what I'm very familiar with as an American and have a lot of friends within the drinks industry there but I think right now there's so much to go after here that we're not really focused on the US.
I think there's a graveyard of drinks brands that have gone over there that have not made it and have come back to the UK market really bruised and battered. And by taking their eye off the prize in the UK they may have lost market share here. I think it could just be a distraction, so we're really just focused on making it work here.
JD: One last question: why is the brand called PerfectTed? Is it named after one of your founders?
MP: When we looked around at a lot of brands that we really loved on the market like Deliciously Ella, Jimmy's Iced Coffee, Nutty Bruce, loads of brands have names in them.
We always knew that in order to be different we need to personify the brand and put a lot of personality behind it and put a face to the brand because I think that's what people connect with most. In advertising if you just show a photo of your product, it's not that exciting, I mean, people can go into the store to look at your product but, if you put entertainment first and it's you … I think people are entertaining and people resonate with people and people resonate with stories.
So, we knew we wanted it to be a human name. We wanted it to be relevant to one of the founders. Teddy is my co-founder, Ted, Teddy is a gender-neutral name and everyone kind of knows a Teddy and we felt it was really a play on words for perfected and perfect ten.
It causes conversation to come about because people are like: 'Is it PerfectTed or is it perfected?' We really like the discourse that comes with it.
Product launch picks, February 2023 – what Just Drinks thinks