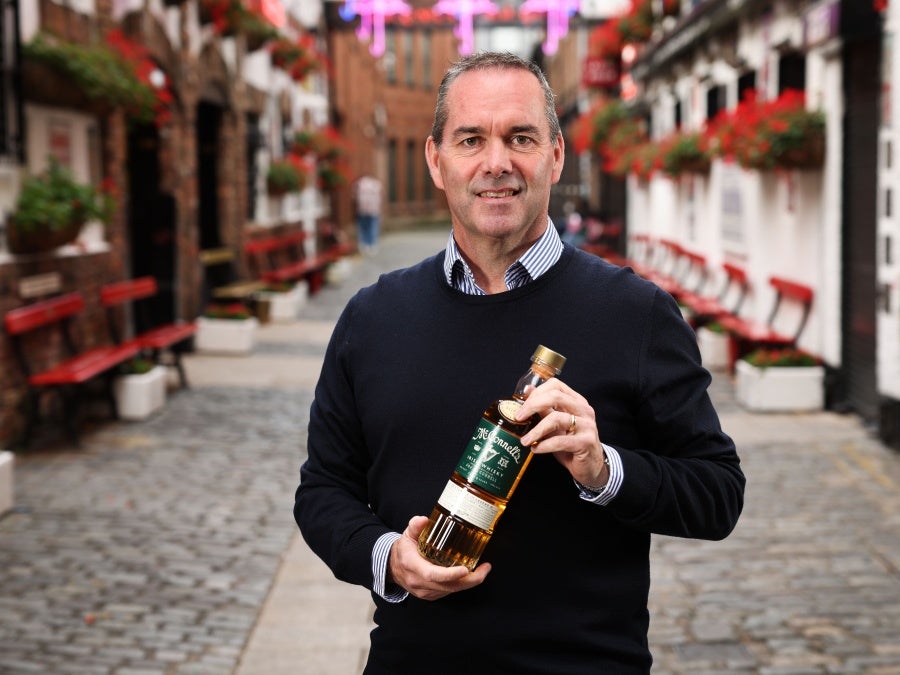 As well as clinching a long-term trade agreement in South Korea, Belfast Distillery Company is in the midst of building a distillery in a Grade A-listed building and has hired its first master distiller, Graeme Millar.
Just Drinks caught up with CEO John Kelly on the news and his strategy. Kelly joined in 2021 after 30 years in the industry, including heading Diageo's business in the Middle East and north Africa. Hailing from north Belfast, his career has now brought him full circle as the distillery is over the wall from his primary school.
JD: So how did the opportunity arise in South Korea, was the market always part of your plan?
John Kelly: The opportunity arose through our connections with Invest NI. I will just take a step back… Belfast Distillery Company is funded by three sources – a group of American investors who have put together an investment pool of US$20m, local banks and the Northern Ireland government, specifically Invest NI.
South Korea – and Asia generally – was already in our plans. If you look at the emerging markets, China, Hong Kong and South Korea are good opportunities for Irish whiskey brands.
Invest NI were instrumental in introducing us to this distributor called Goldenblue. They have got people on the ground in Seoul and, in Asia, those kinds of relationships are very important. We were able to work through Invest NI to build a commercial partnership with Goldenblue, and the result was what we hope will be the first of a number of orders.
The first deal is for 10,000 bottles, so, in simple terms, that's one 20-foot container. That's what we decided was required to get the market and Goldenblue started. We hope in 2023 we will have a similar order as we continue to build business. My commercial manager and I will be heading out there in June to work for a week. Part of our commitment to them was to get feet on the street from here in Belfast to help build the brand.
JD: What is it about South Korea that makes it an attractive market?
JK: There are lots of whisk(e)y drinkers there. If you look at the data, Scotch whisky has by far the largest market share (around 69%), followed by American and Japanese. Irish would come fourth but it's growing fastest as a sub-category. Scotch is actually losing a bit of share.
What's happening is, and you see this in many different markets, the younger generation are rejecting the current brands or categories and looking to be decision makers, opinion formers, and do something different. And that's where brands like ours and categories like Irish whiskey become relevant.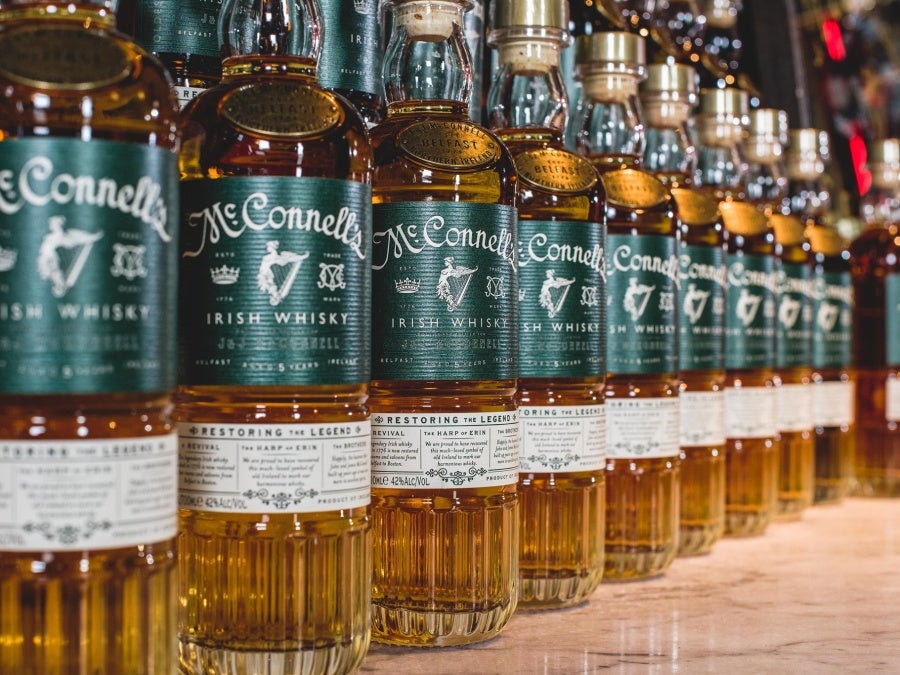 JD: The deal was supported by funding from the new deal for Northern Ireland (a UK government package to support businesses post-Brexit). How has Brexit affected the Irish whiskey category?
JK: Brexit has not affected our business really in any shape or form. We can export from Northern Ireland and the Republic of Ireland because we've got a subsidiary company there.
If there were to be any changes to the current protocol, that's worth watching from an industry perspective. And the reason I say that is because right now there's freedom of movement on the island of Ireland for anything connected with our industry, such as liquid and packaging. We're really keen that there's no significant changes to what's happening today because we are very much on an all-Ireland industry.
Of the things that keep me awake at night – the war in Ukraine really caused significant issues from an export perspective. Ukraine, I think, was number five on the list in terms of Irish whiskey consumption. Russia was number two on the list. We do not sell to Russia and we cannot sell to Ukraine so that's been an impact on our business.
You also mentioned the knock-on effect of cost of living, and the price of shipping a container to the US literally tripled from January to November last year. A container that was $3,500 became $11,000 within the same calendar year. The cost of shipping has gone through the roof. There have been really significant increases in the cost of glass, and so it goes on, you know, plastic, cork, cardboard – that's what we talk about as the cost-of-living crisis. The macroeconomics that are affecting us all have definitely been more of a factor than Brexit has.
JD: And how have you managed the cost pressures strategically? Have you had to push up prices?
JK: We've had to increase our prices but not to the same degree as we have faced price increases ourselves because ultimately you'd be pricing yourself out of the market. We're continuing to work through that to be perfectly honest with you.
JD: Have you noticed a dip in consumer demand as the cost of living increases?
JK: No, is the short answer to that. When there's a crisis, people do still consume alcohol. Their consumption patterns may change – during Covid, people were no longer consuming alcohol in the on-trade. They weren't buying bottles of whisk(e)y when they were flying. But overall alcohol consumption didn't really change. People were just consuming at home. In some cases, people were premiumising and experimenting with cocktail making.
JD: What's Belfast Distillery Company's biggest market?
JK: The US is by far our biggest market. It's around 45% of our business. That's pretty much in line with the overall Irish whiskey category. We have a sister company in the US and are in all 50 states.
Canada is increasingly important, we're in four provinces in Canada and keen to expand further. So North America generally would be a primary market. Other than that, we're in over 1,200 stores in Australia, we're also in China and Malaysia.
Closer to home, Northern Ireland is very important for us. I'd say we're punching above our weight in Northern Ireland because of bringing the distillery into Belfast. There hasn't been an Irish whiskey distillery in Belfast for almost 100 years, so we're very keen to build our brand here.
We finished off last year selling in 31 markets around the world.
JD: What markets are you looking towards next?
JK: Eastern Europe is definitely an area of interest though we are already in Poland and the Czech Republic. Looking further afield into Asia, Taiwan would be next on our list in terms of big whisk(e)y-consuming countries, having secured China and South Korea.
JD: What are the other key focus areas for you at the moment?
JK: Building our distillery and our visitor experience is a really big focus for us. It gives us a brand home and that's a really important thing. When people can come and visit, you take them on a tour, let them sample your whiskey, and kind of send them out as brand ambassadors. So that's a huge transformational step for us this year, it's a bit of a game changer.
A lot of my time is actually spent thinking about the team and recruitment. Right now, there's seven people working for us, our business plan when we're fully operational has 50 people working for us.
So building a brand, building the distillery and building the team to bring it all together is how I would sum up the key strategies for myself.
JD: Can you tell us a bit more about the distillery?
JK: Crumlin Road Gaol closed in 1996 and it's one of the most iconic buildings in Belfast and Ireland. It currently has a visitor experience in one of the wings and we're building our distillery in another. When we're open in autumn of this year we'll be able to accommodate over 130,000 visitors.
It also happens to be over the prison wall from my old school. I came back from the Middle East and this opportunity came up to run this business in north Belfast – you almost couldn't write the script.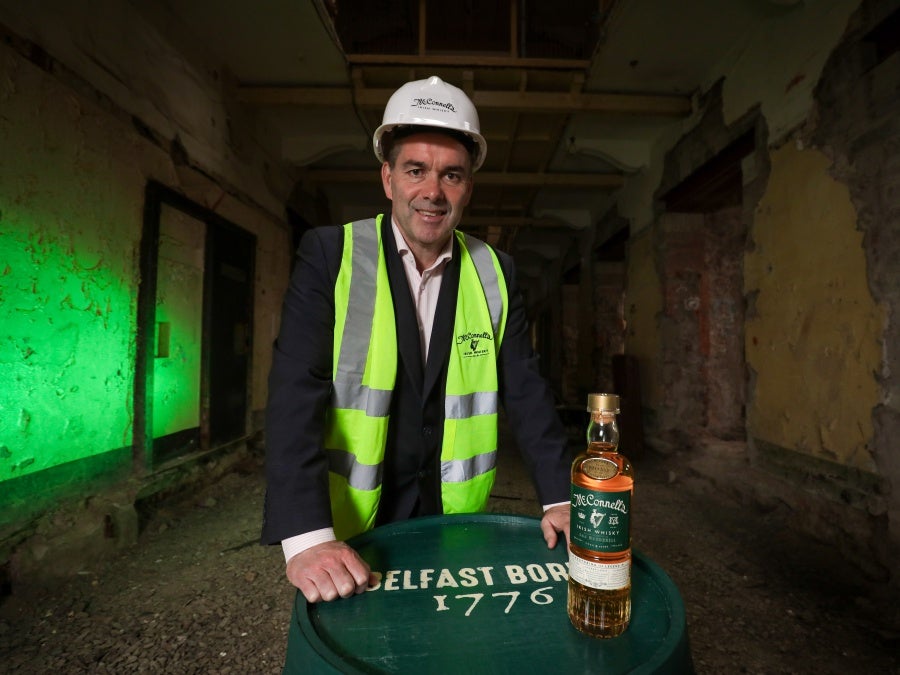 JD: Has it been tricky to set up a distillery inside a historic building?
JK: A good question. I spent the first year probably of my time here working with the government in Northern Ireland and the various departments that have an interest in the gaol because it's a Grade-A listed building. And the answer is no, it's not easy to get planning permission and get through all of the rules and regulations to build a distillery. It's not a brownfield site – if you were doing it from the bottom up and an open field, it would be a lot easier. But we're well under way with construction and having such a great facility is going to be phenomenal for Northern Ireland.
JD: Is this your first distillery?
JK: It is our first distillery. So, like many other independent bottlers in the Irish whiskey category we currently source our McConnell's liquid from another distillery. Up until the 1990s, there were only three distilleries on the island of Ireland. That has changed quite significantly since the early 2000s, now there's around 40 distilleries either currently selling product or under construction.
JD: Out of interest – why is McConnell's whisky spelt without an 'e'?
JK: When I was approached about this role, the first thing I did was buy a bottle and I thought: "Gee these guys don't even know how to spell whiskey." But the reason we do that is the brand predates the introduction of the 'e' to the word whisk(e)y in Ireland. Irish distillers in the 1800s introduced the 'e' because they wanted to differentiate themselves from Scotch whisky, which was becoming more prominent.
But because J&J McConnell's dates back to 1776, we stayed with the original spelling. So it's not a spelling mistake or a typo, it's actually the way that McConnell's has always been spelled.
JD: Do you think you'll add any new products when you open the new distillery?
JK: At the moment it's not in the plan, we'll be focused on J&J McConnell's. We've got a huge anniversary coming up in 2026. The J&J McConnell's brand will be 250 years old. We will be bringing out variants within the portfolio, similar to the sherry finish, but not adding new brands to the Belfast Distillery Company portfolio.
JD: Can you give me an idea of what production volumes will be when you've got the distillery operational?
JK: We're in a closed period, so I'm not allowed to talk about volumes on the ground at the moment but what I can tell you is we'll be what's known as a one-tonne distillery, which means that we should be able to produce 0.5m LPA (litres of pure alcohol) of single-malt Irish whiskey when we're fully operational. When you convert that back to nine-litre cases at standard ABVs, you're looking at about 300,000 nine-litre cases.
JD: From a personal perspective, how did you find moving to a small brand where you're looking after just two products after having worked for two decades at a giant like Diageo?
JK: My time at Diageo was great, there's a reason why they're the number one in the industry. What you learn in Diageo is normally the benchmark for everyone else. Over 22 years I learned a lot, gave a lot of my time and energy and shoe leather and sweat. But, you know, to be able to kind of take those learnings into a start-up organisation like this – it really allows you structure and direction. It's like you spent 20 years at university and then you're ready to do it yourself.
JD: Was there anything that surprised you when you moved?
JK: The decision-making process is a lot easier. Diageo's a huge multinational with lots of layers of decision-making. Here I answer to the chairman of the board of investors. We call a couple of times a week, we talk about things and we make a decision and then we move forward. So that type of speed of decision-making is quite different and refreshing.