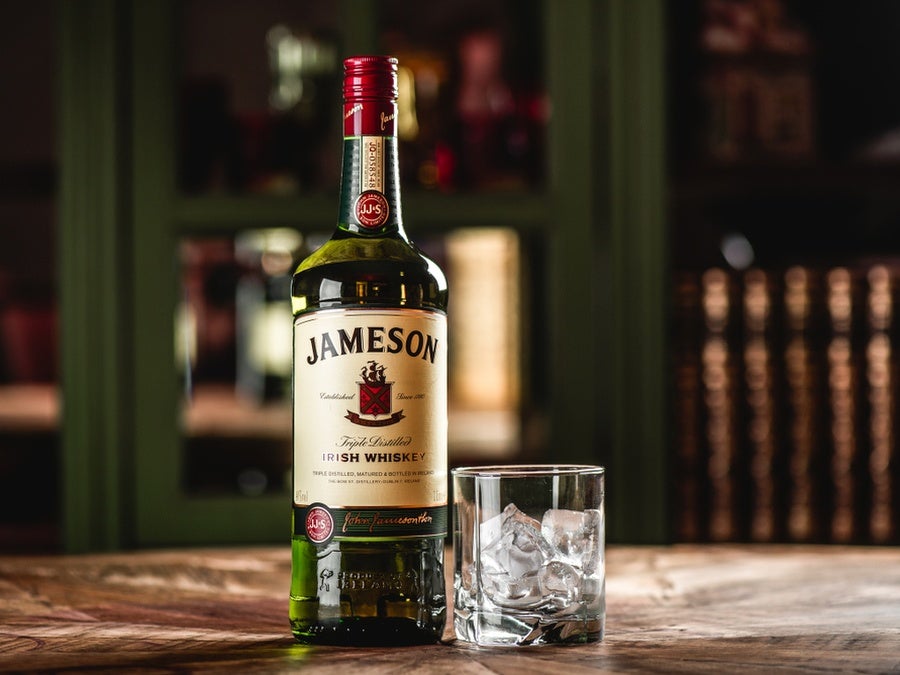 Ireland's beverage exports reached EUR2bn (US$2.15bn) in 2022, with just over half going to the North America market, data shows.
The overall value of food and drink exports was EUR16.7bn – a 22% increase year-on-year – according to data from Irish trade board Bord Bia.
Overall food and drink exports to North America are estimated to have reached EUR2.1bn, with the US market accounting for 85% of this value. US demand was headlined by drinks and dairy products, and exports grew by almost 40% or EUR0.5bn compared to 2021, reaching an estimated EUR1.75bn.
Narrowing that down to beverages, North America held a 52% share of Ireland's exports, up 36% year on year. The US was the main player globally in Irish whiskey exports, representing 57% of the total export value.
The second and third biggest Irish beverage importers were Europe and the UK, with a 21% and 14% share respectively.
Michael Hussey, Bord Bia senior sector manager for drinks, noted premiumisation was "one of the key factors in export value growth, with overall value growing at more than twice the rate of volumes".
He added: "Premiumisation and consumers demanding "less but better" remains a growing trend in key Irish drinks export markets such as the US."
Irish whiskey reigns supreme
The "landmark" year for the drinks category was driven by exports of Irish whiskey, which was up 25% and formed nearly half of total drinks exports in value, and Irish cream liqueur, which was up 14%.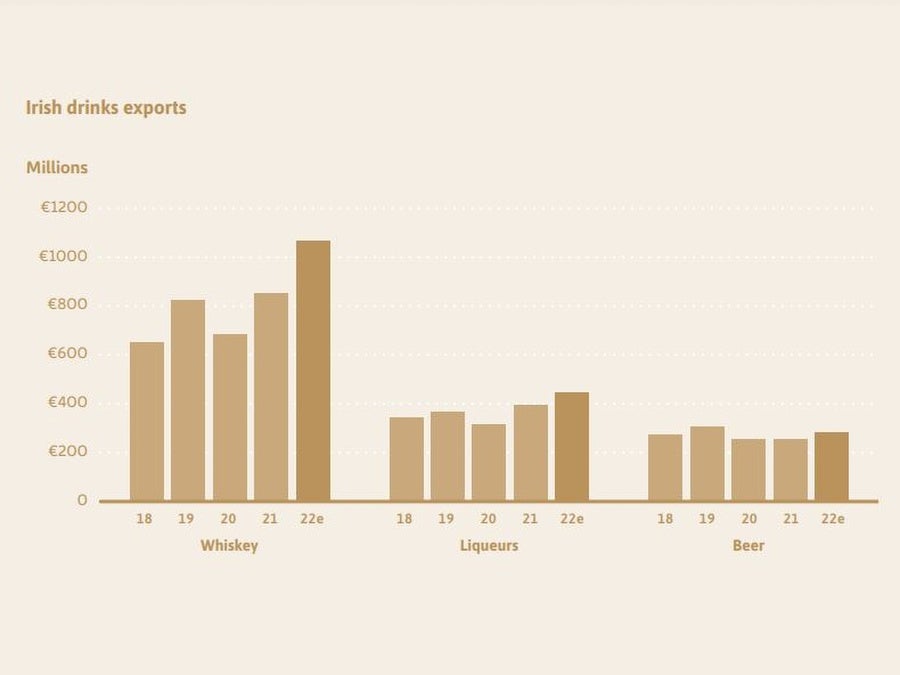 Hussey said: "2022 proved to be a landmark year for Irish drinks exports.
"The value of exports in 2022 represents a 25% increase on 2019 levels, which reflects the extraordinary recovery and now growth of the sector. This growth helped to offset the impact of an increasingly challenging input cost environment."
The report also noted "considerable growth potential" for Irish whiskey in India which is now the category's largest Asian export market, recording "exceptional" growth in 2022.
Irish beer also experienced a recovery after being one of the worst-affected categories by lockdowns and the closure of the on-premise. Although still 7% below pre-pandemic levels, Irish beer exports saw their first year-on-year growth since 2019 last year.
Hussey added: "Irish beer exports were the most affected by Covid-19 restrictions, as they rely heavily on the on-trade, and the closure of this channel in the majority of export markets led to year-on-year declines for 2020 and 2021.
"However, 2022 saw signs of recovery with the value and volume of exports increasing by 19% and 14% respectively, reflecting a strong performance in markets such as the UK, US and Germany.
UK remains Ireland's largest export market across food and drink
The UK was the largest single market for Irish food and drink exports for the period, with exports valued at an estimated EUR5.4bn. However, other markets are closing the gap on the UK.
"Irish exporters have navigated their way through considerable uncertainty in terms of the new trading environment with the UK and more recently a rapidly slowing British economy," the report stated. "The latter is likely to remain a key challenge for Irish exporters in 2023."
Exports of food and drink to Europe increased by 29% compared with 2021 figures, with France, Germany and the Netherlands noted as key destinations. Food exports were worth an estimated EUR765m – up 20% on 2021. The region increased its share of Irish food and drink exports in value terms to 34% up 2 percentage points on last year.
Exports to markets outside of Europe increased by 23%, and were worth an estimated EUR5.6bn.
While exports to China stagnated due to the country's strict Covid policy and strong domestic meat production, this was offset by growth in the Philippines, India, Malaysia and Japan.
Overall exports to Asia increased by around 9% to EUR1.5bn. "The region presents significant further opportunities for Irish food and drink exports over the medium term, supported in particular by on-going co-funded EU campaigns for meat and dairy," the report stated.