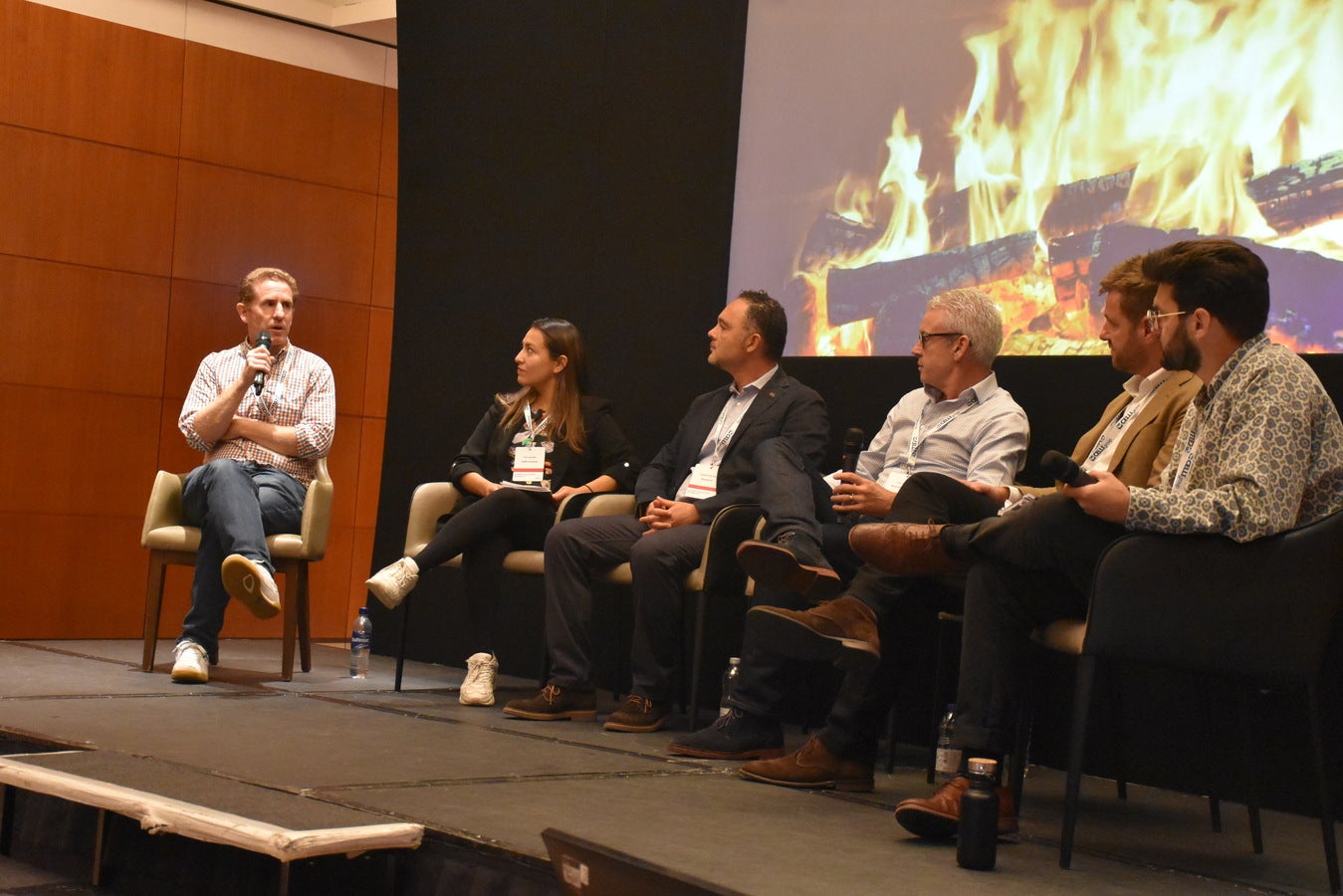 The time is ripe for new non-alcoholic beverages to leap into the market. Whether through sidling up alongside alcohol in traditional drinking moments or carving out a space of their own, there is plenty of room for innovation and growth in the category, according to suppliers and producers at the Innovation In Non-Alcoholic Beverages Conference 2022, presented by Just Drinks.
Speakers were unanimous in their belief that the category is set to boom despite increasing competition from an influx of new non-alcoholic products in recent years.
Setting the scene, James Crampton, Heineken UK's corporate affairs director, said: "Times are changing. We know 70% of us now want to lead a healthier lifestyle, whether that's choosing meat-free days or being mindful of how much alcohol we're consuming. We want moderation to be aspirational. We want moderation to be even cool."
Craig Hutchison, founded and CEO of Mindful Brands, added: "This category will continue to grow, outpacing alcohol for the rest of our lifetime. Until non-alcohol-consuming adults have the same amount of choice as alcohol-consuming adults have there is room for more brands."
The product, however, has to be right. Flavour, ingredients and aesthetics are essential to creating a moment that stands up to its traditional alcoholic counterpart. "Aspirational" moderation won't be achieved with a pint of fruit juice in a dirty glass.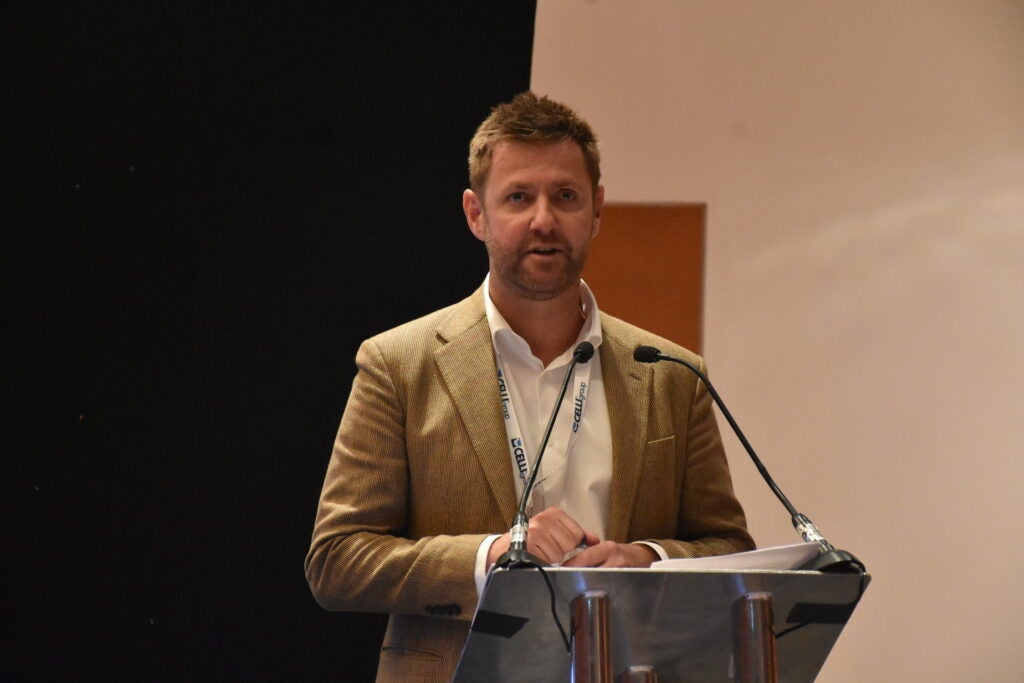 Quality was top of the agenda in London last week, and "flavour is king" became a recurring catchphrase of the two-day conference. "I can't emphasise this point enough; our favourite drinks are always preferred because of how they taste not necessarily because of what they do," Boost Drinks marketing and international business director Adrian Hipkiss said. "The taste of what we offer is critical if we are to scale up categories and really generate critical mass."
How well do you
really

know your competitors?

Access the most comprehensive Company Profiles on the market, powered by GlobalData. Save hours of research. Gain competitive edge.
Company Profile – free sample
Thank you!
Your download email will arrive shortly
Not ready to buy yet? Download a free sample
We are confident about the unique quality of our Company Profiles. However, we want you to make the most beneficial decision for your business, so we offer a free sample that you can download by submitting the below form
By GlobalData
Investment in flavour and quality comes with a price and speakers agreed the cost of alcohol alternatives should stay relative to conventional alcohol, both as an indicator of quality and to maintain innovation in the category.
The need for education, both in the trade and for consumers, was central to the pricing argument but also threaded itself through most discussions. How do manufacturers get consumers to trust new products? How do they communicate the benefits of functional drinks? How can educating the consumer improve their experience?
Seizing the moment: non-alcoholic beer on draught
A sticking point for non-alcoholic drinks is the lingering stigma around not having a "proper" drink; holding a bottle when everyone else is drinking a pint and fielding questions on the non-alcoholic choice – with women often subjected to awkward questions around pregnancy.
For this reason, "pints are the holy grail" when thinking about creating a drinking moment that looks and feels traditional, according to Crampton.
"Pubs and pints go hand in hand, so to be able to really supercharge the category it [non-alcoholic beer on draught] needs to be more available in pubs. 92% of beer volumes in the UK are on draught and we will never make the headway without being viable and visible at the decision point when a punter walks into the bar," he said.
Heineken has been working on dispense technology and solving storage and preservation problems to stop beer fermenting once it has left its breweries. He added: "There can be no greater reputational threats to a company than if the alcohol-free beer they sell turns out to be alcoholic."
Luke Boase, founder of Lucky Saint, feels releasing his non-alcoholic lager on draught has been one of the company's top innovations. Just three years ago the thought of draught caused "violent debate" at Lucky Saint HQ. But after trialling it just before the pandemic, Boase said: "The consumer response was so powerful that we've gone on and we've doubled down on it."
But how can brands compete for limited tap space, especially when the demand is not yet great enough for more than one alcohol-free draught line per pub? For Boase, having a giant like Heineken in the market can only do good things for the category.
"Heineken joining draught is a massive positive for the category. If you have consumers who walk into a pub and expect to find alcohol-free beer on tap it is wildly positive. As a brand do we worry about it? Not at all," he said.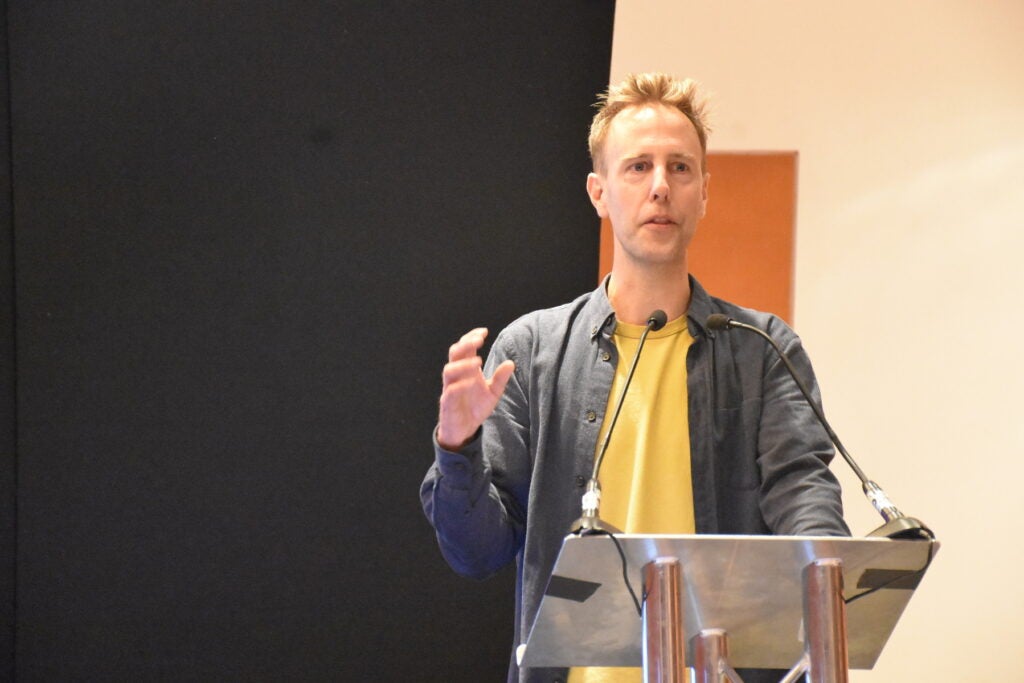 Health trends: creating sweetness without sugar
One in three European consumers has changed their intake of pre-sweetened beverages over the past 12 months, with 97% of those decreasing their intake by drinking less or switching to sugar alternatives, according to research by Tate & Lyle.
Weeks after the UK Government revealed it was considering scrapping soft drinks sugar tax, it is clear that there is still big business in sugar alternatives, and achieving sweetness without sugar was a hot topic of conversation.
Dr Zafer Gezgin, principal scientist at Suntory Beverage and Food Europe, said the toolbox of natural sweeteners available is limited due to EU regulations. Suntory is the third largest producer of soft drinks globally.
The drinks giant, which owns brands including Orangina, has a target to reduce its total added-sugar volume by 35% by 2025 compared to 2015.
Gezgin said stevia, a zero-calorie sweetener extracted from the leaf of the stevia plant, remains "the only approved natural-source sweetener" in Europe, but negative experiences with the taste of early stevia formulations mean consumers can be put off if they see it on a label. He added: "Taste is king. And stevia is unfortunately not the silver bullet to give you the best taste."
"Fructose is a sugar but also a sugar-reduction tool. It is more sweet and it brings you the front kick that the other high-intensity sweeteners in the natural realm do not," he said. "There is no acesulfame K/saccharin [artificial sweeteners] in the world of natural sweeteners that gives you that initial sweetness. There is no natural acesulfame K – and I don't foresee there will be – but fructose helps with that upfront kick. It gives that flavour boost, which is important in soft drinks."
Robin Slatter, scouting and exploration leader at Innocent Drinks, said it was "tricky" to reduce sugar content. Innocent's drinks are sweetened by fruit rather than added sugars.
"We have a task and responsibility to continue to reduce the natural sugars that are in our products, and we have done that – all of our smoothies are lower in sugar than they were. But when you don't add any sugar taking out sugar is really tricky."
Added extras: tapping into consumer desire for functionality
Without the strict advertising rules imposed on alcohol, there is wider scope to appeal to consumers' functional needs with non-alcoholic drinks.
Immunity-boosting, relaxing, and energy-boosting are the most important claims consumers look for when shopping for a functional drink, according to research from GlobalData.     
Immunity-boosting buzzwords include anti-oxidants and turmeric, labels are scoured for relaxation properties offered by chamomile and CBD, while energy boosts are considered to be delivered by matcha, B6 and – more commonly – caffeine.
Energy drinks form the second biggest segment of functional drinks, which has grown by 40% in the last three years according to Boost Drinks, which produces sport, protein and iced coffee drinks. Hipkiss said tapping into emotional needs, such as relaxation and cravings, is important for growth in the functional sector.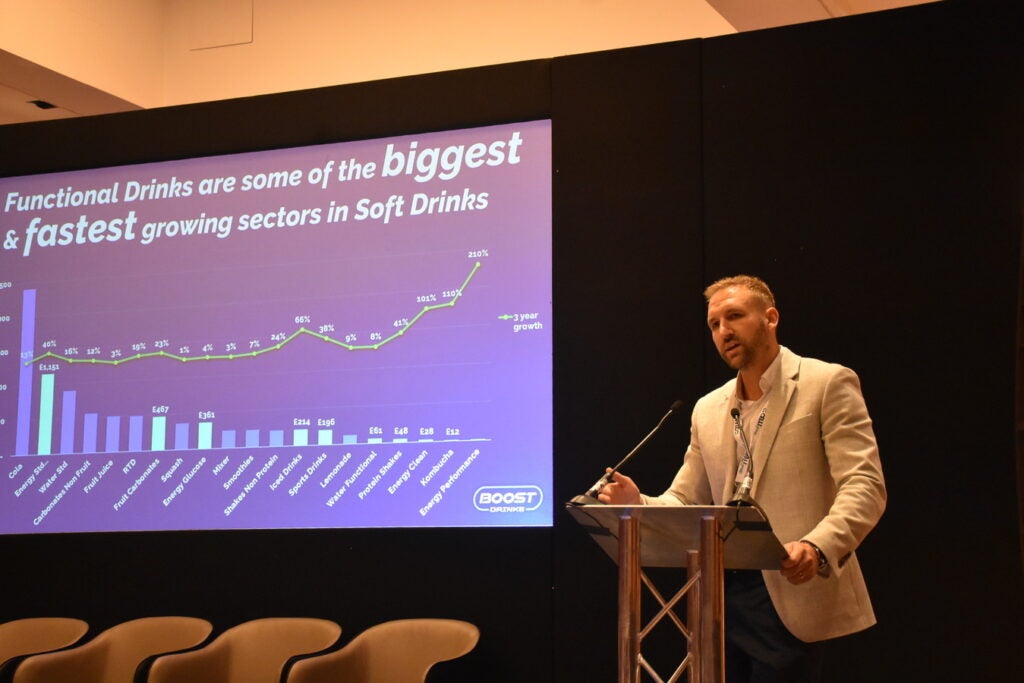 "Functionality is absolutely critical. It provides the energy level that we're all looking for. It provides a contribution to the nutrition that we all need. But the emotional space is really important too. And we need to remember that actually if we can satisfy some of those moods and moments, that poses some great opportunity for all of us.
"Something we found quite surprising (was) a lot of the traditional functional categories are used in social aspects of our lives. We've spoken at a lot of these conferences last couple of years about the importance of substitutes in alcohol. And you might not think that that comes from the likes of sport drinks and energy drinks but it absolutely does, in addition to the great innovation that we see in more sophisticated experiences. The point really is that we need to satisfy both emotional and functional needs states as we continue to grow these spaces."
A challenge facing the category is how to attract new consumers sceptical of the benefits of energy drinks. Hipkiss said labels need "cleaning up" to make benefits cleaner and consumers need educating on ingredients.
"If 71% of UK adults are tired more than half of the time, why do 42% of 18 to 44-year-olds not consume the energy category?" he asked. "I mean, it's a very accessible space. There's a range of price points. There's a range of formats. It's available pretty much just in every store that you enter.
"The first thing we need to do is take a look at the barriers: 31% of adults are self-conscious about consuming energy drinks. We need to face the mistrust of ingredients – some of those are becoming more common, I don't think the consumer would refer to caffeine as a "psychoactive substance" but they've been relying on it for some time. But the caffeine in a 250ml energy drink is comparable to a cup of coffee, the caffeine even in a big 500ml serve is comparable to a coffee-shop coffee.
"There's definitely some education to do on well-known ingredients in addition to ingredients that are maybe not so well known particularly like taurine, or the B-vitamin spectrum. So we all have a job to educate them."
Future trends in the functional non-alcoholic space
Research by Innocent shows gut health and brain function are also key drivers for functional drink purchases. Fibre in particular is also a key area to watch out for, UK-based food and beverage ingredient supplier Tate & Lyle said.
Ieva Laurie, Tate & Lyle's principal nutrition scientist, said: "The new trend that we're seeing in research, not only for the general population but also even in the elite athletes, is fibre and gut health. And this is because the advances in technology, especially the ingredients, allow us to extract fibre from plants that is easy on our digestive system.
"So it means that even for physical activity it won't upset the stomach, and also its solubility makes it a perfect solution for the beverage market. This is the space that I think we will be giving more and more focus in the future."
UK-based smoothie company Innocent recently launched its first high-fibre juice, Inner Winner, tapping into the desire for gut-boosting fibre with Baobab puree.
Slatter wouldn't be drawn on the company's future focus for functional ingredients but hinted it would be immunity-based. "I'm not going to tell you, I'm sorry," he said. "But I think what we do know is with Covid we are pretty strong on immunity at the minute. There are lots of new products coming into the market for immunity. We're the same, it's a key driver and they're doing really well. Everybody is super conscious about their health and the strength of their immunity."