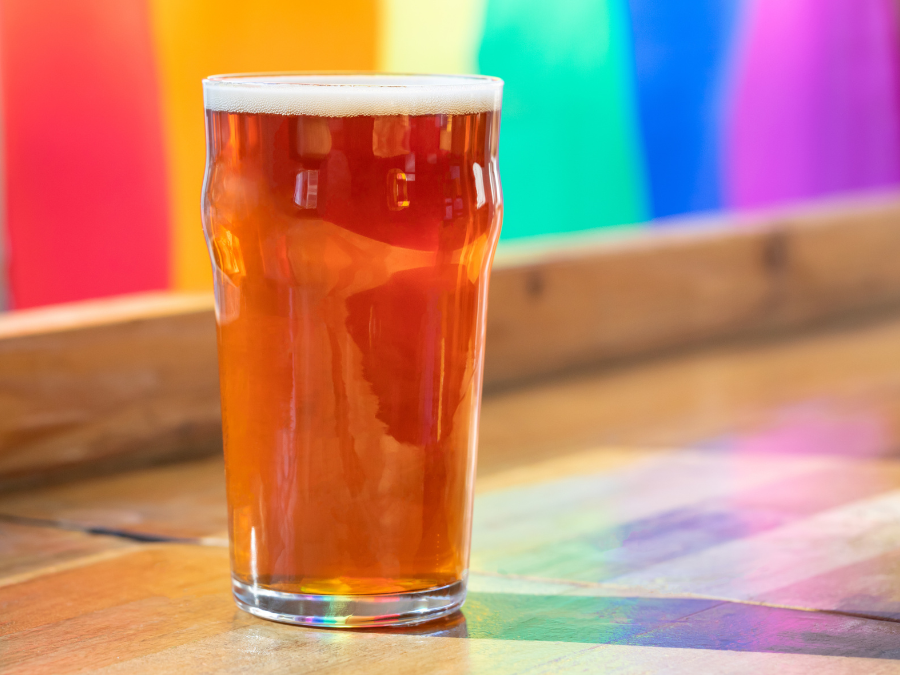 As the footprints of large multinational companies have grown, so has the scope of their corporate responsibilities. Evidence shows millennial and Gen Z consumers and employees place increasing levels of importance on the ESG credentials of companies and brands when choosing where to work, or which products to buy.
One area of ESG that has hit the news headlines in recent months is the role of drinks companies in supporting and empowering the LGBTQIA+ community. Although Dylan Mulvaney was not an Anheuser-Busch InBev employee, the brewer's response to the backlash that resulted from the company sending the transgender influencer a personalised can of beer has sparked wider conversations about the responsibilities of drinks brands to promote inclusion and diversity both internally and externally.
Stacey Lentz, co-owner of New York City's iconic gay and lesbian venue Stonewall Inn, was just one LGBTQIA+ activist to criticise the Bud Light brewer over its handling of the affair. Lentz told Newsweek AB InBev "missed an opportunity to stand by their commitment to the trans community" accusing the brewer of "pandering to and giving in to transphobic outcries".
"As far as marketing, I hope and think they realised that as a brand they will be extinct in a few years if they are not fully on the side of equality, as that is what the Gen Z consumer expects and demands," Lentz said, whilst also expressing her sympathy for Mulvaney, who she said was "caught in the middle of a horrible firestorm".
Lentz's view aligns with survey data from GlobalData, Just Drinks' parent, which revealed that over half (56%) of consumers agree, to some extent, that they want brands to address global social issues, such as racism, sexism, and homophobia.
If the Dylan Mulvaney saga was a textbook example of how a drinks company can fall short in its social responsibility obligations, then how should businesses be acting from top to bottom to make members of the LGBTQIA+ community feel supported and valued?
How well do you really know your competitors?
Access the most comprehensive Company Profiles on the market, powered by GlobalData. Save hours of research. Gain competitive edge.
Company Profile – free sample
Thank you!
Your download email will arrive shortly
Not ready to buy yet? Download a free sample
We are confident about the unique quality of our Company Profiles. However, we want you to make the most beneficial decision for your business, so we offer a free sample that you can download by submitting the below form
By GlobalData
Where did Bud Light go wrong?
Vanessa Tennyson is an executive leadership coach specialising in what she terms "behavioural authenticity", a subject where gender, sexuality and race are common topics of discussion. In her view, where AB InBev erred in its handling of the Bud Light controversy was in going silent on its "allyship" for LGBTQIA+ communities.
"Bud Light made a great commitment to trying to reach a marginalised community," she says. "It didn't work. They easily could have said: 'Okay, mistake on our part. We're going to pull that back but we aren't going to deny our allyship with the community.' They went silent. And that was a problem."
Tennyson says when AB InBev did respond to the crisis affecting its business, its response focused on trying to appease its consumer base, rather than those affected by the backlash.
"In every free speech associated type issue, you've got to take a side and you choose the side of allyship," she said. "You don't get to bail halfway through. You're all in or you're not in at all. They easily could have said: 'Sorry, we didn't realise it was going to offend so many people. We're going to pull that particular campaign but that doesn't diminish our commitment to marginalised groups, in particular the LGBTQI group that we have supported for decades.' That could have at least set the stage for repair and renewal."
On what business leaders can learn from the debacle, Tennyson says placing LGBTQIA+ employees in positions where they can have their say on campaigns and policies likely to impact their community is key.
"Get some buy-in that this is appropriate or not appropriate," she says. "Nobody wants to be exploited… when you speak for a group, you are a part of that group, and having a seat at the table is what that's all about.".
The role of ERGs in supporting LGBTQIA+ staff
An important tool for making LGBTQIA+ employees visible and in positions where they can participate and be consulted is through Employee Resource Groups (ERGs) or Employee Impact Groups (EIGs). These voluntary, employee-led groups aim to foster a diverse, inclusive workplace aligned with their organisation's social responsibility goals.
At Diageo, the various chapters of the company's Rainbow Network ERG are tasked with acting as support groups for LGBTQIA+ employees and their allies, as well as offering education around issues that impact the community.
"It's a way for businesses to get the voice of some of their minority employees into decision-making processes," explains Jack Malcolmson, the co-chair of Diageo's Supply Chain & Procurement Rainbow Network ERG. "Whether that is through helping to write new policies for gender identity and gender expression guidelines, or just through enabling everyone to bring their full selves to work.
"It's really important to me that, within Diageo, I can live my purpose. Diversity is central to my purpose and so to lead the Rainbow Network is a huge opportunity in addition to my day-to-day work."
Malcolmson cites an inclusive hospitality training course organised by Diageo's Rainbow Network at its Princes Street activation in Edinburgh as an example of the positive impact ERG groups can have on members of the LGBTQIA+ community.
At Beam Suntory, meanwhile, the group's Prism EIG takes the lead on ally education as well as supporting and amplifying the views of LGBTQ+ employees & consumers. The group hosts volunteer events with local LGBTQ+ non-profits throughout the year, as well as offering career support and development for members of the community, and providing feedback on brand marketing that affects LGBTQIA+ persons. One area in which Beam Suntory's Prism EIG has had an impact is that employees now have the opportunity to self-disclose their gender and sexuality.
"We had this internal push, a groundswell from employees, to allow them to self-disclose," Beam Suntory's chief diversity and inclusion officer Victoria Russell explains. "That's something a lot of companies kind of tiptoe around because of possible legal issues, but after looking into it for a while we've now been able to offer that for the first time. We've also been able to make tweaks to our benefits that we offer because of that as well."
When leaders engage with LGBTQIA+ ERG groups, Tennyson encourages patience from both the leaders – many of whom may be entering into unfamiliar or uncomfortable territory – and members of the community, to foster a productive dialogue.
"I generally start ERG work by saying, look, you've got to stop weaponising your pronouns," she says. "Your pronouns are important. I'm not denying any of them but sometimes these things take time to get used to. The problem is that people want [other] people to immediately understand something that is unfamiliar to them.
"I think that's somewhere we've drawn lines in the sand; if you mis-pronoun someone they jump down your throat. That's certainly your right but the thing is most people are just curious and afraid to make a mistake. And when they make a mistake and you jump down their throat you cause silence. Silence causes anger. Anger causes Hate. Hate causes violence.
"I think if it happens [people should] give a modest amount of grace," Tennyson continues. "If it happens again, then I generally call them out. The third time I am going to be asking 'Okay, why is this happening and why is it difficult for you?' But as long as they're trying, let them learn."
Russell, echoes this sentiment, and urges leaders to do their own research, rather than relying solely on ERGs or EIGs to educate them.
"I think it's important that leaders are a bit vulnerable," she says. "When you're transparent and authentic and really building relationships through an interest, people will give you grace.
"But also I think it's important leaders do the work outside of the organisation. I always say there's an opportunity for you to Google things, read books and articles, do a little bit of self-study. There's a lot of self-education people can do, versus putting all of that on the employees and EIGs to teach and educate."
How to run an inclusive and welcoming company
Empowering LGBTQIA+ employees to feel as though they can speak up and be listened to on issues of diversity and inclusion also requires leaders within organisations to be aware of and able to set aside their own internal biases. This is something UK brewing group Carlsberg Marston's Brewing Company (CMBC) is attempting to address by undertaking inclusive training for its executive leadership team.
"What we're very focused on is the tone that is set from the top in terms of being inclusive of all colleagues," explains CMBC's VP of human resources Deborah Preston. "That's about understanding what's important for you to know about that individual to get the best out of them.
"We're all human. We all have those unconscious bias inside of us. What we're trying to train our managers is that you're not going to eliminate that but you can learn how to acknowledge and know what your biases are, learn how to notice it, and then learn how to move past them."
So far, CMBC's executive leadership team are the only employees to have undertaken the four-hour workshop but the company has plans to roll this out to a further 60 managers before the year's end. Beam Suntory, meanwhile, has also put 100 of its leaders (its executive leadership team, and their direct reports) through inclusivity training, organised by external consultancy firm Korn Ferry.
"When the CEO says something's going to happen, it happens," Russell says. "So having that type of leadership from the top is critical. I don't think it's fair to put it on the employees and say 'hey, keep pushing and good luck.' It has to be leader-led and supported."
Beam Suntory's Prism EIG meets with CEO Albert Baladi quarterly and has an executive leadership team (ELT) sponsor it regularly consults to ensure the voices of LGBTQIA+ employees are heard at the top table.
"I often encourage ELT members to attend and connect to the groups that they don't typically identify with; it's a great learning opportunity for that ELT member," Russell adds.
Beyond leadership involvement and training, CMBC has also made efforts to engage its employees that are not desk-based. The company produces and distributes regular Diversity and Inclusion (DEI) pamphlets that advise team members about using appropriate and inclusive language. It has also embarked on what it terms "one team training" on how to socialise and have fun "without crossing the line into either being inappropriate towards, discriminating against or harassing individuals".
"We have a big population that work in logistics and production who are not desk-based and therefore it's quite important to get out into those locations, face to face, talking to them," Preston adds.
The business case for being LGBTQIA+ friendly
Beyond being an ESG check-box to tick, there are also strong business justifications for fostering an open and welcoming environment where staff feel able to bring the most authentic version of themselves to work.
Tennyson cites a 2015 study from Out Now involving 11 countries including the United States to back up this point. The study asked how strongly respondents felt valued and respected by work colleagues as a member of their team. In organisations where a higher number of staff were "out of the closet", employees, on the whole, considered themselves to be up to 30% more productive and valuable than in those where hardly anyone was "out".
"It's extraordinary because people feel like they can come to work as their full selves," she says. "I'm coming to work, engaging in the work and excited about the environment that I'm in. I'm no longer worried about 'am I out, am I not?' or 'am I being viewed differently or am I not be viewed differently?' I stop worrying about things I can't control anyway and I start to produce on my enthusiasm for showing up to a place where I'm accepted as I am. It's a remarkable transformation."
Beyond this, companies that garner a reputation for being diverse and open places to work will find it easier to recruit new staff and are less likely to have an abnormally high rate of turnover, a key indicator of a toxic working environment according to Tennyson.
"The big one is recruiting new staff," she says. "You have a normal, not an abnormal, turnover because it's not a toxic environment. People come and go because of career issues but not because of identity issues because all identities are welcome and accepted.
"Recruitment is much easier because people want to go work here. They accept you. The populations of minorities are extraordinarily loyal when they find a place that's accepting of them."
Tennyson's view is reflected in the experiences of Beam Suntory and CMBC, both of which report seeing an uptick in staff retention and engagement, having embarked on efforts to improve their own DEI efforts.
"Younger demographics are showing that they want to work for a company that represents their values," Russell says. "And it's not just about a good job or good pay. They want to know that it aligns to their values as a person."
Preston agrees, whilst also emphasising the importance of any DEI efforts coming across as sincere and genuine. "It has to be authentic; they [employees] have to be able to see that it's not just a strategy on paper, that it's an embedded part of your culture and you are living it," she says. "I just don't think people will be prepared to stay for organisations that can't get this agenda right going forwards."
Avoiding accusations of "rainbow washing"
While Pride is and will remain an important opportunity to champion and celebrate members of the LGBTQIA+ community within your workforce, it's also a time to demonstrate your commitments go beyond empty gestures and virtue signalling. So how should companies act during Pride month to avoid accusations of "rainbow washing"?
Tennyson's advice is that, while it may be tempting to push more marketing material and promotions at "the pink dollar" during the month of June, Pride ought to be more about showcasing the ways in which your company supports and values LGBTQIA+ communities.
"Be sincere; it's not an advertisement, it's a support," she says. "I get that companies have a reason to advertise to the pink population… but it shouldn't just be about trying to reach a market. It should be about supporting a group that has been undermined for years and decades, and saying to the public, 'we're here, we see you, we value you and we want you to know that we support you.'"
Russell echoes this sentiment and adds any Pride-related campaign from a drinks brand needs to be backed up by examples of when it has taken meaningful action.
"We've got all of these pockets of various employee-led initiatives around specific communities and it's really important to hear their voices," she says. "But it has to be rooted in your company values, so when people start to question and ask 'why did you do this? Why did you do that?' it is a defensible position."