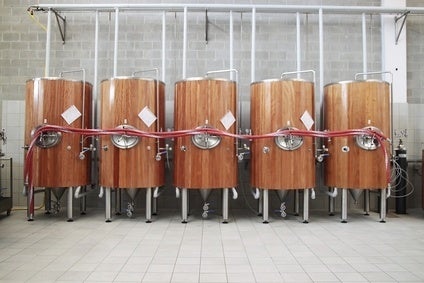 In this second chapter of Euromonitor International's preview of the year ahead for the beer category, alcoholic drinks analyst Amin Alkhatib considers the top strategies for global beer and cider/perry companies in 2015.
Limited consolidation moves expected in 2015 – is it time for greenfield expansion?
The rumour-mill surrounding the Anheuser-Busch InBev, SABMiller consolidation move was churning more than ever in 2014, as volume shares at the top of the global beer market grew ever more saturated. However, the nature of A-B InBev's acquisition choices – taking over under-managed assets cheaply and developing them to achieve better margins – makes this transaction unlikely, as SABMiller seems to be well managed. No change on this front is likely in 2015.
Carlsberg is under pressure due to the continued dismal volume sales performance in Russia and its key European markets. The Danish brewer's narrow geographic presence could push it to seek acquisition options in high-growth markets such as Asia Pacific. Keep an eye out for Carlsberg acquiring more small, provincial breweries in China, or national ones in other parts of the continent.
SABMiller has re-entered the Brazilian market in a partnership with Grupo Petropolis, the country's third biggest brewer. The brewer is also in the process of completing two factories in the country. The London-listed company has increased its operations in Nigeria, a market with major potential. Other global brewers, including Carlsberg and Heineken, have made similar greenfield investments, such as in the newly-opened market of Myanmar. It seems that strategic alliances and greenfield investments are the next stage in answer to the saturated consolidation at the top.
In 2015, there is the possibility that A-B InBev could expand in the high-growth Vietnamese beer market by entering into a joint venture with Saigon Alcohol Beer & Beverages Corp (Sabeco), Vietnam's government-controlled market leader. The global giant might also look to expand in India by acquiring greenfield sites and building up a presence in each state, akin to Carlsberg's strategy.
Margin protection, premiumisation and buying into the craft movement
The macroeconomic beating that is being meted out by European and North American beer markets in recent years has pushed brewers to concentrate their efforts on maintaining market share and profit margins. This is the case with brewers like Carlsberg, which witnessed volume declines in 2014 in the aforementioned regions, as well as slumping value sales.
Multi-national brewers will be expected to continue to push their premium ranges to safeguard their double-digit margins, and to allow them to build capital for future expansionary acquisitions. One approach is to emphasise cost-cutting initiatives, such as Heineken's Total Cost Management (TCM2) programme, or actions such as A-B InBev's US employee lay-offs in 2014, which are likely to be more common in 2015.
Already, Carlsberg had suspended production in four of its ten plants in Russia in 2014, and confirmed its plans to completely shut down two breweries earlier this week.
Global brewers in developed markets are feeling the pinch of competition from the craft beer industry, especially in the US. In 2013, craft beer volumes in the country grew by 17%, compared to the 2% decline in the overall beer market, with craft beer now making up 8% of total volumes. So, much like A-B InBev did in 2014, global brewers will acquire microbreweries in 2015, not because of the relatively minuscule profits that they will add, but as a defensive move to safeguard their share in this vibrant beer segment.
Fertile prospects for brewers in soft drinks and malt-based carbonates
Global brewers reported stagnating or declining global volume sales in their 2014 quarterly results, and the beer industry is looking for ways to reverse that performance. As a result, the strategy of many global brewers has been to invest in beer-alternative segments, such as flavoured or mixed beers, non-alcoholic beers, and malt-based RTDs.
The growing popularity of malt-based drinks, such as the non-alcoholic fassbrause in Germany, radlers across Europe, and spirit-flavoured beers in the US, is indicative of the growing demand for sweet beers. Furthermore, flavoured or mixed beer products in some major beer markets, such as the fassbrause, blurred the lines between what is a non-alcoholic beer and what is a malt-based soft drink.
Brewers will be looking to diversify their fast-moving goods portfolios towards the higher-margin soft drinks market. SABMiller has indicated interest in strengthening the holding in its African soft drinks operation in a merger of its bottling assets with Coca-Cola Co in South and East Africa. It is looking to diversify its revenue portfolio in its key regional operations and outside the highly regulated beer market. We can expect other global brewers to follow suit in investing in the soft drinks industry in 2015, either via portfolio expansion, brand or company acquisitions, or a combination of both.
Internationalisation of cider/perry brands – expanding in export markets
Market volume sales in cider and perry have shown double-digit growth in New World markets such as the US and Australia, and high single-digit growth in South Africa and Argentina. Driven by a variety of trends and positive branding strategies from various brewers or cider makers, the global cider/perry market looks to be nowhere near subsiding. Added to that, the aforementioned markets are expected to continue to outpace the UK cider/perry market in terms of volume growth in 2015 and reduce its lead in global volume sales.
The drive behind this growth is primarily due to the efforts by cider makers to internationalise cider. The purchase by C&C Group of Vermont Hard Cider in the US back in 2012 and the export of its cider to 46 other markets clearly shows this enthusiasm for going global.
This enthusiasm has trickled down to provincial UK cider makers such as Weston's, which has established suppliers in all seven regions. As we see cider makers internationalise the market in 2015, it is likely that we will witness an explosion of line extensions in developed markets and category introduction in emerging ones.