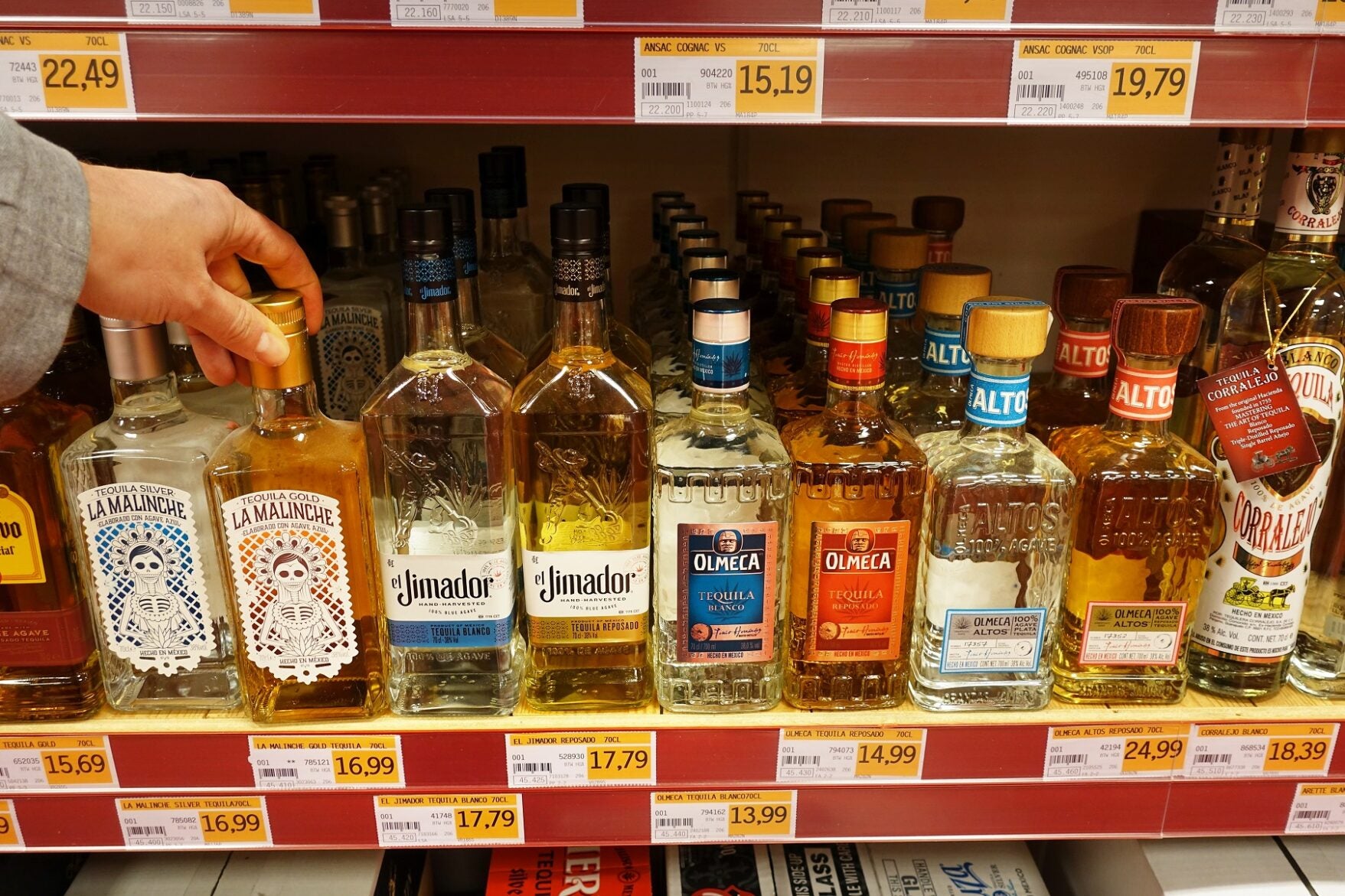 The price of a bottle of Tequila/mezcal has broadly risen more slowly than the inflation, except in two markets – one of which is Mexico, exclusive data for Just Drinks suggests.
An analysis of more than 1,100 products sold across more than 30 countries shows Mexico and South Africa are the two countries where the price of a bottle of Tequila/mezcal went up faster than inflation between January 2019 and June/July 2022.
According to GlobalData's Price Intelligence Database, the average bottle in Mexico was around 9.5% more expensive in July of this year compared to January 2019, when adjusted for inflation. This is, in fact, a lower price increase than in mid-2020, when Tequila/mezcal prices were 13.2% above inflation.
In South African stores, drinkers faced a rise in prices of 3.6% between January 2019 and June 2022, adjusting for inflation.
Most of the countries analysed saw the actual price of Tequila/mezcal rise; the research, however, shows in most markets inflation rates grew more quickly than price increases. In Ukraine, for example, prices rose by 9% and in the Netherlands by 3% but a steeper rate of inflation meant Tequila/mezcal prices fell in real terms.
Estonia has seen its Tequila/mezcal prices drop by 28.6%, when adjusted for inflation, while those in neighbouring Lithuania were a fifth (20.2%) smaller in real terms. This dramatic shift is largely caused by high inflation rates in the Baltics caused by Russia's invasion of Ukraine. While prices for many goods and services, such as energy and food, have dramatically risen, Tequila/mezcal prices are yet to catch up.
What's causing price rises in Mexico?
The end of the 20th century was tough on the Mexican economy. In 1994, a sudden devaluation of the peso against the US dollar plunged the Mexican economy into one of its deepest crises to date, experiencing inflation of around 52%.
Economists today refer to the event as the "Tequila crisis", while the impact of changes in the Mexican economy on the country's trade partners came to be known as the "Tequila effect".
Today, Mexico's inflation rate is still exceptionally high – 8.62% in the first half of August – but at a similar level to neighbouring countries and the US. However, Tequila/mezcal prices are still signalling a cost-of-living squeeze.
While agave prices have stabilised due to sustained demand, producers are pointing to other factors that are driving costs up.
For one, the supply of glass bottles has shrunk due to pandemic shutdowns and disruption caused by extreme weather in Texas, leading to a 40% decrease in glass production this year. The pandemic has also increased demand for online shopping and, subsequently, cardboard boxes, leaving tequila and mezcal producers with less packaging in which to ship their products.
As consumption shifted from shots in bars to at-home drinking, prices seem to have followed. Our analysis shows that bigger bottles went up in price the most, while units of 750ml or less became cheaper when adjusted for inflation.
Which brands have increased in price the most?
Tequila/mezcal brands like Rooster Rojo and Cazcabel, which are primarily displayed in European stores in GlobalData's Price Intelligence Database, registered an overall price decrease when compared to the inflation rates of those countries.
Meanwhile, Siete Leguas, which the GlobalData database has listed in stores in Mexico and the US, saw prices grow by a whopping 20%. Tres Generaciones came in second at a distant 4.6% growth, with a recorded presence in Mexico, the US and the UK.
Methodology
Our analysis covers 1,171 individual products tracked monthly across 65 retailers in 34 countries.
To paint a representative picture, we've removed countries with fewer than 15 products. Where prices were missing for some products for certain months, we filled them in with the latest known values or removed them entirely if the gaps constituted more than 20% of the coverage.
We then calculated the price inflation rate for each product in the database, comparing the price the item was sold at in January 2019 to the price it had in June or July 2022.
We adjusted those price changes to the national inflation rates in each country based on monthly figures from the International Monetary Fund. That allows us to account for the post-pandemic recovery of each country and see whether whiskeys have become more or less affordable compared to other expenses consumers have.
For example, one retailer in Estonia was selling a 700ml bottle of Rooster Rojo for EUR26.99 at the beginning of 2019. Despite some fluctuation, the price remained the same in July 2022. However, with an inflation rate of 31% during the same period, the bottle has essentially become 31% cheaper.
More recent Tequila market insight from Just Drinks
Tequila, mezcal North America boom set to continue – data
How Tequila took over the US (and why it's not going anywhere anytime soon)
"Now is the right time" – Vivir Tequila's Paul Hayes talks the UK brand's push into the US
The Mex Factor – why Tequila's growth could blaze trail for others
Could finite supply and high agave prices be about to burst Tequila's celebrity-driven bubble?