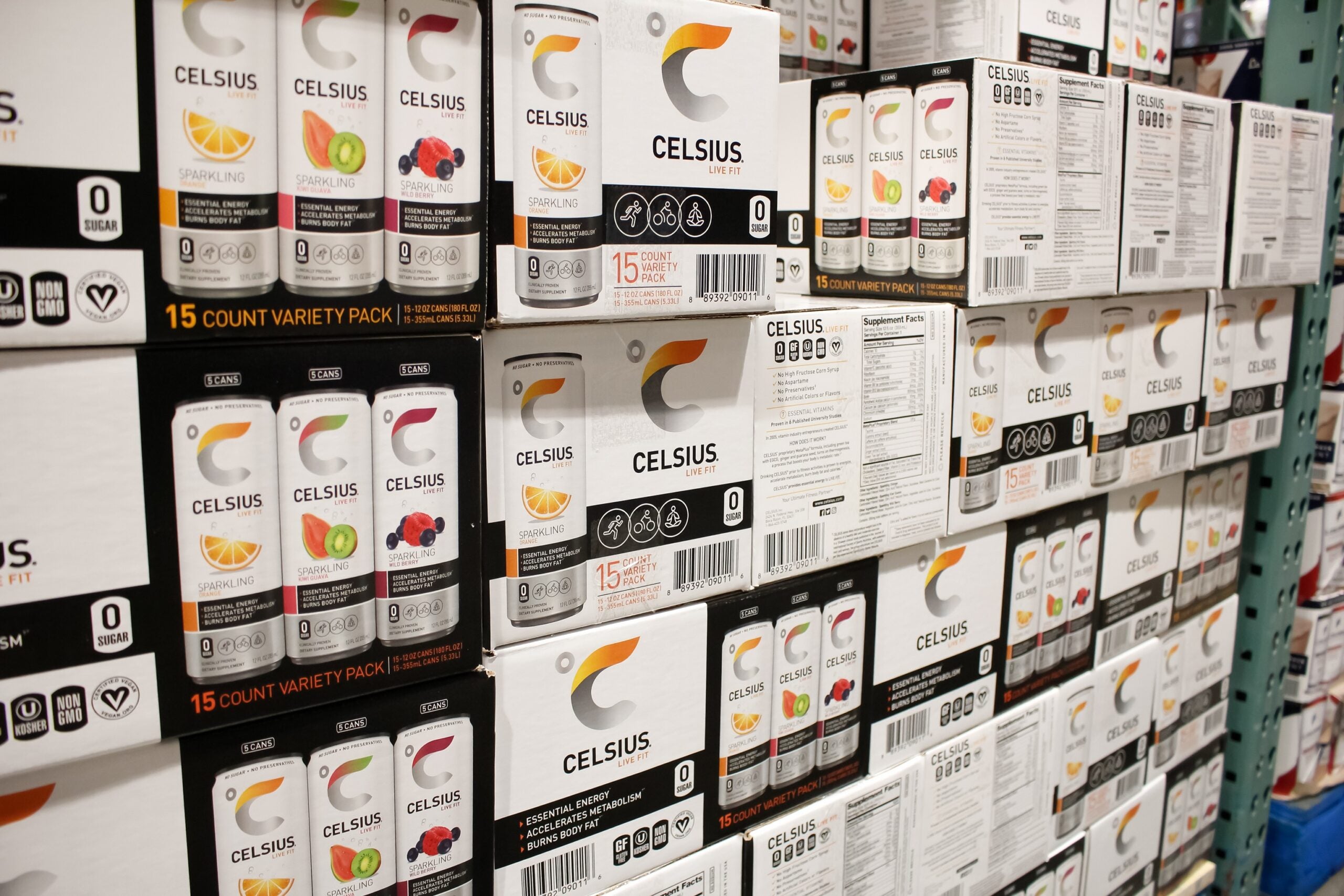 To those of a certain era, the term energy drink probably conjures up the image of a hoodie-clad teenager locked away in their bedroom playing video games or watching extreme sports until the early hours.
The caricature is not without merit; a 2018 academic study found 41% of US adolescents had consumed an energy drink in the last three months, while a separate study suggested 28% of teens in the European Union had consumed one of these kinds of drinks in the last three days.
While energy drinks giants such as Red Bull, Monster Beverage Corp. and PepsiCo are reluctant to outwardly admit it (due to concerns over the harmful effects of excess caffeine on teenagers), their marketing over the last decade has actively leaned into this stereotype too. Monster's flagship energy drink product sponsors a slew of extreme sports events from snowboarding to mountain biking, while Red Bull has its own dedicated e-sports team and runs tournaments everywhere from Manchester to Sao Paolo. Cumulatively, these events attract millions of viewers and – whether the companies want to admit it or not – have been incredibly effective in recruiting new legions of adolescent and young, adult, caffeine lovers.
But it isn't just teenagers drinking energy drinks. Globally, the category is now worth an eyewatering $87.2bn, and is forecast to grow by a CAGR of 7.05% between 2023 and 2027, according to GlobalData. Testament to its widespread appeal has been the mindbogglingly large figures multinational beverage companies have been prepared to invest in grabbing a stake in the energy drinks pie. Last August saw PepsiCo splurge $550m to acquire an 8.5% stake in Celsius Holdings. In December, Keurig Dr Pepper parted with $863m in return for 30% of C4 maker Nutrabolt. These aren't the kinds of sums of money that get thrown around to win over a few anti-social kids in their bedrooms.
Nick McCoy, managing director with Whipstitch Capital – the US' largest independent investment bank focused on the 'better-for-you' sector – believes part of the reason CSD giants are prepared to invest behind the category is because of its size in the convenience channel.
"Energy is the largest channel in convenience, and convenience is hugely incremental for beverages," he says. "People buy it and they drink it straight away; it's totally incremental to what people would be buying anyway in other places."
How well do you
really

know your competitors?

Access the most comprehensive Company Profiles on the market, powered by GlobalData. Save hours of research. Gain competitive edge.
Company Profile – free sample
Thank you!
Your download email will arrive shortly
Not ready to buy yet? Download a free sample
We are confident about the unique quality of our Company Profiles. However, we want you to make the most beneficial decision for your business, so we offer a free sample that you can download by submitting the below form
By GlobalData
On the subject of why convenience has made energy such a large part of its offer, McCoy has a simple answer: "Because it sells," he says. "So much. The volume in that channel is huge. Everybody needs gas, right?
"In the US there's your daily workers, trade people, plumbers and contractors who will go to convenience stores and will get a sandwich and buy energy drinks."
Energy drinks but make them healthy
However, while blue-collar workers and adolescents still make up a hefty chunk of mainstream energy consumption, a slew of new brands are increasingly targeting a wider cohort of consumer. To do so, they're focusing on offering an array of functional benefits – not just caffeine – as well as adopting properties such as zero sugar and low(er) calories that are demanded by more health-conscious consumers.
Machu Picchu Energy, a California-based start-up, is one brand to have launched in the last couple of years. Its range of beverages contains 'natural' caffeine from organic green coffee beans, as well as Peruvian maca and B-Vitamins.
CEO Daniel Scharff believes the very way in which consumers view energy drinks is shifting on the back of wider health and wellness trends.
"There was this perception of what energy drinks used to be in the not-so-distant past," he says. "A lot of people would have recoiled just at the words 'energy drink'".
"But in every category, people are looking for healthier options across the board, and waking up to what's in a lot of the things that we've been eating and drinking… you're seeing a huge group of new consumers come into the category who are not going to self-identify as energy drinkers."
Scharff states this new, more diverse church of consumers is seeking products that derive their energy from more natural sources and don't come packed with sugar and artificial flavours.
"They're paying a lot of attention to the ingredient labels," he adds. "They're paying a lot of attention to sugar, artificial flavours, synthetic caffeine. They want energy but they want the best energy."
The Covid-19 pandemic – although not the origin of it – has also helped to accelerate demand for healthier alternatives. When surveyed by GlobalData in 2021, 82% of US consumers stated that immunity-boosting ingredients had a positive influence on their purchasing decisions. In the same survey, 73% of US consumers said energy-boosting ingredients were 'nice to have' or 'essential' when making purchasing decisions. In its 2022 'Global Soft Drinks Performance and Outlook' report, GlobalData identified a "strong positive impact" on future value sales of energy drinks from consumers switching to clean-label and natural products.
Put together, this all makes for a hell of an opportunity for 'healthier' positioned energy drinks to take advantage of.
"It's what consumers are looking for and which means it's what retailers are looking for as well," Scharff says. "They know people are looking for healthy energy and when they have new spots opening up in their coolers, that's what they're looking to fill it with."
McCoy concurs, adding that although so-called 'clean label' or 'better-for-you' products presently under-index in energy compared to other grocery and convenience categories, it's a segment that's growing rapidly.
"It's an $18bn category [in the US] and I don't see any reason why these healthy and better-for-you products can't reach 10%* of that," he says.
It isn't just new energy drinks producers that are responding to the trend, however. Spying the opportunity to improve top lines whilst escaping increasing red tape around sugar, caffeine and artificial ingredients, major CSD players are throwing their weight behind zero sugar, lower calorie and functionally imbued energy drinks.
Major CSD players move into healthy energy drinks
Red Bull first launched a sugar-free variant of its now iconic energy drink in 2001, but in 2018 expanded its offer to include sugar-free versions of all its flavours, while Monster Beverage Corp is this year adding a sugar-free version of its flagship 'green' flavour to a line up that already has several zero-sugar SKUs.
PepsiCo's innovation in 'healthy' energy, meanwhile, goes further still. The US-headquartered firm's energy drinks roster includes Mountain Dew, Rockstar Energy and Celsius, brands that have all experimented with functional SKUs to varying degrees. Celsius – PepsiCo's biggest bet on functional energy to date – started life as a fitness supplement, and continues to emphasize the metabolism-boosting benefits of its drinks. The brand also offers a line of dietary supplements.
Bart LaCount, PepsiCo's vice president of global brand marketing for hydration and energy, cites both recent innovation in the form of Rockstar Refresh (a low-calorie, zero sugar and vitamin C fortified line) and Celsius as examples of where the Gatorade brand owner has responded to consumer trend toward health and wellness.
"We're going to continue to explore opportunities to diversify our product offering that needs to be evolving," he says. "We're not new to energy, but we want to be more consumer-centric and capitalise on the demand within this space."
LaCount admits part of the reason why so many energy drinks majors have pivoted is due to increased regulation globally around sugar and caffeine content, but believes significant demand also comes from the consumer.
"It's a mix of both," he says. "They're very co-dependent, right? The legislation is making consumers more aware. At the same time, this was already a long-term trend. At PepsiCo, we're very public about our goals, one of which is to get – across our beverage portfolio by 2025 - at least two-thirds of the volume to have 100 calories or less from added sugars.
"It's something we see across categories, not just within energy drinks, and also it's an opportunity for us to innovate and extend the product portfolio."
Part of this innovation – including in the case of Rockstar Refresh – has revolved around moving beyond the traditional stereotypes and flavour profiles associated with energy drinks products. LaCount says future PepsiCo innovation in the segment will focus on "the flavours you associate with different moods". This, he says, "allows you to open the aperture for the occasions that you can go out there and try and deliver on consumer needs".
The future of healthy energy
McCoy believes the future of healthy energy could go further still, citing growing demand in the US for "proprietary patented amino acid blends" that have functional benefits including boosting hydration, reducing diarrhoea and increasing gut health.
"Functional has always been an ingredient focus, but I am seeing these proprietary patented amino acid blends as an increased functional add in beverages," he says. "There isn't really one that's a direct caffeine replacement, but it's something that might be very incremental to the category and could make energy more of a focus in the natural channel. I'm talking a couple of years out, but it's something really interesting, and definitely on my radar screen.
"I'm seeing brands starting to do it within consumer and it's done within healthcare already, but you're not seeing it in the mainstream yet."
Nevertheless, there remains the sense the bigger players are still behind the curve when it comes to both product innovation and the potential for energy drinks to play a part in new consumption occasions. Scharff cites the forthcoming launch of Machu Picchu's duo of zero-sugar sugar yerba mate drinks as something beyond the capability of bigger market players.
"I come from big CPG, and I know how difficult it is for them to come up with innovation in a way that meets the demands of those kinds of consumers," he says. "You don't do innovation by committee. More often than not, their solution will be buying the innovation from companies that have developed it."
On the subject of new sub-segments and trends within the category, LaCount says PepsiCo is always on the lookout for product innovation across geographies that can meet evolving consumer needs. "We do watch those things and see how they track over time; if there's things we should be looking at whether we should make a bigger play," he says. "We already have a good portfolio today and we're expanding it as we see fit in the future."
For now, however, the food and beverage giant isn't totally giving up on its core video-gaming, extreme-sport-watching consumer.
"We don't market to kids; we're very clear on that," LaCount says. "But there is a large set of consumers in that more traditional energy camp. They're big, they're sizable, and they consume a lot of the energy drinks so it's not a market we're trying to exit."
*N.B. Whipistich holds a narrow definition of the 'better-for-you' segment based on the Natural Products Industry according to IRI/SPINS data. This definition would exclude brands such as Celsius Holdings.