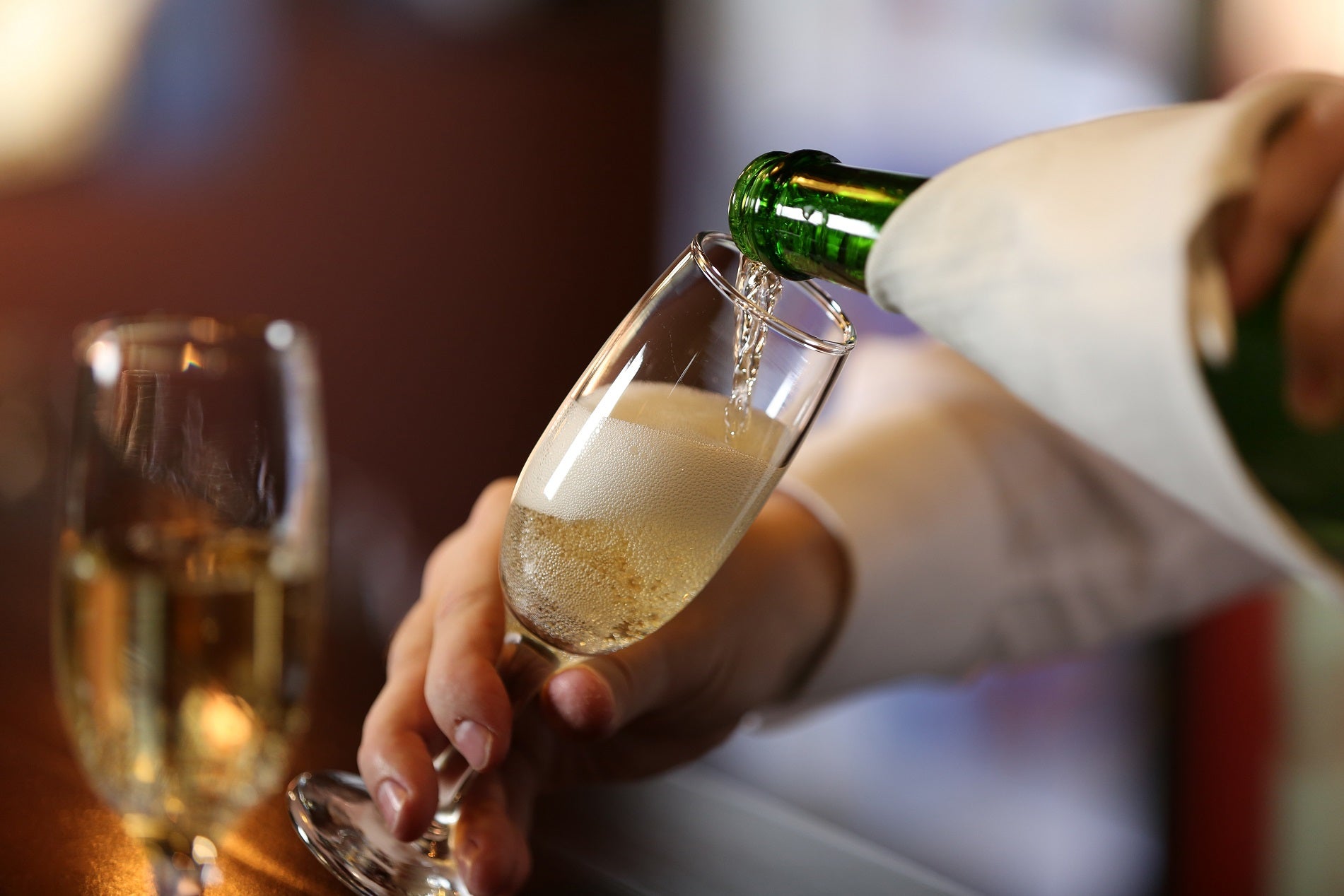 "In Champagne, everyone's got happy faces." The words of Laurent Fresnet, cellar master at Pernod Ricard-owned Maison Mumm, sum up the relief felt in the region as this year's harvest draws to a close. It was hot, it was dry, there was a bit of hail and frost, but the grapes are healthy and plentiful, and the vats are full.
The word "rollercoaster" has been over-employed when describing trends since the onset of Covid-19 in early 2020, but it especially applies to the Champagne market. The pandemic brought panic to the boardrooms of Paris, Reims and Epernay, and what has happened since illustrates the difficulties of managing supply when both the global market and Mother Nature are in volatile mood.
Seismic global events can have a drastic effect on Champagne consumption, so the Champenois were swift to react when lockdowns swept around the world in the first half of 2020. The Comité Champagne, including representatives of houses and growers, set the maximum yield in the Champagne vineyards at 8,000 tonnes per hectare (t/ha) for the 2020 harvest, effectively capping production at around 230m bottles for an industry that usually ships more than 300m bottles every year.
This was an entirely commercial decision because 2020 was a relatively bountiful and good-quality harvest, in which 50% more grapes could easily have been picked: 12,000kg/ha, equating to close to 350m bottles. But, with consumption plummeting and the future uncertain, logic suggested such a large crop would risk destabilising the global market.
But logic was wrong.
Since then, it has been overtaken by events: in late 2020 and early 2021, sales in the Champagne market recovered much more quickly and strongly than expected – shipments dropped only as far as 244.1m bottles in 2020, and climbed rapidly to 320m by the end of 2021.
How well do you
really

know your competitors?

Access the most comprehensive Company Profiles on the market, powered by GlobalData. Save hours of research. Gain competitive edge.
Company Profile – free sample
Thank you!
Your download email will arrive shortly
Not ready to buy yet? Download a free sample
We are confident about the unique quality of our Company Profiles. However, we want you to make the most beneficial decision for your business, so we offer a free sample that you can download by submitting the below form
By GlobalData
This might not have mattered that much, had 2021 brought a bumper crop, but in the event, the growing season proved to be little short of disastrous, with frost, hail, rain and rot leaving agronomic yields at just over 7,000kg/ha (= 210m bottles). The official maximum yield of 10,000kg/ha proved largely academic.
With 20/20 hindsight, it's clear the decision to cap production in 2020 at such a low level was wrong – it has been proven so by events – but luck has also played its part, in giving the region a large crop of grapes when it thought it didn't need it, then a disastrously small one when stocks needed to be rebuilt.
However you choose to judge events, the result has left many of the region's leading players frustrated as they try – and fail – to keep up with rising demand. To take the global travel retail market (GTR) in isolation, Champagne's recovery in the channel may easily outstrip that of spirits. With a following wind, Champagne sales could reach pre-pandemic levels in GTR next year, while spirits may have to wait until 2025.
Fulfilling that prediction, however, will depend on producers being able to supply the market. Christophe Juarez, CEO of Terroirs et Vignerons de Champagne (TVC), the vast co-operative that owns Nicolas Feuillatte and Castelnau, believes the lack of available stock will "substantially" affect GTR Champagne sales in 2022 and 2023, leading to widespread allocations. Supplies are already running short for late 2022.
Nor is TVC alone. Businesses as diverse as Champagne Lanson, Vranken-Pommery Monopole and Champagne Drappier are positive about the GTR market outlook for Champagne sales in the months ahead – but equally concerned about the challenge of being able to fulfil tenders with airlines as stock levels are so low. This is exacerbated by spiralling inflation and rising costs, which complicate setting the right price during the tender process.
Beyond their frustration at events, some producers are now openly critical of the 2020 yield decision, arguing that it would be better to pick healthy grapes when they are available, rather than leaving them to rot and then being at the mercy of future harvest conditions when stocks need to be rebuilt. In other words, stop second-guessing nature.
This argument is fuelled by the impact of climate change on the vineyards of Champagne. In many ways, this has proven to be a positive force for a marginal grape-growing region, increasing levels of ripeness and diminishing disease. But extreme weather events have also been on the rise – such as hail, late spring frosts and rain storms – which can destroy the entire crop of individual growers while lowering the average across the region.
Before 2022, three out of the last five years had been difficult, with low yields – albeit for contrasting reasons. Both 2017 and 2021 were climatically challenging, with the weather impacting agronomic yields; 2020, as we have seen, was an artificially small crop because of the Comité Champagne decision to limit production.
This was the backdrop to this year's deliberations by the Comité Champagne. Luckily, the decision was made in the midst of a highly promising – if rather hot and dry – growing season, allowing maximum yields to be set at 12,000kg/ha, supplemented by allowing growers to use additional grapes to rebuild their individual reserve – the safety net of extra supply that can be used to supplement small crops in difficult years.
The reserve system is now also being expanded and refined, allowing growers to use surplus production to rebuild their reserve not just in the year following a small harvest, but over a three-year period. This, the argument runs, will help to iron out peaks and troughs in the supply/demand cycle.
Nonetheless, there are some concerns about the financial impact of the new system, which some fear could benefit the larger houses while penalising smaller growers. There are also fears Champagne's increasing efforts with regard to sustainability – historically, the region has had an appalling environmental record – could be a casualty of the quest for increased production. Already a zero-herbicide-by-2025 commitment has been quietly abandoned.
It's true the 2022 harvest has left the Champenois with "happy faces", as Mumm's Fresnet puts it. But the longer-term picture for the region is altogether more challenging, as a multi-billion-euro industry tries to juggle supply, demand, the vicissitudes of global markets and climate change.
"It's quite complicated because we know global warming will not help us in the future," Fresnet admits. "We need to be careful about the date for the harvest, and to try to pick grapes earlier to keep the freshness." Recent events are a timely reminder that, beneath all the gloss and the glitter, Champagne is still an agricultural industry.